LG unveiled a large number of products in this year's CES. Consumer electronics,home appliances and mobile phone products were in focus for this year's show. We'll be taking a brief look at the monitors launched.
LG 34UM67
The LG Ultrawide 34UM67 Gaming Monitor has a ratio of 21:9, 34 inch diagonal size and a 2560X1080 resolution IPS Panel. But the Killer app for this monitors is support for AMD's FreeSync Technology. Freesync basically works like NVidia's GSync, the Graphics Card telling the monitor when to refresh instead of a defined interval and in turn doing away with the problem of screen tearing and stuttering whenever the Frames go down from the refresh rate. LG didn't put its foot forward in so called 'gaming displays' but looks like with the 34UM67 the norm might be breaking for good.
LG 31MU97
LG also showed off some other interesting stuff like the 31MU97, a 31 inch 4K monitor with 19:10 aspect ratio. It uses an IPS Panel and is primarily meant for creativity. Display gamut includes Adobe RGB (99.5%),DCI-P3 (97%) and it supports Hardware Calibration. This monitor also comes with 5Wx2 Stereo Speakers with MAXXAUDIO and a pivot,height adjustable ergonomic stand. For I/O, there are 3 USB 3.0,Display Port,Mini Display Port and dual HDMI in.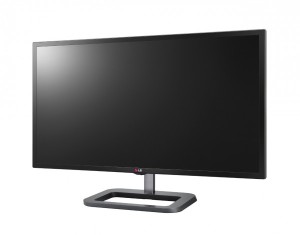 LG 34UC87M
Next  is the 34UC87M, a 34 inch 21:9 Curved UltraWide QHD display with an IPS Panel. Resolution is 3440X1440 which is near about a UHD or a 4K. This monitor is also compatible with Mac via Thunderbolt 2 . Colour gamut is covered with sRGB over 99%. It  also has 7Wx2 Stereo speakers with MAXXAUDIO. LG is targeting this monitor primarily for business users.
Image Courtesy – LinusTechTips
Last but not the least , LG also showed off new 55-inch 8K Display at CES 2015, codenamed Mabinogion.
This 55-inch 8K display bears a resolution of 7680X4320 pixels i.e 33.2 million pixels total and has a PPI of 160. This display is equipped with 20 display driver ICs. A prototype of this was made in early November. Taking a look at the features , LG ramped up the brightness of the Mabinogion to 500 nits by using a new method of controlling the aperture ratio and in the place of RGB sub-pixels, adding W sub-pixels. LG used 3D images generated by some "unnamed" high quality Nvidia GPU during the development and Nvidia's South Korean office also helped in making the display and its driver ICs.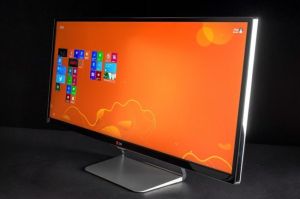 Image Courtesy: DigitalTrends
LG also showed off their range of Ultra HD Quantum Dot TVs and OLED TVs, but we'll cover them in a separate article.