Developer Firaxis and owner Take-Two Interactive have announced Civilization VI, the next entry in the popular grand strategy game series. Arriving October 21 on PC, Civilization VI will bring new features to the series, like physically-expanding cities, more active technological and cultural research, and more.
After taking on space in Beyond Earth, the series returns to its roots. Firaxis intends to retain a lot from Civilization V, but will also be introducing new gameplay elements.
"Sid Meier's Civilization VI builds on the firm foundation of the Civilization franchise, and we've added many exciting new elements," said Ed Beach, lead designer at Firaxis Games. "The visual presentation of the game is inspired by the maps and tools of the Age of Exploration, and we've made several key gameplay changes such as expansive cities and active research that makes Sid Meier's Civilization VI an entirely unique experience while remaining true to what makes the Civilization series so special."
Probably the biggest change will be the approach to the development of cities, which are now divided into districts involved in specific fields. The player will be able to choose what will be in what part of their sprawling empires. These choices will reward various bonuses that will bring players closer to victory. Another interesting new feature is the new approach to building the army. The player will be able to group multiple unit types with each other, thereby creating a stronger and more diverse military. Similar units can also be combined to form powerful "Corps" units.
"Sid Meier's Civilization games hold a reputation for defining the 4X gaming genre for the past 25 years," said Christoph Hartmann, President of 2K. "We can't think of a better way to celebrate the silver anniversary of our longest-running franchise than launching the eagerly anticipated Sid Meier's Civilization VI, which will provide the most detailed, beautiful and complete experience ever featured in a Civilization game."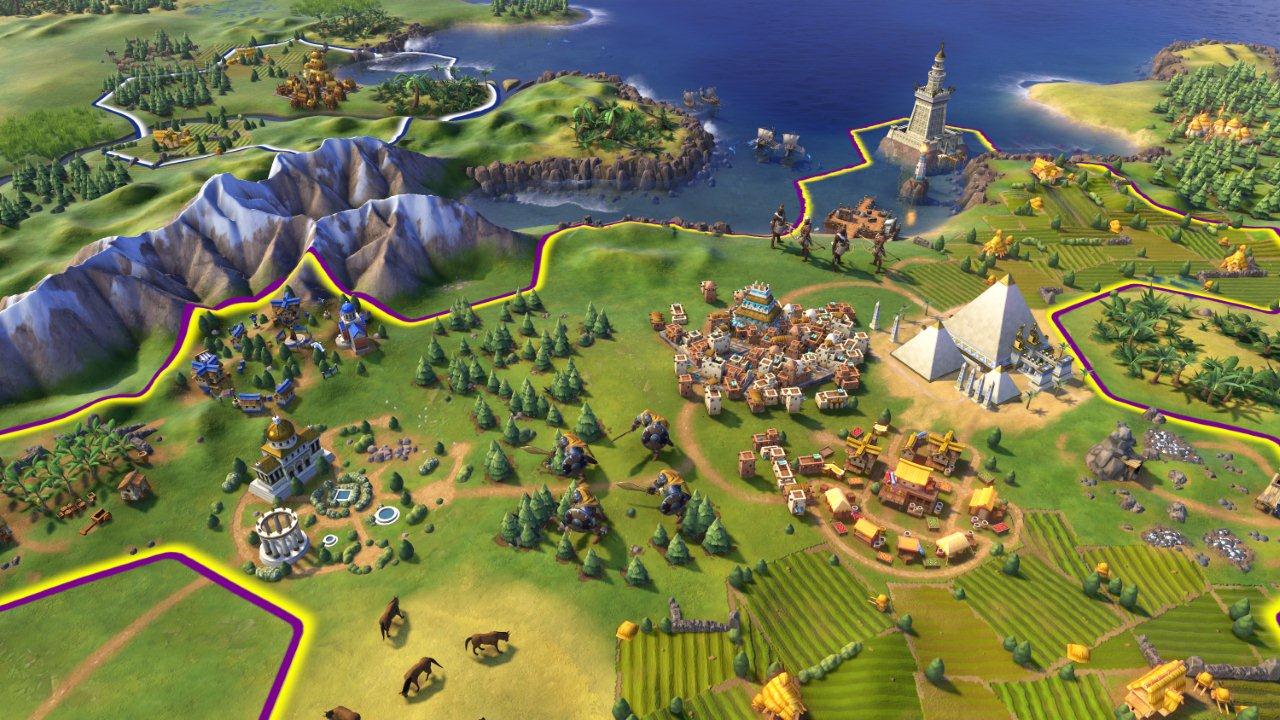 Here's what you can expect from Civilization VI:
EXPANSIVE EMPIRES: See the marvels of your empire spread across the map like never before. Each city spans multiple tiles so you can custom build your cities to take full advantage of the local terrain;
ACTIVE RESEARCH: Unlock boosts that speed your civilization's progress through history. To advance more quickly, use your units to actively explore, develop your environment, and discover new cultures;
DYNAMIC DIPLOMACY: Interactions with other civilizations change over the course of the game, from primitive first interactions where conflict is a fact of life, to late game alliances and negotiations;
COMBINED ARMS: Expanding on the "one unit per tile" design, support units can now be embedded with other units, like anti-tank support with infantry, or a warrior with settlers. Similar units can also be combined to form powerful "Corps" units;
ENHANCED MULTIPLAYER: In addition to traditional multiplayer modes, cooperate and compete with your friends in a wide variety of situations all designed to be easily completed in a single session;
A CIV FOR ALL PLAYERS: Civilization VI provides veteran players new ways to build and tune their civilization for the greatest chance of success. New tutorial systems are designed to introduce new players to the underlying concepts of Civilization so they can easily get started on a path to victory.
You can pre-order the standard edition of Civilization VI right now on Steam for $59.99 and for Rs 2,499 on Games The Shop.
There will also be a deluxe version of the game, which features the full game, the 25th-anniversary soundtrack, and access to four post-launch DLC expansions. While 'Civilization VI' will debut as a PC only title, it's expected that a Mac version will follow, likely before the end of the year. 2K will be showing of 'Civilization VI' at E3, so stay tuned.