CES 2015 : MSI introduces new motherboards, GPUS, laptops and AIOs
CES is onto us again, and like every year, manufacturers have been showing off their latest and greatest in the desert city of Las Vegas, inside the swanky Las Vegas Convention Center. Micro-Star International, in brief, MSI, also showed off some of their new products. Let's go through them one by one and take a look at what they had in store.
Motherboards:
MSI had quite a few motherboards up their sleeve for CES, and we got to see some of their new as well as existing products.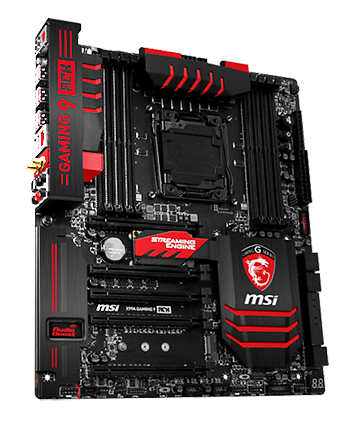 The X99A GAMING 9 ACK is a top of the line motherboard based on Intel's HEDT platform and features 2 USB3.1 ports – the first in any motherboard. USB3.1 is a brand new standard and enables transfer speeds of up to 10Gbps and a whooping 100W power envelope. You would need compatible hardware to get that speed, though. Apart from this, the motherboard is filled to the grill with all the features expected on a flagship motherboard – Killer LAN and Killer Wi-Fi AC, Streaming Engine (onboard AverMedia encoding chip allowing for [email protected] recording), Turbo M.2 32 Gb/s, Audio Boost 2, 4-way SLI support to name a few.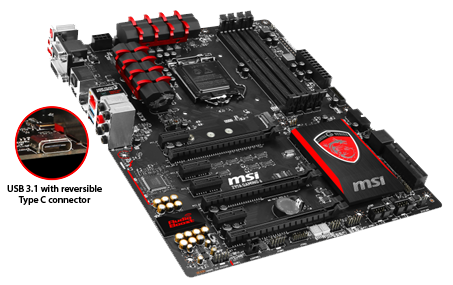 The next one in the line isn't a flagship board, but again MSI equips the Z97A GAMING 6 with an USB Type-C connector. Type-C is another brand new standard which takes compatibility to the next level. Like Apple's lightning connector, the port is reversible and allows for a connection in any orientation. It also retains the specs for USB 3.1, so that should be really interesting to see how this standard gets implemented in future. It is nice to see MSI adopting these standards early.
Last but not the least is the X99S SLI Krait Edition. We have seen the Z97 Krait debut a few months before, and now MSI has brought the moniker to X99 platform. This motherboard layout wise is very similar to the X99S SLI PLUS, but should come with a few hardware upgrades as well apart from the visual makeover (audio seems to be upgraded).
Graphic Cards:
Two cards stood out in MSI's already impressive line of GPUs, but turns out that these cards are results of two different things at MSI.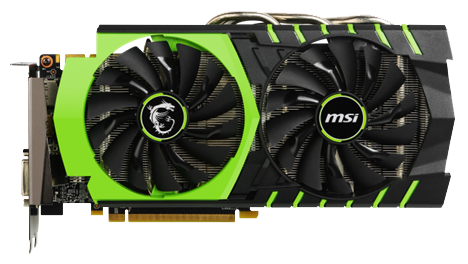 The GTX 970 GAMING 100ME is a GAMING series card with the TWIN FROZR V cooler draped in NVidia Green/Black and commemorates a landmark occasion for MSI: 100 million NVidia based VGA cards sold worldwide. There will be additional goodies provided with the package, MSI said, but as of now there's no information on that.
The second is a GPU with a black and white color scheme. The cooler is a little different than their traditional TWIN FROZR coolers but features dual fans. No word on which GPU models will get this treatment yet, but this should fit nicely with their Krait motherboards in terms of the overall theme.
Laptops and AIOs:
Quite possibly the biggest showstopper for MSI at this year's CES has been their GT80 Titan SLI notebook. This is a behemoth of a notebook with an 18.4 inches screen size, intended squarely as a desktop replacement. The specs are beastly too – a top of the line Intel Core i7-4980HQ processor, dual GTX980M cards in SLI, support for 4x M.2 SATA SSDs in RAID 0 and up to 32GB of memory, an additional 2.5" bay for an HDD/SSD, 802.11ac WiFi and Killer GbE to name a few. But these are not the notebook's standout feature. It has a full mechanical keyboard courtesy SteelSeries, with Cherry MX Brown switches. This is the first time we're seeing such an implementation, and before we jump into the practicality of including such an option in a notebook sized chassis, the execution itself looks top notch. This has a couple of downsides, however. The touchpad is now on the right hand side, leaving lefties out of the option. The chassis length is elongated to accommodate the keyboard and that increases the footprint quite a bit. But the touchpad doubles up as a touch-sensitive number pad, and MSI has promised upgradability for the GPUs for two upcoming generations, which may sweeten the deal. The notebook comes with a 1080p display with no 2k/3k/4k options as of now, but they might be introduced in future.
The GS30 Shadow is another interesting proposal. The core laptop uses a Crystalwell i7-4870HQ processor, 16GB of DDR3L memory, RAID SSD storage, and a 13.3" 1080p anti-glare IPS display in a slim 13.3 inch chassis. But it doesn't end here. There is a GPU expansion dock that supports full size desktop GPUs up to GTX 980, and Titan/Z/Black, as well as various AMD options. The dock uses a proprietary connector based on a full PCIe 3.0 16x connector linking with the laptop which sits on top of it. The dock also includes support for an additional 3.5" HDD, Killer GbE, and includes two speakers and four USB3.0 ports. It comes with a 450W power supply preinstalled.
Next up is the GE62 Apache. With the GE62, MSI is trying to woo the budget minded crowd. The 1.14 inch thick notebook weighs less than 6 lbs and comes with decent specs, a Haswell i7-4720HQ, up to 16 gigs of DDR3L memory, and graphics horsepower of GTX970M/GTX965M. This is probably going to replace MSI's existing Dominator GT60 line of laptops.
The AIO market seems to be on an increase, and while Windows AIOs haven't quite matched up to the Apple iMac 5k, we are now starting to see better options. MSI showed off their AG240 All-In-One 4K Gaming PC in this year's CES. This machine features 3x mSATA SSDs at RAID 0, Intel's latest processor, NVIDIA GeForce 900M Series GPU running a 24 inch 4K display. The display also features MSI's Anti-Flicker and Less Blue Light technology.
On the other end of the spectrum you have the AP16 Flex AIO, which doubles up as a tablet. It runs on an Intel Bay Trail J9100 Quad Core processor.
MSI also demoed PANOCAM, an advanced wireless video camera with a fisheye lens, but we will cover that in another write up.
We will also keep on updating about the availability of the showcased products.