Earlier this year NVIDIA brought their highly talked about pascal lineup into public view in the form of GTX 1080, GTX 1070 and lastly the mid end phenomenon the GTX 1060 built on TSMC's 16nm FinFET process.
We are a little late in covering the Pascal GPU's as the sample availability was scarce (for us anyway). However, without a further ado let's start with the GTX 1070 sample we have in our hands courtesy our good friends over in Asus India.
But first let's have a quick refresh on the specifications of the new lineup along with the retiring flagships.
NVIDIA GPU Specification Comparison
GTX 1080
GTX 1070
GTX 980
GTX 970
CUDA Cores
2560
1920
2048
1664
Texture Units
160
120
128
104
ROPs
64
64
64
56
Core Clock
1607MHz
1506MHz
1126MHz
1050MHz
Boost Clock
1733MHz
1683MHz
1216MHz
1178MHz
Memory Clock
10Gbps GDDR5X
8Gbps GDDR5
7Gbps GDDR5
7Gbps GDDR5
Memory Bus Width
256-bit
256-bit
256-bit
256-bit
VRAM
8GB
8GB
4GB
4GB
FP64
1/32
1/32
1/32
1/32
TDP
180W
150W
165W
145W
GPU
GP104
GP104
GM204
GM204
Transistor Count
7.2B
7.2B
5.2B
5.2B
Manufacturing Process
TSMC 16nm
TSMC 16nm
TSMC 28nm
TSMC 28nm
Launch Date
05/27/2016
06/10/2016
09/18/14
09/18/14
Launch Price
MSRP: $599
Founders $699
MSRP: $379
Founders $449
$549
$329
GTX 1070: A Look Inside
Architecture wise we don't see much of a difference in the new GP104 chip. The ALUs, texture units, ROPs, and caches all behave the same way like the older generation 900 series cards. The main difference is in the numbers and the memory.
While the GTX 1080 is a fully capable GP104 chip, its younger sibling has about 25% of its capability knocked off for a lower price. The GTX 1070 utilizes the whole GP104 with 1 of the 4 GPC(Graphics Processing Clusters) disabled which results in the aforesaid 25% reduction in performance. However, the ROPS' and Memory controller stays the same and untouched.
The GTX 1070 provides 1920 CUDA cores shared over 15 SMMs running at a base clock speed of 1506MHz and a boost clock of 1683MHz. The clock speed won't make much of a difference but the disabled GPC will have an effect in the performance. The card is a direct successor of GTX 970 however with a 65% extra shading, texturing, and geometry throughput, and 63% extra ROP output. The ROP output is a result of the GTX 1070 shipping with all the 64 ROPS enabled as opposed to the GTX 970 where 56 or 64 ROPS were enabled.
Memory wise we see the return of GDDR5. Overall, the card gets 8GB of GDDR5 running at 8Gbps along a 256 bit bus. This delivers a total bandwidth of 256 Gb/s which is around 31% faster than its predecessor.
TDP wise the GTX 1070 is rated at 150W, which is a 5W increase over the GTX 970 and its noteworthy that NVIDIA is not advertising this card as the sub 150W champion, that place is for the recently released GTX 1060.
Pricing And Specifications
Traditionally the reference edition cards from NVIDIA usually sit at a lower price. But in the GTX 1000 series, there is a significant change in the norm. The reference card has been replaced with the founder's edition. These boards will be sold at a higher price point along with a few upgrades on the component quality as per NVIDIA. The custom cards like the one we are reviewing today might or might not be priced lower than the founder's edition.
This Asus Strix GTX 1070 retails at around 47K in different online retailers : Link
Specifications
Graphics processor : NVIDIA GeForce GTX 1070,
Engine Clock : OC Mode – GPU Boost Clock : 1860 MHz , GPU Base Clock : 1657 MHz Gaming Mode (Default) – GPU Boost Clock : 1835 MHz , GPU Base Clock : 1632 MHz
Pipeline : 1,920 stream processors, 120 texture units, 64 ROPs
Memory : 8GB GDDR5, 8GHz effective
Bandwidth : 256GB/sec, 256-bit interface
Compatibility : DirectX 12, Vulcan, OpenGL 4.5
Outputs/Inputs : 2 x DisplayPort 1.4, Dual Link DVI-I, 2 x HDMI 2.0b
Power connections :1 x 8-pin PCI-E, top-mounted
Size : 298mm long, dual-slot
Warranty : Three years from Asus India
No extra accessories comes with the card.
The product we are reviewing today is the ROG STRIX-GTX1070-O8G-GAMING.
Brief Overview
Since the humble reviewer suffered a storage mishap we will have to make do with stock pictures this time, however as soon as we can recover files from the SSD we will add them to the review.
But first lets take a look at what is all this hoopla around the Strix.
The Strix brand is Asus premium offering for a quite a bit of time now and such commands a little bit more pricing than the other models available in the market now and as such it comes with all the bells and whistles that the Asus premium range brings on about.
What we have in the Strix 1070 is a better binned GTX 1070 on a custom PCB with custom VRM circuitry with a beefy  DirectCU III cooler (which is a bit controversial since many people have trouble deciding if the cooler is indeed very good since not all the heatpipes touch the GPU)
Link : Reddit
We will let the mechanical engineering/heat transfer specialists (wannabe or actual) to fight out this battle. However, during our brief testing period the card worked without giving us much trouble.
Backplate Information
The package however, has a nice topping off with a backplate with RGB ROG logo on it. This is fully lighted and controllable with proprietary software by the way!
The card employs a heavy bit of plastics however we see a generous use of metal as well including the back plate. One interesting thing that I saw was a metal bracket which covered most of the memory chips. The bracket also acts as a holder for the metal back plate for extra protection.
Picture Credit : Bit Tech
Coming to custom circuitry side of things we have the typical Asus 6+1 phase VRM with power being fed by a single 8 pin connector. One interesting thing to note is the card features two 4PIN PWM connector where the user can connect two case fans which can be synced through the bundled software.
Benchmarks
As usual we ran our general benchmark suite on the GTX 1070 and here are the results we came up with.
We missed a few suites(specially the workstation performance suite due to some issues in our end, but we will be back with them in our coming reviews)
Do note since we have started off with a clean slate the charts will be a little different form what you have seen in our earlier reviews but as we test more cards the charts will soon be more in line with our previous reviews.
Testing Platform Info
CPU : Intel Core i5 6600K
Motherboard : Asus Maximus VIII Ranger courtesy Asus India
Memory : Kingston HyperX Fury DDR4 2666 MHz courtesy Kingston India
Storage : Kingston 
PSU : CoolerMaster V1000
Cooling System : Custom Liquid Cooling Loop based on the Thermaltake RL240 courtesy Thermaltake India
Without further ado lets check out how the card performed.
4K Resolution 3840×2160
1440P Resolution 2560×1440
1080P Resolution 1920×1080
3DMark Benchmarks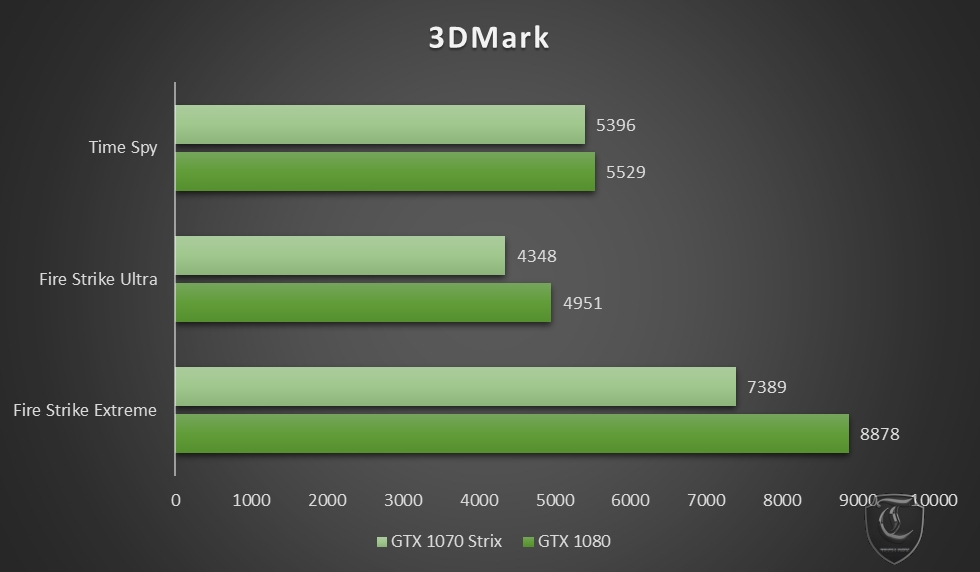 Overall We can say the card is pretty capable of running any title over 60FPS (maybe not Metro 2033, but hey that game is like the new crysis!)
Conclusion
The Asus Strix series is the flagship of ASUS Graphics card lineup since the more revered Platinum treatment is not always given to all the generation. As such the GTX 1070 Strix gets all the new technology that Asus brings up in addition to the usual high-end treatments like the DCU III coolers along with premium grade components and all.
The card manages to do justice to an already capable GTX 1070 in every possible way in addition to running beautifully through all our tests. We even managed to show off the card in our demo cum review system in an event and as expected it turned a lot of heads.
Overall a very capable card albeit with a slightly high price tag, something around 42/43K would have been a sweet deal for this gem of a card.
The price is really hurting this gem of a card and I think Asus management should look into it given the fact there are a few capable card form its competitors which gives this very good competition and run for its money.
After a brief verbal dual we decided to give the Asus Strix GTX 1070 a well deserved Silver from the TechARX team.