Released more than year ago, Nvidia's GTX 780 has continued to dominate the mainstream high end gaming segment, until the R9 290 from AMD emerged. Yet, in the first few months AMD's card was plagued with crypto-mining debacle, with prices shooting up as ridiculous as $700 in a couple of retailers, but in the last quarter we have seen it stabilize quite a bit, pushing Nvidia to cut down the prices of the original 780 itself.  Nevertheless, as a cooler and less power hungry alternative, the GTX 780 still enjoys recommendations from a lot of enthusiasts.
One of the biggest disadvantages of the GTX 780 against the R9 290 was that it came with only 3 GB of GDDR5 memory (290 came with 4 GB).  This translated into substantial hits when it came to high-resolution gaming compared to the 290, and while both cards struggled to get playable frame rates in 4k with all the details jacked up, the 290 was almost universally faster due to a larger headroom. We can argue that the mainstream gaming resolution has hardly moved from 1080p; but there is plenty of proof that there is a gradual progression towards higher resolutions.
There are certain testing-the-water aftermarket variations of both NVidia and AMD's flagship GPUs with more VRAM – a trend that really took off with the 600 series/7000 series. But not all games benefitted from a bumped up video memory. Some were still confined to CPU horsepower and core numbers, and some fiddled with the actual GPU prowess instead of utilizing the memory available. But there was a ray of light here somewhere – a couple of games actually did benefit from more VRAM, and the idea propelled forward.
With flagship Maxwell GPUs quite some time away, manufacturers are looking for more ways to penetrate the high-resolution gaming industry. Asus however is taking this route in a different way altogether. The Asus STRIX line, introduced in 2014, basically focuses on silent operation.  According to Asus, this branding will primarily produce silence optimized GPUs, with peripherals too in the pipeline. For graphics cards, this idea isn't exactly novel; passively cooled GPUs have been there for quite a long time. But for a 250W TDP card like GTX 780, passive cooling is out of the question (unless you want to go for something outrageous like one of those iCool coolers). Asus is taking the route as some of the flagship power supplies like Corsair's AX series have taken in the past – the GPU fans do not spin at all until a specific temperature is reached. Asus boasts of this threshold temperature to be as high as 65 C, a claim that we will test in this review.
Asus ships GTX780 STRIX OC with 6 GB of GDDR5 memory and gives it a mild overclock. 889 MHz base/941 MHz boost is modest 3%/4.5% increase over the stock 863/900 MHz. The memory is effectively clocked at a shy over 6 GHz (effective data rate 6008 MHz, frequency 1502 MHz GDDR5) over a 384 bit memory interface bus. The card retains its 2,306 CUDA cores, a result of 12 of the 15 stream processors being enabled. It comes packed with 192 TMUs and 48 ROPs.
From a design perspective, this card is basically am evolution of Asus' popular Direct CU II model. Asus gives the card a matte black paintjob to go with their STRIX branding.
I headed to Asus' website to gather more information about the STRIX 780 OC (Part Number: STRIX-GTX780-OC-6GD5)
– 941 MHz Boost clock for better performance and outstanding gaming experience.
– DirectCU with 0dB fan technology lets you enjoy light games in complete silence, and hardcore gaming 20% cooler with 3X-quieter performance!
– DIGI+ VRM with 10-phase Super Alloy Power delivers precise digital power for superior efficiency, reliability, and performance.
– GPU Tweak helps you modify clock speeds, voltages, fan performance and more, all via an intuitive interface.
– GPU Tweak Streaming Share on-screen action in real time – so others can watch live as games are played.
Personally, I get the impression that Asus is really trying to hit two birds with one stone – creating an overclocked flagship-grade graphics card with near-silent operation. Whether it succeeds or not will be the primary focus of this review.
Hardware impressions:
I've said this before, and let me say it again: the GTX780 STRIX OC  has the 780 DCUII in its heart, and then builds upon it. The card gets a makeover for the STRIX branding.
The card measures 28.5 cm x 14.5 cm.
The front of the card houses the metal shroud which sits much higher than the standard PCIE slot cover. This is a trend being followed with the DCUII designs and continues here. With the STRIX branding more focused on silence, the flashy red highlights are gone and replaced by an edgy muted black design with patterns painted on the middle of the card. Overall, the subtle design is impressive and beautiful. I am partial towards matte black, but I think most of us will agree that Asus has hit the sweet spot in terms of overall design of the card: it looks the part.
The only dash of red comes in as central dots on the two fans. Asus uses the same fans as their DCUII models; a blade / bearing design, with an inner radial blower and outer flower-type blades, albeit with a different fan profile. The fans are dust proof, and Asus boasts that the newer fan profile makes sure that the fan doesn't even spin until the GPU temperature reaches 65C. The newest generation of DCUII coolers have shrunk to two slots from their earlier three slot (remember GTX580?), but that does not necessarily mean that Asus has toned down the cooling design.
The bottom of the card has the 4 heatpipes coming out of the contact point of the cooler with the GPU core, and you can notice a set quite bigger than the other. Asus says that these bigger heatpipes are 10mm thick (a first for GPUs, as per Asus) which enables more area of heat dissipation. It also houses the PCIE x16 generation 3.0 contact points.
Moving to the top of the card we see the massive fifth heatpipe, another 10mm one, peeking out again, and apart from that there's the usual STRIX branding on the right hand corner of the card. Asus has changed the direction of the PEG inputs to make sure the clips for the connectors are on the top side. This is a neat little user convenience measure.
The card has one 8 PIN and a 6 PIN PCI-Express power connector, so configuration wise we're looking at up to 300W of power draw.
Top of the card also has the proprietary SLI connectors. The presence of two connectors means that you can run these cards in a 4-card configuration, but as of now the situation with 4-way SLI remains muddy.
Display connectivity options include two DVI ports, one HDMI port, and one DisplayPort. Multi-monitor gaming is supported, so you can use more than one display output simultaneously. The GPU also has a HDMI 1.4a compatible sound device which includes HD audio and Blu-ray 3D movies support.
The back of the card is dominated by a sturdy backplate. Asus proudly displays the card's DCUII roots here with DirectCU II written on it. The right hand side has the connectors for voltage measurements and VGA Hotwire – for you to tinker with the GPU from the BIOS to do voltage and power adjustments. Keep in mind; these are not for the faint hearted.
I didn't want to take the card apart so I headed to the sites which had taken it apart to look at its PCB. The GTX780 STRIX OC internals is pretty much like the DCUII PCB, using same Hynix memory (Part number: H5GC4H24MFR-T2C) albeit with condensed clusters to achieve the 6144MB of total memory size and controlled via the same six memory controllers.
Asus' popular DIGI+ VRM, the digital voltage regulator is present here, and Asus uses 8+2 phase power delivery to ensure more overclocking headroom is available. Asus says that using premium 'Super Alloy' chokes and digital voltage regulator in GTX780 STRIX OC minimize power noise by 30%, enhance power efficiency by 15%, widen voltage modulation tolerance, and improve overall stability and longevity by 2.5 times over reference. The reference 780 uses a 6+2 phase power delivery.
Accessories include Driver CD + documentation, two PCIe 6-pin to 8-pin adapters, a DVI adapter and a flexible SLI bridge. I would have loved to see a black SLI bridge provided, since the card's central theme is also black.
Performance:
I took the card and pushed it through the popular games to see how well it performed. I kept the gaming benches at 2560×1440 since the GTX780 STRIX OC came with 6 GB of GDDR5.
Test System:
– Intel Core i7-3930K (3.2 GHz, Turbo 3.8 GHz) running at stock, cooled by Swiftech H320 closed loop CPU cooler
– Asus Rampage IV Extreme motherboard, BIOS 4403
– GSkill RipjawsZ memory, 16 GB DDR3 SDRAM, quad channel, 1600 MHz, 9-9-9-24-2T, 1.5V
– Asus GeForce GTX 780 STRIX OC 6 GB
– Kingston 64 GB SSDNow V300 as boot drive, WD 3 TB Green as data drive
– Corsair HX750 80+ Silver PSU powering the entire unit
– Dell Ultrasharp U2713HM display, 2560×1440, 60Hz
– NZXT Phantom 820 for closed testing
Let's look at the numbers now.
Starting the proceedings with basic benches like 3DMark Vantage and 3DMark11
.
First game we see here is Battlefied 4. Frame rates hover between high 50s to a few drops below 40s. Overall gameplay remains very smooth, even with all the settings dialed up.
Next up is Metro Last Light. A very demanding game with all the settings cranked up, the STRIX 780 struggles here to keep frame rates above 25 per second. We also see a couple of dips below 10 FPS.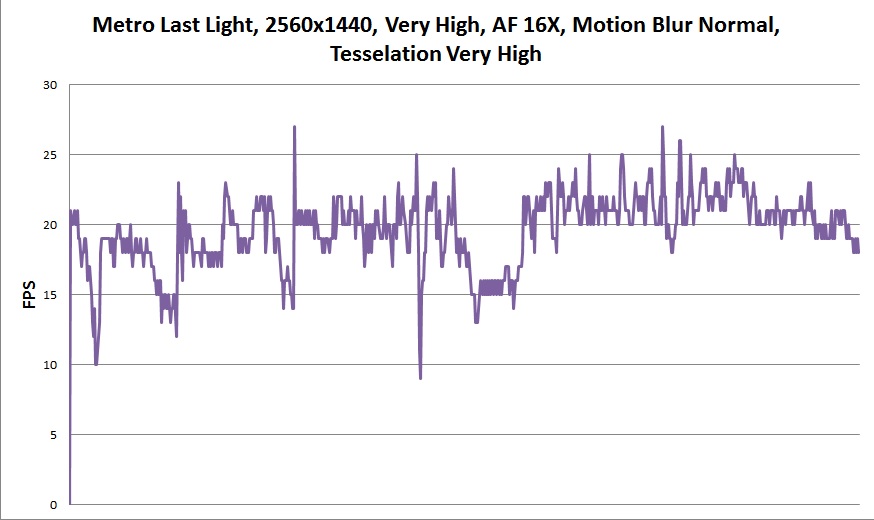 Watch Dogs, Ubisoft's latest open-world title has received quite a bit of flak from PC gaming community for sub-par graphics. Even without all those E3 settings turned off, I found the game to be a system hog.
Coming to Crysis 3, we also see similar behavior. GTX780 STRIX OC has no troubles dishing out playable frame rates even with all the settings on Ultra.
Sniper Elite 3 is the newest game in this benchmark. In high resolutions it can also create quite a pain on your system, though the visuals are not at par with BF4/Crysis3.
Here's a snapshot of the minimum/maximum/average FPS for the above games.
Catzilla is a new GPU benchmark which also has a couple of CPU benches thrown into the mix. At stock, the scores were 25056. Compare that to AMD's last generation flagship, the 7970, which scored around 13000 in similar settings.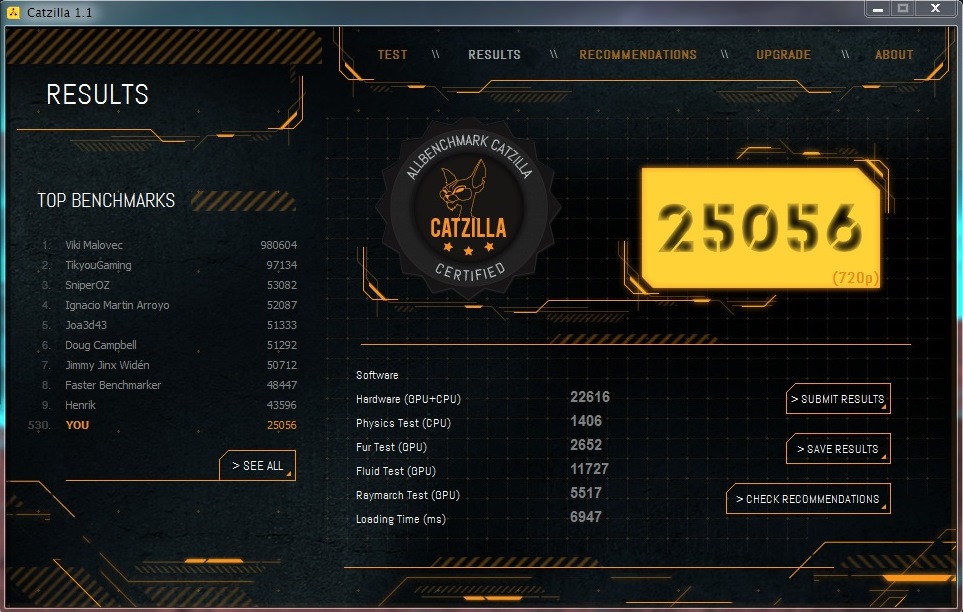 Stock settings with Unigine Heaven Extreme DX11 results in 2753.903 marks.
I ran Luxmark, a popular OpenCL benchmark tool to measure the compute performance. It scored a modest 2127.
Overclocking:
I managed to get this card as high as 1112 MHz on core and 1830 MHz on memory, effective overclocks of 25% and 22% respectively. I tried to push the GPU further but anything more than 1115 MHz on the core and I would get artifacts. But even at this setting this is quite impressive. I believe the card has further potential if voltages can be unlocked and more exotic cooling methods applied.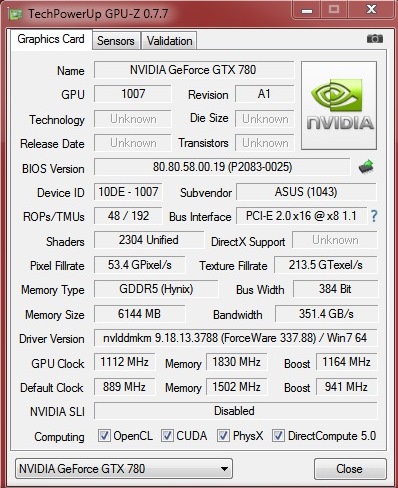 I ran the benches again and saw quite a significant improvement over stock results. 3DMark11 score shot to 13947 while Unigine Heaven score increased to 3373.
Conclusion:
The GTX780 STRIX OC  6GB is an interesting take on the now more than a year old GTX 780. Yet the added benefits are not the double VRAM that Asus provides the card with, but the overclocked default clocks, a sturdy build, and improved cooling which attributes to the card scoring much higher than a reference 780. I was pleasantly surprised when the card surpassed some of the scores dished out by a stock 780Ti while overclocked, and while doing it didn't break a sweat. Temperatures were always lower than 65C, even in high ambient temperatures, and as Asus proudly advertised, the fans did not spin up. Like AT ALL! It was when I gamed on it for prolonged time using something as demanding as Metro Last Light did I see the fans whir, but again when the temps came down, they stopped rotating. This goes a long way in building a silent PC, and it is heartening to see Asus listening to the needs of the silence freaks.
Let me come to the 6 GB VRAM part here. While there are noticeable benefits in some games with high-res textures, most of the benchmarks and modern games aren't capable yet to take full advantage of the available memory. I'm not against it though; crank up a BF4 multiplayer map with 16+ players and you can see for yourself how that can make your system crawl. The added memory certainly helps keep the framerates playable. It's a welcome step towards more high resolution gaming if you ask me. For other GPU oriented benchmarks as of now, there's little incentive in moving from 3GB to a 6 GB VRAM. There are competing models from camp red showing up with similar amounts of memory installed. A R9 290X from HIS even goes as far as to strap the card with a whooping 8 GB of graphics memory. I unfortunately do not have a triple monitor setup or a 4k display so the effectiveness of the added VRAM is limited in my 1440p testing.
What's the difference with the DCUII cards which can be had cheaper? Well the bump in core and memory clocks, premium component choice, zero DB fan profile, improved looks – I can go on and on. But then again, for some, these factors don't matter, they simply want the best value proposition. Nvidia's fantastic reference card keeps their options open, as well as the DCUII model. For those who want a little bit extra to add a little more oomph to their system, or for gamers looking to crank the settings up while playing in a high resolution setup (1440p+), this card makes sense.
If I want to be nitpicking, I would like to see a couple of things addressed by Asus. First, ditch those ugly looking SLI connectors – make the black connector a default accessory. Second, I would have loved to see a glowing STRIX logo, possibly in white. With the black theme, it would have added that extra sexiness. Third, the idle temperatures are a little bit on the higher side (though not high enough to be a problem or a deal breaker). Apart from that I really cannot find any flaws in the GTX780 STRIX OC. Again, like their Matrix Platinum or Mars cards, this is targeted towards a specific crowd. The install it and forget it crowd may look elsewhere.
The stiffest competition comes from both inside and outside. AMD's venerable R9 290X and R9 290 cards can be found much cheaper. Though the reference cards are much hotter and consume more power, the performance is up there with the GTX780. Plus, there are a slew of aftermarket solutions that keep the card temps down to a significant bit. I'll be waiting to see Asus take the challenge to produce a STRIX card for Hawaii GPUs. Nvidia's own 780Ti is also a competition to the STRIX 780, sadly,and for a little price premium you can get arguably the fastest single card GPU on the planet right now. Though when overclocked, the STRIX reaches stock 780Ti level performance, many users aren't comfortable with tinkering with their PC components and for them the 780Ti would be more appealing in terms of performance.
Overall, Asus' approach is welcome; they're stepping into the path of the future, even if that future has still a couple of doors away.
Rating: 9/10