ASUS Announces NVM Express Devices Support for All X99 and Z97 Motherboards
ASUS today announced that it is the world's first motherboard brand to support all NVM Express™ (NVMe) storage devices via BIOS update and optional ASUS Hyper Kit expansion card.
The  BIOS update enable all ASUS X99 and Z97 motherboards to be compatible with the latest NVMe storage devices, including those with PCI Express® (PCIe®) and M.2 (PCIe) interfaces. All ASUS X99 motherboards are also compatible with the latest 2.5-inch NVMe SFF-8639 solid-state drives (SSDs), via the exclusive ASUS Hyper Kit expansion card — for ultimate data-transfer bandwidth up to 32Gbit/s.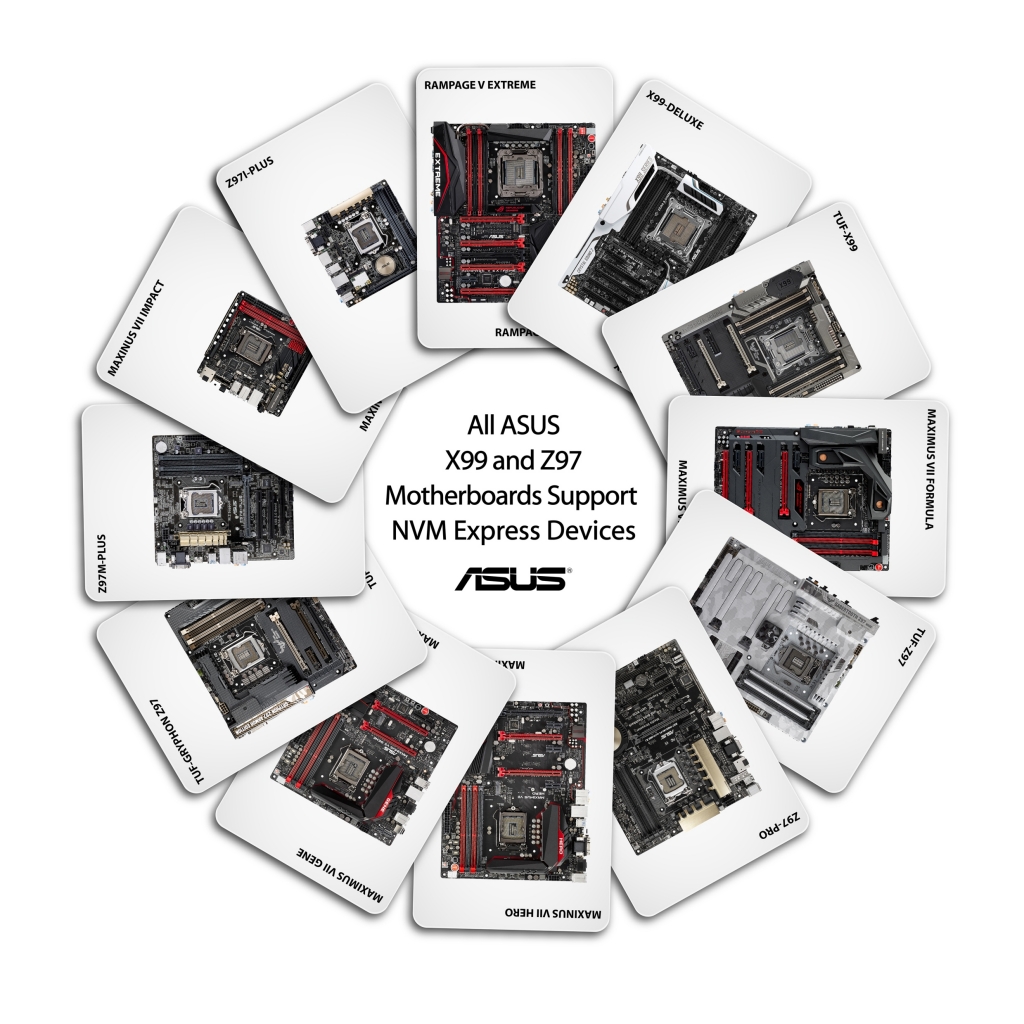 Supported Motherboards
Chipset
Model
PCI Express
SFF-8639(with ASUS Hyper Kit)
BIOS Version
X99
Rampage V Extreme/U3.1
Yes
Yes
1401
X99-Deluxe/U3.1
Yes
Yes
1702
X99-Pro/USB 3.1
Yes
Yes
1702
X99-A/USB 3.1(Transfer Express)
Yes
Yes
1702
X99-A/USB 3.1
Yes
Yes
1702
Rampage V Extreme
Yes
Yes
1401
X99-Deluxe
Yes
Yes
1702
X99-Pro
Yes
Yes
1702
X99-S
Yes
Yes
1702
X99-A
Yes
Yes
1702
Sabertooth X99
Yes
Yes
0216
Z97
Z97-Deluxe/USB 3.1(NFC & WLC)
Yes
N/A
0401
Z97-Deluxe/USB 3.1
Yes
N/A
0401
Z97-Pro(Wi-Fi ac)/USB 3.1
Yes
N/A
0501
Z97-A/USB 3.1
Yes
N/A
0501
Z97-E/USB 3.1
Yes
N/A
0403
Z97-K/USB 3.1
Yes
N/A
0402
Sabertooth Z97 Mark 1/USB 3.1
Yes
N/A
0401
Sabertooth Z97 Mark 2/USB 3.1
Yes
N/A
0203
Maximus VII Formula
Yes
N/A
2601
Maximus VII Hero
Yes
N/A
2601
Maximus VII Ranger
Yes
N/A
2601
Maximus VII Gene
Yes
N/A
2601
Maximus VII Impact
Yes
N/A
2601
Z97-Deluxe(NFC & WLC)
Yes
N/A
2205
Z97-Deluxe
Yes
N/A
2205
Z97-Pro(Wi-Fi ac)
Yes
N/A
2205
Z97-Pro
Yes
N/A
2205
Z97-A
Yes
N/A
2205
Z97-AR
Yes
N/A
2205
Sabertooth Z97 Mark 1
Yes
N/A
2205
Sabertooth Z97 Mark 2
Yes
N/A
2205
Sabertooth Z97 Mark S
Yes
N/A
2205
Gryphon Z97 Armor Edition
Yes
N/A
2205
Gryphon Z97
Yes
N/A
2205
Z97-Pro Gamer
Yes
N/A
2103
Z97-C
Yes
N/A
2404
Z97-E
Yes
N/A
0702
Z97-K
Yes
N/A
2603
Z97-K R2.0
Yes
N/A
0802
Z97-P
Yes
N/A
2801
Z97M-Plus
Yes
N/A
2801
Z97I-Plus
Yes
N/A
2604
H97
H97-Pro Gamer
Yes
N/A
2405
H97-Pro
Yes
N/A
2801
H97-Plus
Yes
N/A
2502
H97M-Plus
Yes
N/A
2501
H97M-E
Yes
N/A
2402
H97I-Plus
Yes
N/A
2603