And as for the download link, here you go :-
Meet AMD's Radeon Software Crimson
Radeon Software Crimson Edition is AMD's revolutionary new graphics software, delivering a redesigned user interface, supercharged graphics performance, remarkable new features, and innovation that redefines the overall user experience.
Performance-driven design
User-oriented functionality
Trustworthy stability
Next year AMD will provide six major releases WHQL-certified drivers. In addition, servers producer will go beta release that will allow the company to more frequent introduction of new products.

Radeon Software Crimson Edition has a new user interface, up to 20% greater performance and up to 1.8 times lower power consumption.
AMD has increased the number of automated test reportedly by 100% and manual testing by 25%. To test procedure reportedly added 15% more configuration.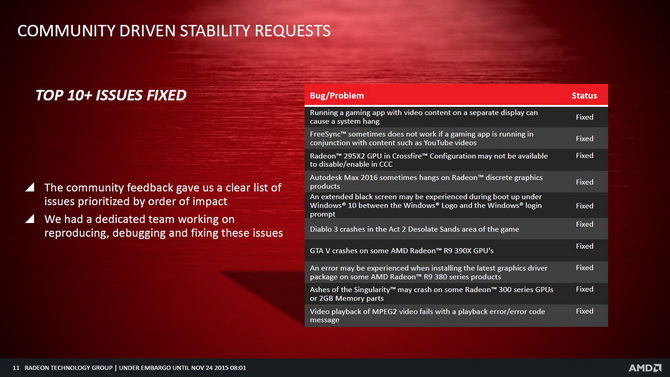 AMD boasts of repair errors reported by the community and promises to always pay heed to their community.
Radeon Settings is a new control panel – starts 10 times faster than the previous interface, and also offer greater control over game settings. Settings is completely rebuilt and is based on Qt technology.
The Radeon Catalyst interface is now gone and Radeon Crimson sports a rebuilt UI that is much more smoother and user friendly.
As previously announced, Radeon Crimson onwards, all new Radeon Software drivers will install much faster and new displays are detected as soon they are connected to the ports.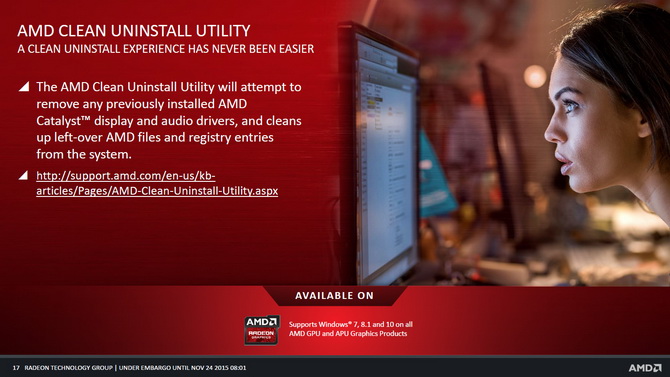 AMD Technology Clean Uninstall Utility to help users effectively get rid of the previous drivers.
Radeon Crimson is the first publicly available driver with Liquid VR.
Asynchronous shader architecture implemented in the Graphics Core Next (GCN) to provide higher FPS, Better Image quality in virtual reality technology.
AMD FreeSync is available in DirectX 9 games with CrossFire configuration, and further supports the LFC (low framerate compensation). AMD is working with manufacturers on the implementation FreeSync using the HDMI interface.
Radeon Crimson comes with LFC (low framerate compensation) is intended to help reduce the disadvantages resulting from a decrease in frequency below the level supported by the monitor. This function operates automatically.
Radeon Software Crimson Edition also contains improvements to Frame Pacing, which supports DirectX 9, DirectX 10 and DirectX 11.
Radeon Crimson will allow you to create custom resolutions.
Virtual Super Resolution (VSR) allows the virtual increasing the resolution not only in games – it will also allow you to increase your workspace. For example, you can display the image on the screen 1440p up from 1080p. This feature however requires Windows 10 in addition to the Radeon Crimson drivers to work.
Shader Cache is a feature that improves the loading times in games and leveling process of rendering frames. This avoids cutoff in less optimized parts of the game.
What about performance? Radeon Software Crimson Edition is to increase the number of frames per second in Fable Legends (DirectX 12) by 20%.
On the above chart you can see gains in selected titles compared to the Catalyst 15.10 Beta.
And here's the improvents in selected games for Linux distributions.
Radeon Crimson is also introducing a further streamlining to reduce delays in analyzing data from the controller.
Frame Rate Target Control (FRTC) to limit the number of frames per second in games DirectX 9, DirectX 10 and DirectX 11, which reduces power consumption.
Another graphs showing the reduction in power consumption after activation FRTC and watching movies.
AMD has started taking their driver releases more seriously, keeping in mind that they play a vital role in pushing their cards ahead of the competition( which is currently holding the majority of the market ). Expect benchmarks and more as we take an in-depth look at Radeon Software Crimson in one of our tech reports.
Keep in mind however those performance gains are over AMD's 15.7.7 and NOT the latest 15.11.1 beta drivers.
And if you havent already, go ahead and download the drivers right now(click on the image to download them).