We read the leaks. We saw AMD nuke every site that posted anything about this 'super-driver', and in process create a massive hype around it. Now it's finally here : Catalyst Omega, AMD's solution to the pile of requests from the gaming community, all at once.
Let's look at what AMD says about the driver itself.
Over 20 new features
Performance increases of up to 19% on AMD Radeon™ graphics and up to 29% on AMD APUs
Significant number of bug fixes and improvements based on user feedback
Some of the biggest new features AMD is introducing are listed below.
Virtual Super Resolution, or VSR enables the graphics card to render images on a higher resolution than the monitor's native one and then downsamples them to fit in the same native resolution (emulating SSAA, or Super Sampling Anti-Aliasing). It also gives a much wider field of view and technically negates the need for any Anti-Aliasing. NVidia introduced this with the release of Maxwell 2.0 cards, and now AMD is following suit. VSR seems to be a more seamless alternative to NVidia's DSR as of now, but wait for our final verdict before jumping the gun.

As of now the modes supported by VSR is listed in the screenshot above. The only caveat for VSR is that AMD has only enlisted support for its current crop of higher-end cards – R9 295X2, R9 290X, R9 290, and R9 285. There was no definite answer to when the rest of the cards will get VSR support (or will they get at all), but rumors indicate that sometime in early 2015 we might see additional cards in this list.
AMD's FreeSync is up next. We have seen demos of this in action, and now finally we have the technology enabled through the release of Catalyst Omega. As for folks who are unaware, FreeSynce (like NVidia's GSync) enables your GPU and Monitor to intercommunicate faster, run at same refresh rate, thus enabling smoother performance and eradicate issues like screen tearing. Unlike GSync, however, FreeSync does not require your monitor to come with a costly module and hence is much cheaper to boot with. We have already seen Samsung release quite a handful of monitors with FreeSync support and AMD informs us that there will be more come 2015.
Catalyst Omega also enables support for 5K displays. Now there's only 2 of its kind out there. One's the insane iMac 27 inch 2014 refresh from Apple, and the other is the Dell UP2715K, both sporting a resolution of 5120×2880. Powering the Dell screen may prove to be a hassle since it requires your GPU to have two DisplayPort 1.2 connectors (since the screen is basically split into two 2560×1440 displays with one timing controller per display).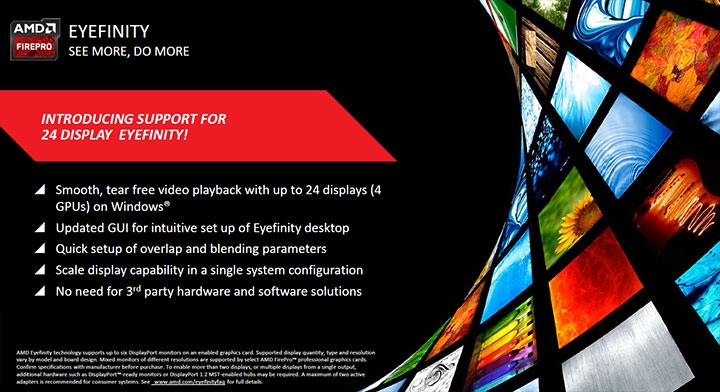 AMD Eyefinity gets a boost too. Multi-monitor support is now extended up to a ridiculous 24 displays running via a Quad-GPU setup, with smoother and updated GUI. If that's not crazy, I don't know what is.
Now let's look at some improvements in gaming.
AMD claims performance improvements in GPU intensive games like Batman AO and Bioshock Infinite and CPU-intensive games like Starcraft II using an APU based system (7850K, 1080P). While for some games the improvement is as close as 30%, some games show minimal improvement as well (5%).  The trend is a little clear in the chart that AMD provided here – GPU intensive games show more improvements than CPU intensive ones.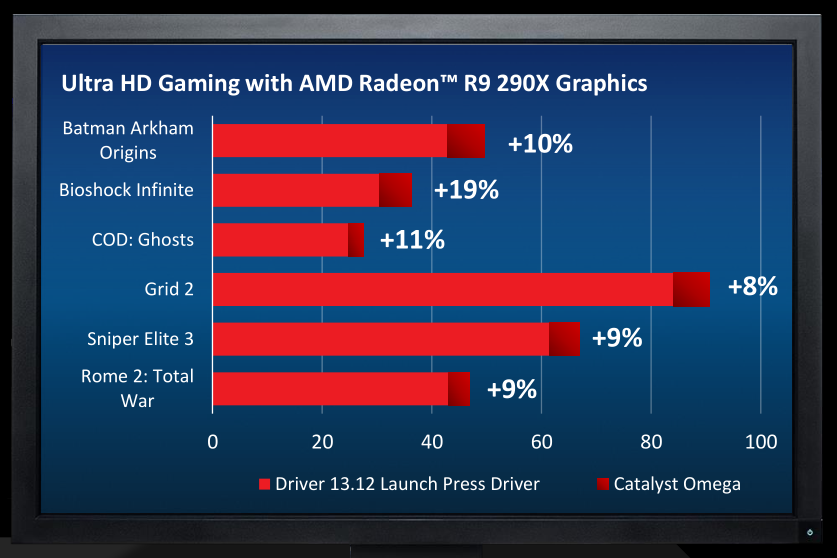 With a R9 290X based system running games at 4k, the same trend continues. GPU intensive games show double-digit percent improvements while CPU bound games show a little less. Overall we see a minimum of 8-9% improvement across all games using an R9 290X in 4k.
Last up is improvements for frame pacing using multi-card CrossFire and Dual-graphics (APU+dGPU) setups – one of the most notorious things to plague AMD Radeon owners who run such a setup for quite some time. The test system here uses a 7850K and a R7 250 running Sniper Elite 3 and Metro Last Light Redux at 1080p in medium details. The improvements extend to a handful of memory-intensive games being played in a CrossFire setup: Tomb Raider, Hitman Absolution,Watch Dogs, and Far Cry 3.
Along with these improvements comes a slew of video-related tweaks.
Contour Removal  – Removal of compression artifacts in compressed videos. Supported on APUs with 25W or more TDP, and R7/R9 GPUs except R9 280/280X.
1080P Detail Enhancement – Improvement for compressed, lower resolution videos when played on 1080p/2160p monitors, enhacing clarity and sharpness. Supported on AMD A-Series 7×00 APUs and only R9 285 GPU.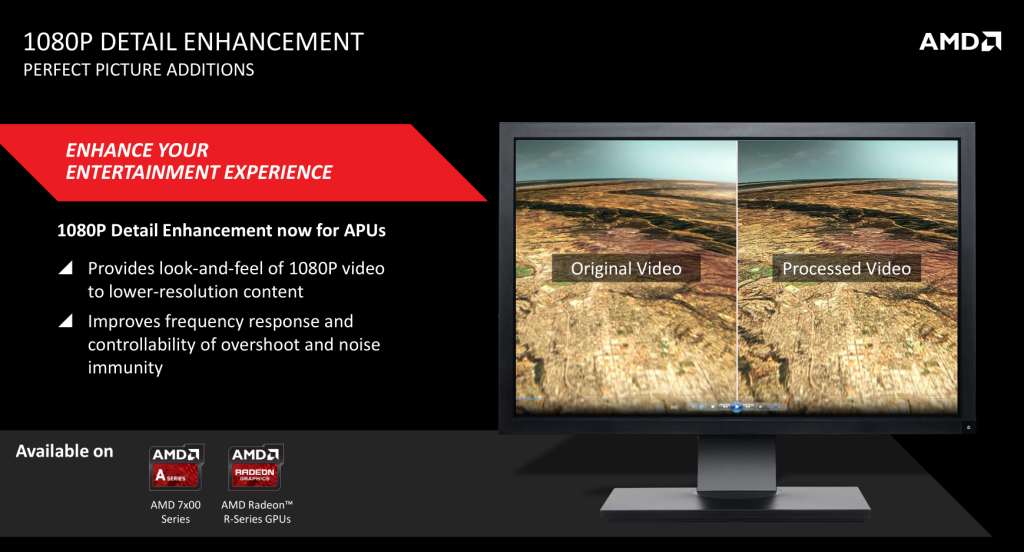 FullHD to UltraHD Video – A higher-end alternative to the earlier feature, this improves clarity of 1080p video when viewed on a 4K display. Supported on AMD A-Series 7×00 APUs, R-series Radeon GPU (R7-260 or higher), and a 4K monitor. Weirdly enough, R9 280/280X is supported, but not 7970/7950.
Fluid Motion Video – Uses GPU based compute to interpolate inferred frames with real frames, basically enabling smoother playback. Supported on 35W or higher AMD A-Series 7×00 series APU and a Radeon R7 260 or higher R-series GPU (not supported on R9 280/280X). This is only put in action during Blu-Ray playback using CyberLink PowerDVD 14.
There are QA level improvements as well. AMD performed 65 percent more automated QA testing on Catalyst Omega, and also 12 percent more manual testing on Catalyst Omega, across 10 percent more system configurations and 10 percent more display types. AMD says 200+ bugs were fixed with Catalyst Omega, which should provide the most stable Catalyst driver till date.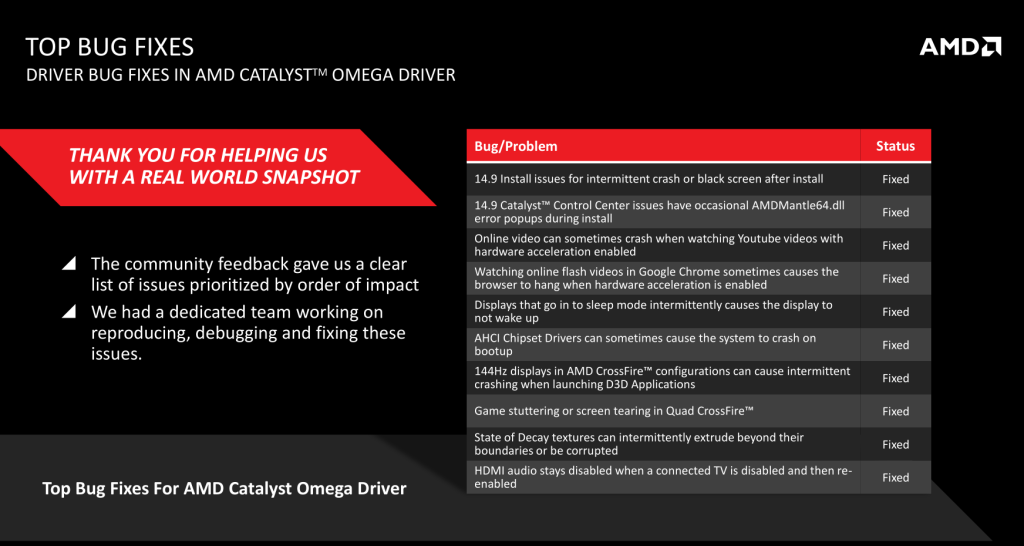 Finally, a look at other improvements (boy the list keeps on coming!).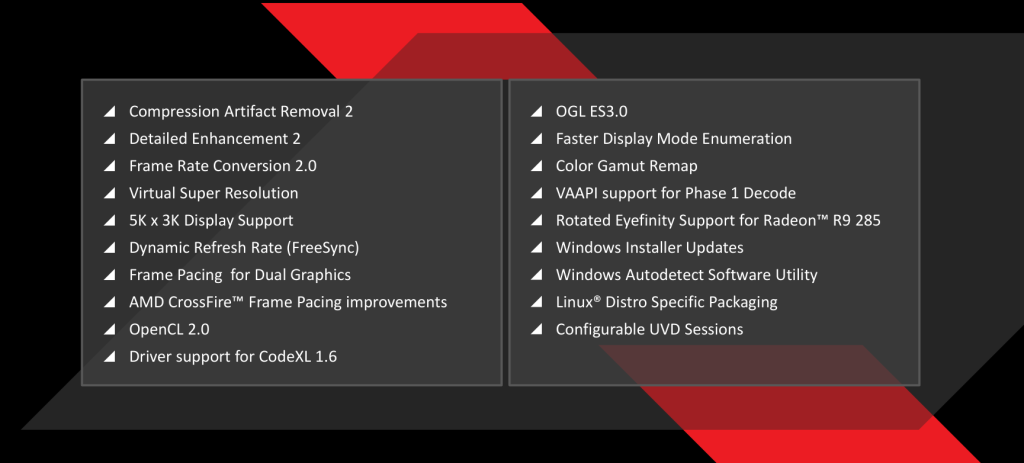 TressFX 3.0 adds support for animal fur.
AMD's Gaming Evolved client now includes Mantle support for game streaming.
OpenCL 2.0 and OpenGL ES3.0 are now supported
AMD CodeXL 1.6 and HSA Runtime support for developers
Catalyst packages for the Red Hat and Ubuntu Linux distros
Streamlined Catalyst installation and faster hardware detection
So the fight is on, at least on the software side. But AMD, where's the hardware answer to Maxwell 2.0?
We'll keep you posted on the performance numbers of Catalyst Omega once we are done testing.
Here is a playlist of the official AMD videos regarding features of Catalyst Omega.
https://www.youtube.com/watch?v=gClxboaqVek&list=PLx15eYqzJifdc2l4x30BxtiK5DOCCTEGA
Download links:
Windows 8.1 (32-bit)
Windows 8.1 (64-bit)
Windows 7 (32-bit)
Windows 7 (64-bit)
RHEL (32-bit)
RHEL (64-bit)
Ubuntu (32-bit)
Ubuntu (64-bit)
Linux (32-bit & 64-bit)
Latest Windows Beta Driver
Image and Data Courtesy: AMD, PCWorld,Tweaktown