AMD's Polaris-based graphics cards get its second entry. As an owner of an Radeon RX 470, you can play games at 1080p 60FPS  at only $179.
The AMD Radeon RX 470 Offers 4.9 TFLOPs of performance and 32 Compute Units
AMD's second Polaris-based graphics card, the RX 470 which is based on the 14nm FinFET process is now available. At a price of $179 in US markets, the RX 470 offers 1080p 60FPS gaming on a 120W TDP.
The GPU harbors 2048 stream processors that can give 4.9 TFLOPs of performance and 32 compute units. Coupled with either 4GB or 8GB GDDR5 RAM at a maximum of 7Gbps on a 256-bit memory bus, this card can provide 211GB/sec memory bandwidth.
The Polaris-based graphics architecture is very future-proof now. This card has DisplayPort 1.4 which supports up to 8K 30Hz displays and also 4K 120Hz displays. The card finally has HDMI 2.0 after the disappointing case of Fiji Architecture on 4K 60FPS support through HDMI 1.4. With also the inclusion of HDR display, an never before seen experience can be had with  High Dynamic Range  monitors. The GPU also has FreeSync Support. With over 80 FreeSync monitors now in the market, the RX 470 has got you covered.
In terms of performance, the RX 470 delivers quite a punch at a price of $179. AMD claims the card is upto 2.4x faster than the Radeon R9 270 in games such as DOOM.
AMD's Vulkan API Boosts Peformance Greatly for the Polaris-based Radeon RX 470
AMD has definitely put some serious effort into the Polaris Architecture. This effort results in display technologies like DP1.4 supporting upto 8K displays. There is also the support for HEVC, which provides double the framerate for known resolutions like 1080p, 1440p and 4K. Meaning the Polaris-based graphics cards  with HEVC, like the RX 470 support can now taunt 1080p120, 1440p120, and 4K60. 10-bit HEVC is now suitably more enjoyable on HDR-ready displays  and HDR-capable content from Netflix and Amazon.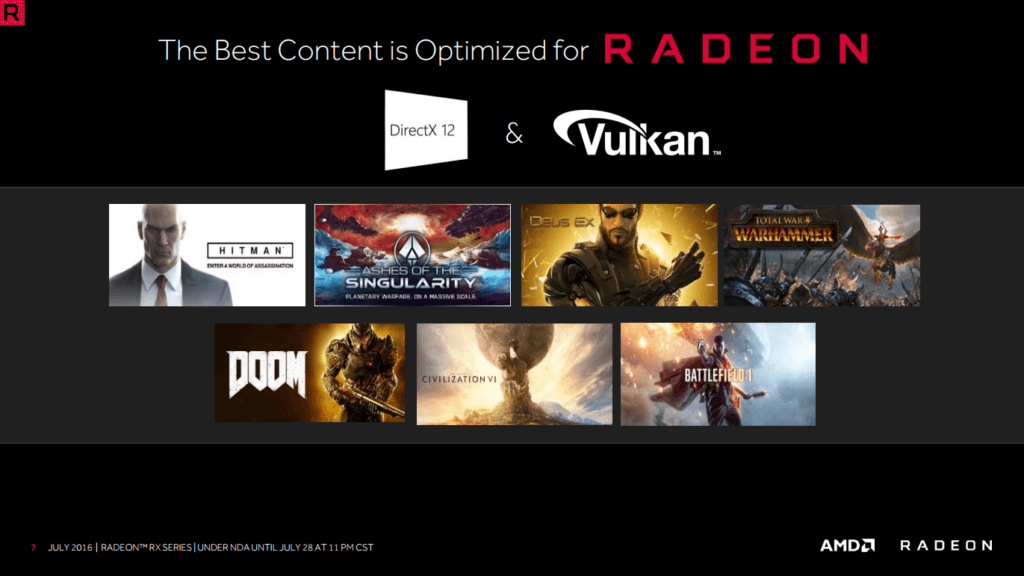 AMD's successive steps in the gaming market cannot be mentioned without Vulkan, which has the internet by storm. It has provided AMD graphics cards with large performance gains in games like DOOM, which has Vulkan support. 30% gain in performance is seen on the Radeon RX 480 in comparison to the OpenGL version of DOOM. DirectX 12 is also a big topic which is providing 4o% more performance in Ashes of the Singularity over it's DX11 version.