Now that AMD brought out some real goodies with the latest 14.12 Omega Drivers, it was only a matter of time before everyone started testing the drivers and AMD's claim of performance increase.
As always we also did a quick testing with three moderately powerful games.
System used :
CPU : Core i5 2500k@ 4.2Ghz
Motherboard : Asus P8Z77 V Deluxe
Ram : GSkill TridentX @ 1866 C9
GPU : HIS R9 270X
please note: ALL Data provided are Average Frame rates calculations
So here goes:
the first in the list is Bioshock Infinite
BioShock Infinite is a first-person shooter video game developed by Irrational Games, and published by 2K Games. based on the UNREAL Engine 3 the game is set in 1912 during the growth of American exceptionalism, the game has protagonist, former Pinkerton agent Booker DeWitt, sent to the floating air-city of Columbia to find a young woman, Elizabeth, who has been held captive there for most of her life. Though Booker rescues Elizabeth, the two are pursued by the city's warring factions: the nativist and élite Founders that strive to keep the city for pure Americans, and the Vox Populi, rebels representing the common people. Booker finds Elizabeth to be central to this conflict, and learns that she possesses strange powers to manipulate rifts in the space-time continuum that ravage Columbia.
Settings : Ultra
Settings : Ultra+DDOF Enabled
next in line is the all time favorite Tomb Raider
Tomb Raider is an action-adventure video game. Published by Square Enix, Tomb Raider is the fifth title developed by Crystal Dynamics in the Tomb Raider franchise. As the first entry in a new Tomb Raider continuity, the game is a reboot that emphasizes the reconstructed origins of the culturally influential lead character Lara Croft.
Settings: Ultra preset
Setting: Ultra +TressFX ON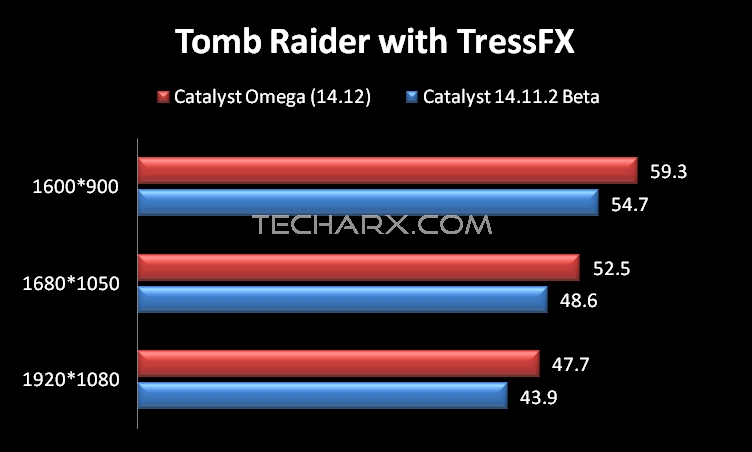 And last but not the least
Hitman Absolution
Hitman: Absolution (HMA) is an action-adventure stealth game developed by IO Interactive and published by Square Enix.It is the fifth entry in the Hitman game series, and runs on IO Interactive's proprietary Glacier 2 game engine.
One of the key points in this game is the lighting and its ability to render upto 1200 NPC at a time.
So there you go..
Quite a bit of improvement form the latest beta drivers.
Feel free to leave your comments below while we test more on different cards