AMD Carrizo Based Mobility APU Lineup Revealed with 5% IPC increase on the same node.
Back in 2014, John Byrne (Former SVP and GM of AMD Computing & Graphics Business Unit) revealed the new Carrizo lineup of APU's.
Recently the whole Carrizo lineup got leaked ahead of ISSCC 2015.
Image courtesy : VideoCardZ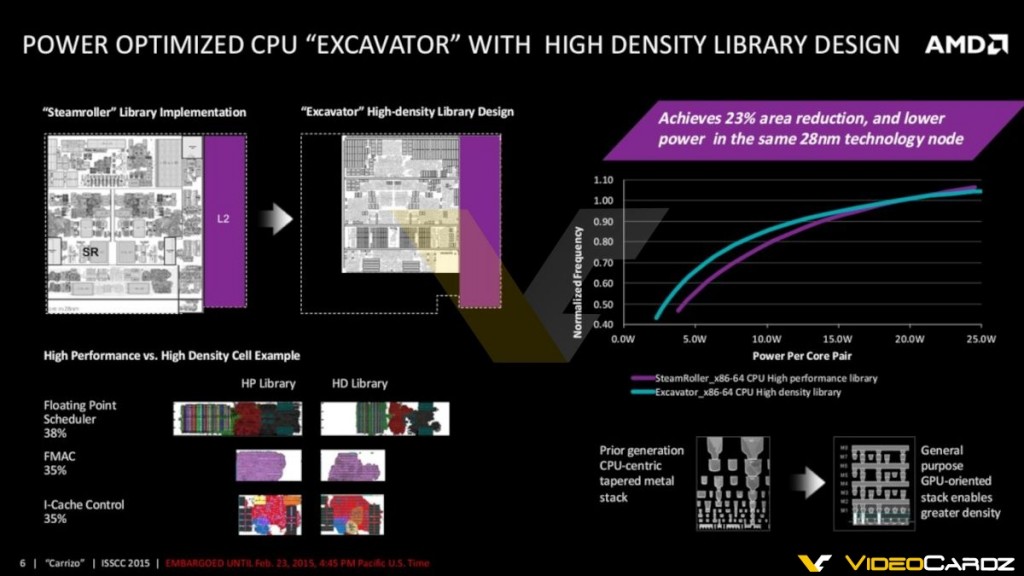 first up lets take a look at the Carrizo's structure :
We have two Excavator modules, aka four CPU cores, and four GPU modules aka 256 shaders as inferred form the next two slides.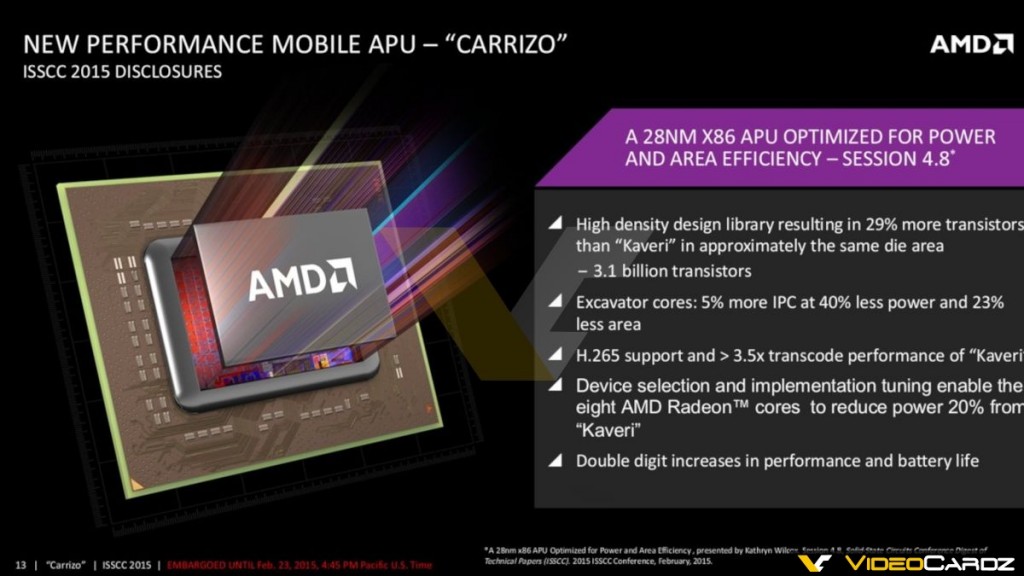 One more thing to note in the slide above is that AMD managed to achieve a 5% IPC Gain even after a 23% reduction in die size while staying on the same 28nm node as before. They did this by implementing something called the High Density Libraries(HDL). Although this is a long standing norm in the GPU side of things I am seeing this first time on the CPU side.
In laymans term HDL packs more transistors per mm of die area through tighter  layers,as a result the processor becomes more power efficient at the cost of speed.
Although this also means we might see a better clock/watt.
So basically
IPC Gains
23% reduction in die size
Better battery life.
Now coming to the actual lineup, they were spotted in sata-io.org .
The lineup will consist of the following
AMD FX-8800P
AMD PRO FX-8800B
AMD A10-8700P
AMD A8-8600P
AMD A6-8500P
AMD PRO A10-8700B
AMD PRO A8-8600B
AMD PRO A6-8500B
AMD RX-418GD
AMD RX-216GD
Among them partial specs of FX 8800P is known thanks to a
3DMark
result,while its pretty vague in details it lists the APU  as a 12 Compute Cores enabled part which confirms that the Carrizo APU on mobility will feature a maximum of 4 x86 Excavator cores and 8 GCN Compute units forming into the 12 Compute Cores.
I will end this boring post(for some) with a screengrab of 3Dmark 11 score of the upcoming APU.
 So what do you guys think of the new Carrizo? Let me know about it in the comments below.