Alphacool announces Eiswolf 2 360mm AIO cooler for Gigabyte GA102 & Sapphire Navi 21 graphics cards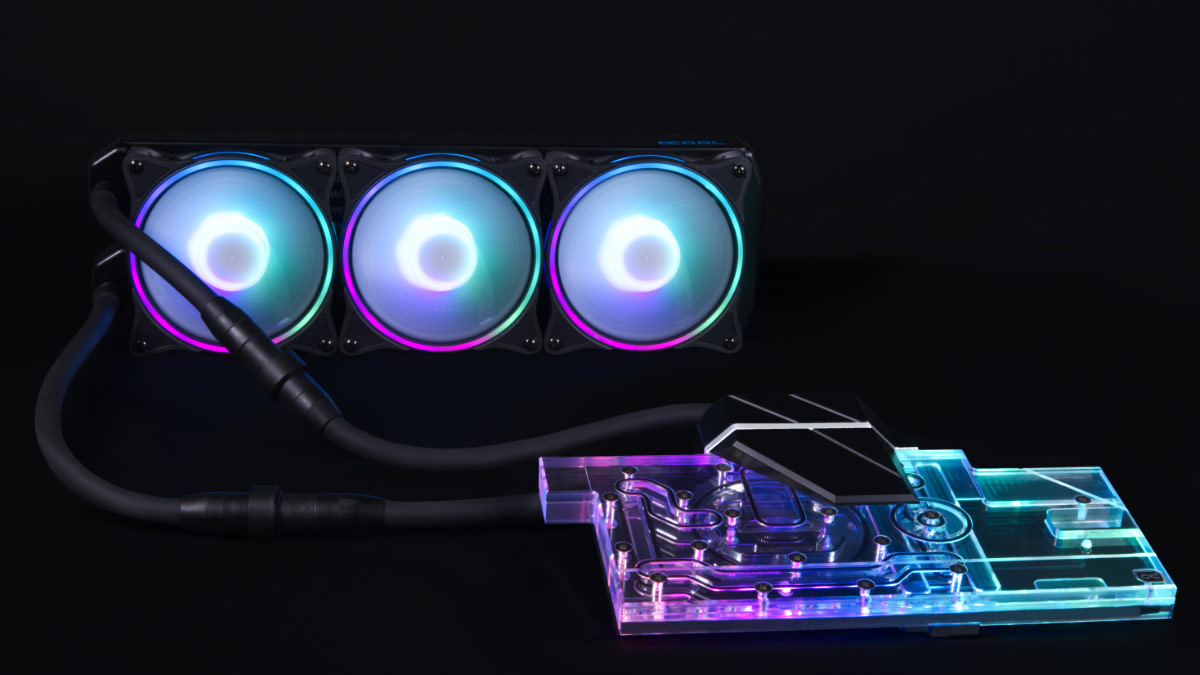 Alphacool today presents the Eiswolf 2 "All-in-One" solution for Geforce RTX 3080/3090 Gigabyte Aorus Master/Xtreme and Radeon RX 6800XT/6900XT Sapphire Nitro+graphics cards.

The Eiswolf 2 uses the Alphacool 360mm NexXxoS ST30 full copper radiator. For the fans, we use the 120mm Alphacool Aurora Rise. This impressive fan with a max. static pressure of 3.17mm/H2O, offers a max. air flow of 119.8m³/h. The speed range of the fan, from 0-2500rpm, is adjustable via PWM. The AIO is completed by the Eisblock Aurora water cooler. This not only cools the GPU chip, but actively cools all relevant components such as the memory and VRAM. It also has brilliant aRGB lighting.
All components used (radiator, fan, cooler, DC-LT 2 pump) including fittings and tubing are part of the Alphacool DIY range and are therefore available separately. The combination of all components results in a solution that is as easy to install as an AIO, but offers the performance of a pre-assembled and pre-filled custom loop. Only the pump housing for the DC-LT 2 pump is a custom-made item that is only part of the scope of delivery of the AIO solution and is therefore not available separately.
Alphacool Eiswolf 2 AIO 360mm
Cooler and Pump

Material cooler bottom

Nickel plated copper

Material cooler top

PMMA

Pump type

DC-LT 2

Pump speed

2600 rpm (+/- 10%)

Radiator

L x W x H

395 x 124 x 30mm (+/- 3%)

Material cooling fins, prechambers & channels

copper

Material threads

brass

Material outer housing

stainless steel

Fan size

120 mm

Fans

Speed

0 – 2500 RPM

Static pressure

3,17 mm H2O

Air flow rate

119,8 m³/h
Alphacool Eiswolf 2 AIO 360mm RTX 3080/3090 Aorus Master/Xtreme with Backplate
Compatibility
Gigabyte Aorus GeForce RTX 3080 Ti Xtreme 12GB
Gigabyte Aorus GeForce RTX 3080 Ti Master 12GB
Gigabyte Aorus GeForce RTX 3080 Master 10G, 10GB GDDR6X, 3x HDMI, 3x DP
Gigabyte Aorus GeForce RTX 3080 Xtreme 10G, 10GB GDDR6X, 3x HDMI, 3x DP
Gigabyte Aorus GeForce RTX 3090 Master 24G, 24GB GDDR6X, 3x HDMI, 3x DP
Gigabyte Aorus GeForce RTX 3090 Xtreme 24G, 24GB GDDR6X, 3x HDMI, 3x DP
Alphacool Eiswolf 2 AIO 360mm Radeon RX 6800XT/6900XT Nitro+ with Backplate
Compatibility
Sapphire Nitro+ Radeon RX 6800 XT SE, 16GB GDDR6, HDMI, 2x DP, USB-C
Sapphire Nitro+ Radeon RX 6800 XT, 16GB GDDR6, HDMI, 3x DP
Sapphire Nitro+ Radeon RX 6900 XT, 16GB GDDR6, HDMI, 3x DP