Ubisoft announced that Tom Clancy's Rainbow Six Siege® South Asia Nationals 2022 will take place in Winter 2022, with players from India, Pakistan, Sri Lanka and Bangladesh invited to compete for a prize pool of $10,000.
This is the second successive year of the South Asia Nationals, and ahead of the tournament finals which take place later this year, Ubisoft have partnered with The Esports Club® to provide a calendar of events for the South Asian competitive Rainbow Six Siege community.
These events will commence in May 2022 with The Esports Club Pro Series. which will comprising of three separate events, each featuring a prize pool of $2,000. With the top eight teams from each event awarded qualifier points towards South Asia Nationals.
In addition to these events, Ubisoft and The Esports Club will continue to engage with the Rainbow Six Siege community though other tournaments and activities that will take place throughout the year.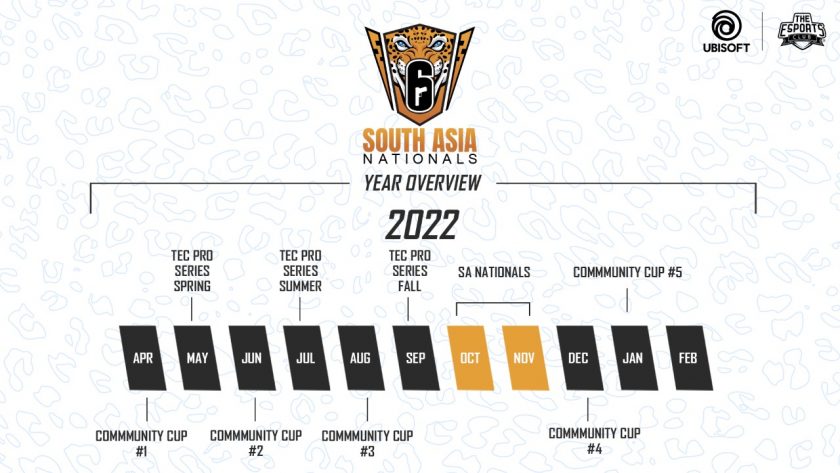 "The level of enthusiasm and passion shown by the South Asian Rainbow Six Siege community is fantastic, and we are always looking at ways to further support this" says Natalie Williams, Head of Retail and Export Marketing Sales at Ubisoft. "So, we are delighted to be able to invite the community to take part in this prestigious international tournament, and look forwards to working with the Esports Club to deliver an unforgettable experience"
"We're extremely proud to partner with Ubisoft to help provide a comprehensive competitive ecosystem for Tom Clancy's Rainbow Six® Siege." says Ishaan Arya, Co-Founder & Head of Business Development, The Esports Club. "The new structure of the South Asia Nationals and TEC Pro Series will help provide our teams and players even more competitive opportunities to hone their skills and help elevate the esports ecosystem for the game."
To further support the South Asia Nationals, Ubisoft's Pune studio have created a logo specifically for South Asia Nationals to represent all country's involved in the upcoming tournament.
In addition to this, a new dedicated Twitter channel has also been launched to keep the South Asian Rainbow Six Siege community aware of all the latest news and developments.
For more details about South Asia Nationals and upcoming supporting events please visit: https://theesports.club/r6san/