Thermaltake launches Toughpower DPS G Titanium 1600W Digital PSU & DPS G App 2.0 IoT Solution at Computex 2015
Thermaltake, an industry leader in computer chassis, thermal solutions, and power supply units, has introduced the Toughpower DPS G Titanium Digital PSU 1600W with 80 PLUS Titanium certification. The 1600w digital PSU with DPS G App 2.0 software has a wattage and efficiency rate of 94% in the PC industry.
The Toughpower DPS G Titanium 1600W is Tt's flagship product, featuring a 140mm fan, digital monitoring and 80PLUS Platinum efficiency rating; this is set to be a huge contender for the high-end market. The power supply will then feature all of the typical Thermaltake power supply features such as a huge 12v rail, Japanese capacitors and a fully modular cabling design.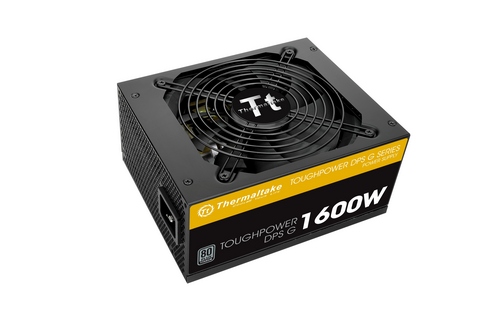 Features of Thermaltake Toughpower DPS G Titanium Series:
Electricity cost calculations
Power consumption, efficiency, and voltage monitoring
Cloud sharing
Quantitative data management
Digital fan control: Silent performance and zero fan mode
Fully modular cable design
80 PLUS Titanium certification and Haswell ready
100% Japan-made electrolytic capacitors
Massive and dedicated +12V output
The DPS G uses DPS G App 2.0 software ,  its is a powerful, flexible, universal and easy-to-use monitoring tool that provides IoT (Internet of Things) solution with hardware, software, mobile application, and cloud power management platform. The combination of Toughpower DPS G Titanium and DPS G App 2.0 software provides clean and stable power and an intelligent platform for users to monitor and record the status of power consumption, voltage distribution, and electricity cost for advance usage. It is available for download now( LINK )
Thermaltake DPS G App 2.0 Features
Concept of IoT (Internet of Things): No time and space restrictions on accessing data.
Monitor PC/VGA/CPU: Digitally monitor key parameters of CPU and VGA, including voltage, current, wattage, and temperature.
Mobile App: Download the application on the mobile devices to check and share system parameter data anytime anywhere.
Synchronize statistics via cloud: Browse and share information about multiple power supplies on the cloud power management platform.
Export records into an Excel report.
See people on the map using DPS G power supply, add friends, and communicate worldwide.
We look forward to providing a full review if we can get our hands on a sample .
Stay tuned for more news from Computex 2015 !!