The 390Hz Acer Nitro XV252Q F Gaming Monitor Takes The Crown of Being The Fastest
Acer has announced the Acer Nitro XV252Q F gaming monitor with 390Hz refresh rate, This is the highest refresh rate monitor released so far.
Acer has launched the fastest gaming monitor in the market, the Acer Nitro XV252Q F. This new gaming monitor features a 360Hz panel but with Acer's overclocking function you can reach a very high 390Hz refresh rate.
There are 360Hz gaming monitors available so far in the market, such as the Alienware 25 AW2521H or the ASUS ROG Swift 360Hz PG259QN. but with the new Acer Nitro XV252Q F, Acer takes the crown of the fastest gaming monitor. With this small boost in refresh rate, we can surely see some advantages but it might be very hard to notice as 360Hz is already quite a very high refresh rate, and showing 30 more frames per second may not make a huge difference.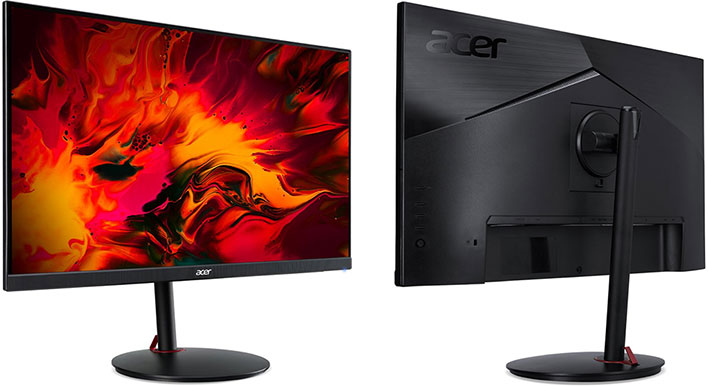 The Acer Nitro XV252Q F features a 24.5-inch standard sized, 1920 x 1080p Full HD, Fast IPS LCD panel, 0.5ms response time, and has a contrast ratio of 1000:1, up to 400 cd/m2 brightness, 178/178 viewing angles, 8-bit color depth, and a standard 99% sRGB color gamut. The monitor supports adaptive sync and is expected to bring along the FreeSync Premium certification, it is unclear if any G-sync certifications will be implemented. Also, it comes with Visual Response Boost (VRB) blur reduction backlight mode just like many other Acer monitors.
The monitor comes with DisplayPort 1.4, two HDMI 2.0 ports, and a headphone jack. It has built-in 2W speakers which output decent audio for casual listeners. The monitor stand of Acer Nitro XV252Q F is completely adjustable with tilt, height adjustments, and rotation to go portrait mode, it can also be rotated 360 degrees freely. Also, the monitor stand looks very professional and sleek which is surely much more desk space friendly and better looking than having a large aggressive gaming monitor stand.
The price of the Acer Nitro XV252Q F monitor is not yet revealed but you can check it out at the Acer website. We hope to see the prices soon and as we know Acer has a reputation for making decent monitors at affordable prices.