We usually do builds in a more systematic and budget/usage oriented manner suggesting multiple builds including gamer builds, but in the past we have been criticized to focus on overclock-ability in gamer builds and for gamers who are not interested, such builds only mean extra investment for little benefit. And we take criticism very seriously, so here it is folks, a very gamer oriented build which can do everything a gamer might need, for example gaming(pun intended), streaming, video editing in case you are a content creator(gaming related) without a fuss and remaining rock solid while at it !
Following the introduction of new GPUs such as the AMD Radeon RX 480 and nVidia GeForce GTX 1060 in the mainstream market. We though it best to compile a build guide for the people out there who might be on the lookout to getting their hands on a new rig. Throughout the build guide, we'll be discussing the reasons for including the concerned part in the build and alternatives that the readers might be interested in.
So, without further ado ; lets get onto it shall we?
CPU (Processor) : Intel® Core™ i7-6700
Price : ₹23,699
The reason why we opted for the i7 6700 owes to the fact that the CPU offers quite a punch even when compared to the high end offerings from Intel. The performance difference from a gaming standpoint hovers much below the discernible margin. This build was compiled while pondering to the needs of the mainstream gamer and we found no other CPU offering better price / performance considering not only pure gaming, but also related usage scenarios like streaming or video editing. Rest assured, you could still expect frame rates analogous to those of an Extreme Edition i7 CPU across a wide sample of current and future AAA titles.
Motherboard : Asus H170 Pro Gaming
Price : ₹12,182
Apart from the purely beguiling aesthetics of the Asus H170 Pro Gaming that rock a bewitching Red / Black theme, the reason why the Asus makes it onto our guide is its 10 phase VRM design that'll serve the CPU with ample power. Don't go on the overlying specifications that entitle it to a cap of 2133 MHz of DDR4 memory though. With XMP or a simple divider, the native IMC can support upto 2800 MHz of memory.
Graphics Card : Zotac GTX 1060 6 GB AMP Edition / Gigabyte Radeon RX 480 8 GB
Price : 1060 – ₹24,990, RX 480 – ₹24,399
Why we went for Zotac? Because that's the only AIB partner variant right now that's worth buying. The 1060 is nVidia's latest addition to its Pascal lineup addressing the mainstream consumer market and boy does it fire up its job. The 1060 is an excellent 1080p GPU fetching you frame rates higher than the 60 at the absolute max settings in addition to being a  more than decent 1440p GPU. The RX 480 – its AMD counterpart could workout as an alternative as the performance is vastly similar in DX11 while the 480 does pull ahead in DirectX 12 and Vulkan titles. So here, we leave the choice into the hands of the readers.
System Memory (RAM) : Kingston HyperX Fury 16 GB (2×8) DDR4 2400 MHz
Price : ₹2,969 x 2
We regard 2400 MHz as the bare minimum for DDR4 memory and since the price gulf between the 2133 MHz and 2400 MHz modules isn't even noteworthy, we've decided to include the Kingston HyperX Fury into our build guide.
Solid State Drive (SSD) : Kingston UV400 120GB
Price : ₹2,899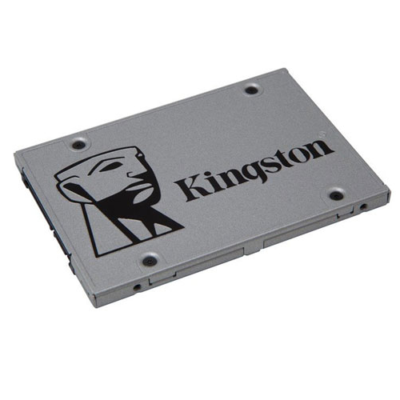 Kingston UV400 is quite a bit of an improvement over the V300 and while being pocket friendly at the same time. The 120GB variant is the bare minimum to have the OS running optimally along with 2 well sized games along with some space spared for streaming needs.
Hard Disk Drive (HDD) : Western Digital Blue 1 TB
Price : ₹3549
Can't go wrong with WD's reliability, and WD Blue is a time tested decent performing drive.
Power Supply Unit (PSU) : Corsair RM650 80+ Gold Rated
Price : ₹8,550
The PSU is an integral part of any build and you can ill-afford to miser on such a vital component. Therefore, for safety assurance we've chosen the Corsair RMx 650 80+ Gold Rated Power Supply which should furnish the build with lavish power. The PSU is modular as well, assisting you in maintaining a clean look inside your rig at the end of your venture.
Cabinet : Thermaltake Versa N21 Snow Edition
Price : ₹4,273

The Thermaltake Versa N21 Snow Edition has a very cool look to it and in addition to this, the case also sports ample cable management room which should suffice the needs for any cable swashbuckling behind the back of the case. The specifications also meet the heights of standard aftermarket coolers so that shouldn't concern you anymore. The Versa N21 also retails equipped with a transparent side panel so you can awe at your Gaming PC in motion.