SAPPHIRE's AMD Radeon RX 480 in 8GB avatar: First custom RX 480 in pictures!
The AMD Radeon RX 480 has stirred up the gaming scene since it was first unveiled at Computex this year, with its promise of bringing "good VR" performance to the masses at a nominal price of 199$!
And now, the pictures of the first custom RX 480 have emerged over the internet. Have a look!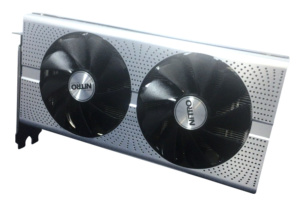 As seen in the pictures, the NITRO edition from SAPPHIRE features a dual fan HSF design and is backed by a silver shroud. A source also mentions that there will be LEDs which will keep varying their colours in correspondence with the change in the fan speeds. This card also has a prominent illuminated SAPPHIRE logo.
It is speculated that most RX 480s which will hit the market will don 8GB VRAM but there will be a few 4GB VRAM variants too.
The source also mentions that this card is already in stock with some European dealers and some reviewers. A lot of leaks are to be expected in the coming days.
The reference design for this card by SAPPHIRE was also revealed, the Radeon logo being changed to SAPPHIRE. Have a look at the backplate, which looks quite attractive !

Are we excited ? Hell yes we are!