The inventor of "@" symbol for addresses and the creator of email, Ray Tomlinson passed away at the age of 74.
Tomlinson invented direct email messages in 1971. Before his invention, electronic messages could be shared only on a very limited network.
"A true technology pioneer, Ray was the man who brought us email in the early days of networked computers," Raytheon spokesman Mike Doble said in a statement confirming his death.

"Computers were very expensive — I think one we had here, for example, was something on the order of two or three hundred thousand dollars. That's 1970 dollars. They were a scarce resource," he told the Verge in 2012.
Tomlinson, a graduate of Rensselaer Polytechnic Institute and MIT, was working for a Boston technology firm in 1971 when he decided to figure out a way for people to send messages via computer. At the time, Tomlinson recalled, ARPANET — the Internet's predecessor — was fairly new and the idea of sending messages from computer to computer was novel. Computers themselves were often giant mainframe beasts that filled entire rooms.
According to a 1998 profile in Forbes magazine, Tomlinson showed a colleague his invention and then, famously, said: "Don't tell anyone! This isn't what we're supposed to be working on."
"I see email being used, by and large, exactly the way I envisioned. In particular, it's not strictly a work tool or strictly a personal thing," he said. "Everybody uses it in different ways, but they use it in a way they find works for them."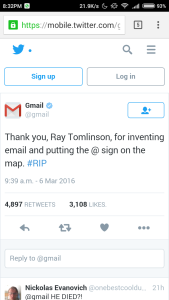 He was included in the internet hall of fame by 2012.