Tenda AC5 Review
With the surge in cheap broadband plans and an increase in online activities, the need for better networking hardware has arisen vastly. Be it a small household or a big corporate environment, we see new products every day.
Today, we have one such product from the Chinese networking equipment makers: Tenda. The product we have in our hand is the AC5 Router aimed as small to medium households. Right out of the bat, we will say that the product has surprised us in a good way.
The Tenda AC comes in a fairly big descriptive box with accessories including the router, user manual, and a power adapter. The outer shell is made of polycarbonate plastic with some intricate designs which adds to the appeal.
The router has 4 antennas, 1x WAN, 3x LAN, power on/off and WPS / Reset button but no USB port so printer sharing is not an option. One thing to note that this router supports settings migration from your old router if you happen to have any.
Other specification wise, thew router comes with a 1GHz CPU, supports MU-MIMO technology, beamforming technology, and dual-band WiFI among other things. Complete specifications can be found here.
Coming to the software side of things, the firmware is as simple as it gets. you have basic functions for setting up WiFi, WAN settings, Parental controls, etc. Apart from that, you have a good security control features and p[ower management features which are noteworthy. There's not much to interest power users so to speak, sadly.
Overall, a decent package for the price.
Coming to testing, we tested the Tenda AC5 router with on both the bands with a distance of 3M and 7M. All the testing was done on a Dell laptop connected to the WiFi network. We have thrown in some wired results just to give a different take on data speeds.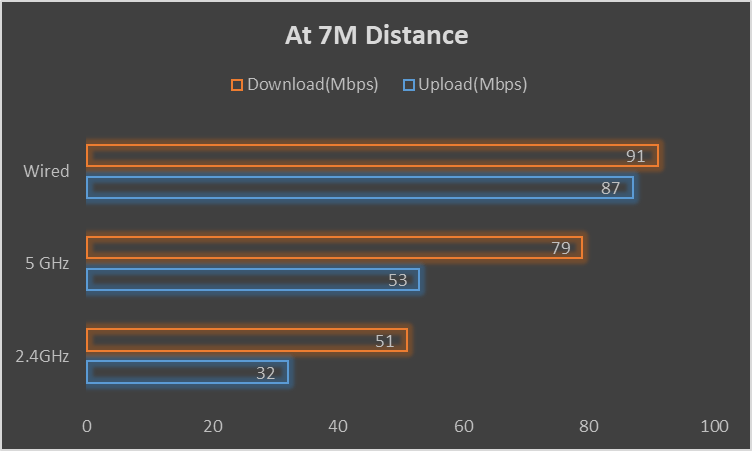 On the 2.4Ghz band, the router offers just over 50Mbps download speed with an upload speed of 34Mbps at 3M distance, while at 7M the speed dials down a bit. On the 5 GHz band, we see the download speed touching mid 80's with the u0pload hovering from 55 to 60Mbps.
Overall very decent performance for the price it offers.
Verdict
The Tenda AC5 router brings a decent package of form and functions to the table at a decent price. However, it does have its drawbacks. If you can live without a USB port and is not a power user, this router should be on your shopping list.