Palit Reveals Its GeForce GTX 1060 Jetstream Series
Palit Jetstream Gtx 1060
Palit Microsystems releases the latest Pascal architecture Palit GeForce GTX 1060 Series.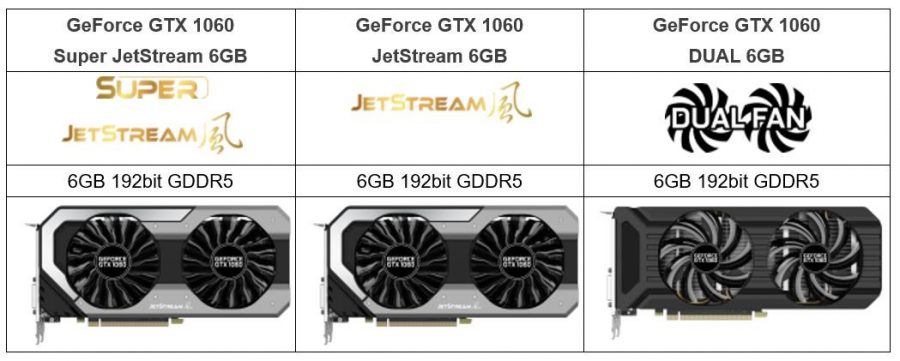 Features
Palit GeForce GTX 1060 Super JetStream 6GB has 1280 cores and ships with 1847 MHz Boost clock, and 8 GHz (GDDR5-effective) memory clocks. Palit GeForce GTX 1060 6GB series provides 3X VR gaming performance than previous-generation GPUs. Equipped with the JetStream cooler and optimized product design, Palit GTX 1060 JetStream series offers the best graphics benchmark performance and great acoustics effect for PC users.
Adding RGB LED lighting feature on Palit GeForce GTX 1060 JetStream 6GB series, the color lighting from RGB LED can be changed in accordance with graphics temperature. Gamers can choose from 16.8 million colors to suit their own style and preferences. Also with the Backplate to provide the better graphics card protection and avoid any physical impact.
The dual BIOS features activates the protection mechanism when an error occurs in one of the vBIOS. This allows the graphics card to be functional again in the event of system failure. With the 0-dB Tech, there is zero noise while you are at general workload, such as internet or multi-media application. This 0-dB feature is also available for Palit GeForce GTX 1060 Dual version.
Palit GeForce GTX 1060 JetStream Series Features:
RGB Lighting: The color lighting from RGB LED can be changed in accordance with graphics temperature. The temperature can easily be identified by different colors from the external appearance of the graphics card. Users can choose from 16.8 million colors to suit their own style and preferences.
0-dB Tech: Keep Silent while you are experiencing the multimedia application and general workload. The operating fans only occurs while working on heavier loading such as gaming that the GPU temperature surpasses 50°C.
Dual BIOS: The dual BIOS program automatically activates the protection mechanism when an error occurs in one of the BIOS programs. This allows the graphics card to be functional again in the event of system failure.
4K3: With its three DisplayPort ports, the Palit JetStream provides a flawless, jaw dropping experience at 4K monitors surround.
Dual Fan: A Dual Fan design offers double the cooling performance, and combined with the 9cm-9cm Smart Fans, heat is effectively drawn away from hot spots.
Honeycomb Bracket: The design of honeycomb bracket increases airflow by up to 15%, allowing the heat generated from GPU to be exhausted via the honeycomb design bracket. This enables more efficient cooling effects