Nvidia's GTX 1070 was slated to release on May 30th right before Computex 2016 starts. However, a certain site from EU has jumped the gun and broke NDA before release and the performance simply blows out the erstwhile flagship out of the water and to outerspace.
Before we dive into the gaming benchmark results let us show you a chart from Clubic showing the power consumption of the GTX 1070.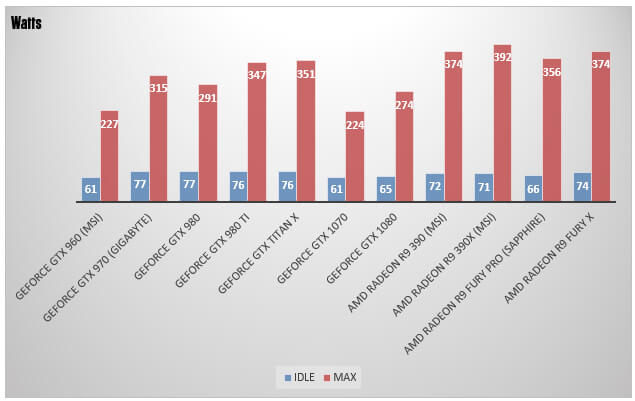 As you can easily see the power consumption is lower than the current flagship TITAN X and GTX 980Ti while being considerably faster than the two flagships.A GeForce GTX 960 system consumes 227W of power on max and 61 W at idle load. A GeForce GTX 1070 system on the other hand consumes 224W at maximum gaming and 61W at idle load.
Do keep in mind though the power consumption will be higher in higher clocked non-reference cards but they will be considerably lower than the 28nm products.
NVIDIA GeForce GTX 1070 Specifications
NVIDIA GeForce GTX 1070 features the GP104 GPU (GP104-200-A1) core which comprises of 1920 CUDA cores,120 texture mapping units and 64 ROPs. Clocking in at 1506 MHz base and 1683 MHz boost clock. The 14nm FineFET technology along with the TDP headroom will allow for greater overclocking range over its big brother GTX 1080.In the case of 1070, we are looking at a 150W TDP compared to 180W on the GTX 1080.
Coming to the card itself the GTX 1070 chip features 8 GB of GDDR5 memory featured across a 256-bit bus and clocked at 8 GB/s. This leads to a total bandwidth of 256 GB/s. The reason of GDDR5 is a downer but this ahs been done to keep the price low. With the performance being more than Titan X or the 980Ti the usage of memory becomes a non-issue at this point.
The card comes at a 150W TDP, coupled with a smooth power delivery system to avoid leakage the card is turning out to be a very efficient. Display outputs  include Display Port 1.4 (4K @ 120 Hz), HDMI 2.0b (4K @ 60 Hz) and DL-DVI which means that it can support all next-gen displays with new standards.Power is fed through a single 8-Pin PCIe power connector.
NVIDIA GeForce GTX 1070 Gaming Performance and Overclocked Results
Now coming to the performance part:
The card has been compared with sevarale other cards at 1080P, 1440P and 2160P resolution.
GeForce GTX 1070 Gaming Performance : 3DMark/Ashes/Batman:AK/Battlefield 4/Bioshock Infinite/Dirt Rally/Hitman/Rise of Tomb Raider/Division/Unigine
GeForce GTX 1070 OverClocking
Clubic managed to get around 2075MHz from their sample with a power target of 112%, while memory only got overclocked to only 50MHz.
With the GeForce GTX 1070 custom models  starting at a retail price of $379 US with the Founders Edition available to purchase at $449 US the card is turning out to be quite a nice little performer. We will bring you more info when we get our hands on a sample.
Editors Note : the original article listed has been taken down while a few curated sources are still avavliable across the internet as of now.