Noctua NH-D15 Review
Noctua is one of a kind in the PC air-cooling league. It is a manufacturer who has been consistent in its quality and has provided clients with a great cooling option with a low sound profile. Noctua's maneuverability and modularity are the things that make the difference in today's PC air cooling market. Now a day's people are more addicted toward the water cooling section. But Noctua's NH-D series is the lure which makes many to opt for Air cooling option. The cooler that the Noctua provided us for this review is no other than the NH-D15, a behemoth based on the highly popular NH-D14.
Boxing to Unboxing :
The NH-D15 is supplied in a large cardboard box with a minimalistic, elegant design. Highlighting the main features of the cooler is the primary focus of the entire artwork. Inside the main box, we found the bundle packed into separate cardboard boxes and the cooler protected within a polyethylene foam construct. The bundle consists of the hardware necessary for the mounting of the cooler, an L type Philips PH2 screwdriver, a fan power cable splitter, two fan speed reducers, a tube of NT-H1 thermal grease, a metallic case badge, four rubber fan mounts and four wire clips for the two cooling fans.
Built on the basis of the legendary NH-D14 and carrying on its quest for ultimate quiet cooling performance, Noctua's flagship model NH-D15 is an elite-class dual tower cooler for the highest demands. It's expanded Six heat-pipe layout and Two premium grade NF-A15 140mm fans with PWM support for automatic speed control allow it to further improve the NH-D14's award-winning efficiency. Topped off with the trusted, pro-grade SecuFirm2 multi-socket mounting system, Noctua's proven NT-H1 thermal compound and full 6 years manufacturer's warranty, the NH-D15 forms a complete premium quality solution that represent a deluxe choice for overclockers and silent enthusiasts alike.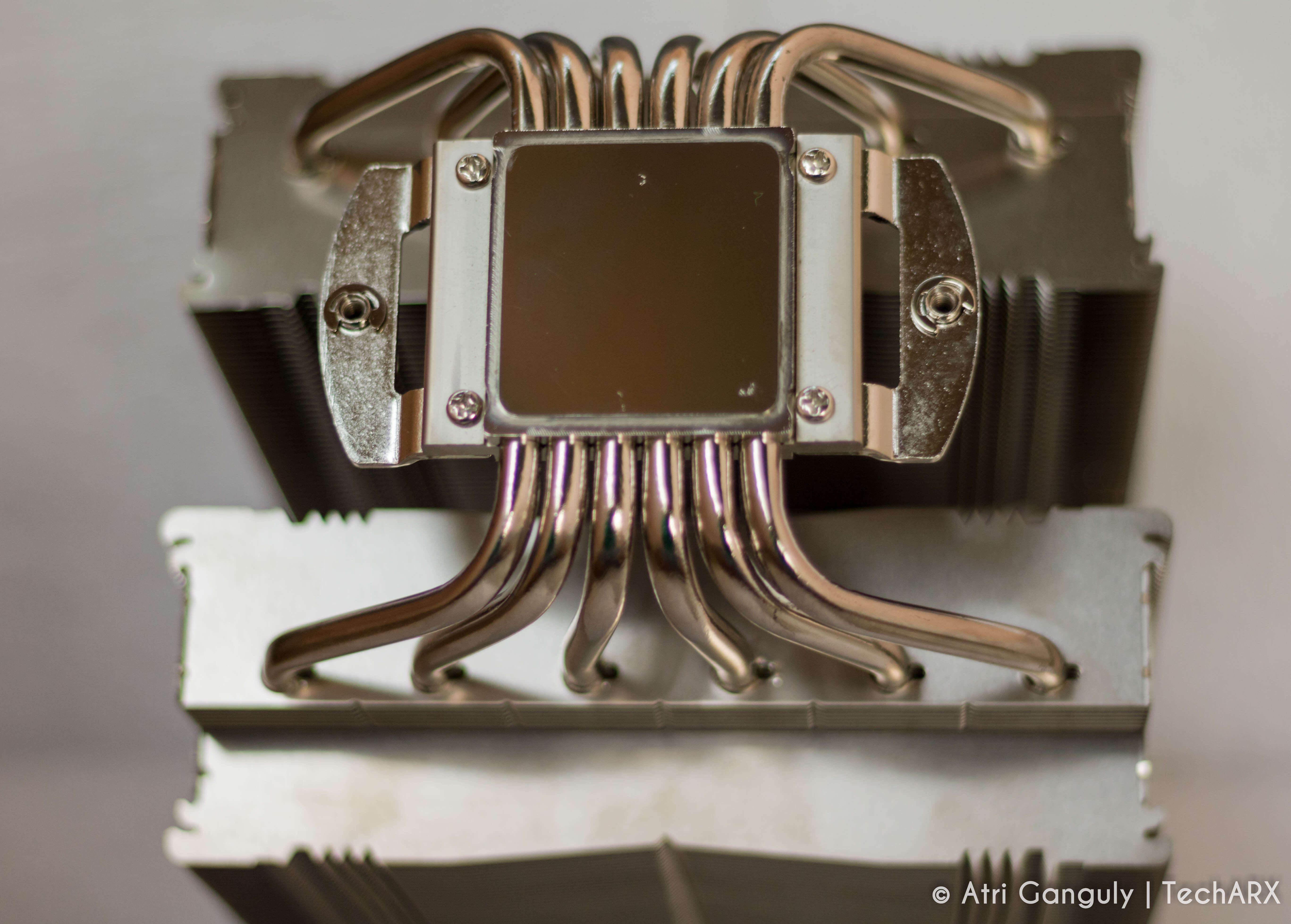 Specification:
Cooler:
| | |
| --- | --- |
| Socket Compatibility | Intel LGA2066, LGA2011-0 & LGA2011-3 (Square ILM), LGA1156, LGA1155, LGA1151, LGA1150 & AMD AM2, AM2+, AM3, AM3+, FM1, FM2, FM2+ (backplate required), AM4 with NM-AM4 |
| Height (without fan) | 160 mm |
| Width (without fan) | 150 mm |
| Depth (without fan) | 135 mm |
| Height (with fan) | 165 mm |
| Width (with fan) | 150 mm |
| Depth (with fan) | 161 mm |
| Weight (without fan) | 980 g |
| Weight (with fan/s) | 1320 g |
| Material | Copper (base and heat-pipes), aluminum (cooling fins), soldered joints & nickel plating |
Max. TDP
see TDP guide
Fan compatibility
140x150x25 (with 120mm mounting holes), 140x140x25 (with 120mm mounting holes), 120x120x25
Scope of Delivery

2x NF-A15 PWM premium fan
2x Low-Noise Adaptor (L.N.A.)
Y-cable
NT-H1 high-grade thermal compound
SecuFirm2™ Mounting-Kit
Noctua Metal Case-Badge

Warranty
6 Years
Dimensional View: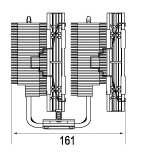 Fan:
| | |
| --- | --- |
| Model | 2x Noctua NF-A15 PWM |
| Bearing | SSO2 |
| Max. Rotational Speed (+/- 10%) | 1500 RPM |
| Max. Rotational Speed with L.N.A. (+/- 10%) | 1200 RPM |
| Min. Rotational Speed (PWM, +/-20%) | 300 RPM |
| Max. Airflow | 140,2 m³/h |
| Max. Airflow with L.N.A. | 115,5 m³/h |
| Max. Acoustical Noise | 24,6 dB(A) |
| Max. Acoustical Noise with L.N.A. | 19,2 dB(A) |
| Voltage Range | 12 V |

Testing Configuration:
| | |
| --- | --- |
| Component | Parts |
| CPU | Core i5 6600K @4.0GHz |
| MotherBoard | Asus Maximus VIII Ranger |
| Ram | Kingston HyperX Fury 2666MHz |
| PSU | CoolerMaster V1000 |
| Case | Coolermaster HAF XB |
Performance Data:
Coming to the performance side of things, the temps we achieved with the NH-D15 under moderately harsh Indian conditions(read 33C with no Air Conditioning) is pretty stellar in its own right. Check out the Chart below:
The Noctua NH-D15 held on its won against the competition with ease. With this kind of performance, we have no qualms agreeing to the fact that the D15 is indeed the king of air coolers.
The NH-D15 gets a Silver from our team and is a must buy if you dislike AIO's and want an Air cooled build and have the budget for it. there seems to be no competition for it as of now in the Indian Market.
About Noctua:
Noctua is a computer hardware manufacturer of CPU coolers and computer fans for primarily the enthusiast market. The company was founded in 2005 and is a joint venture between Austrian Rascom Computer Distribution GmbH and Taiwanese Kolink International Corporation.Noctua is a highly regarded manufacturer on the enthusiast market and has, according to the official website, received more than 3000 awards for their products."Noctua" means literally "night bird," see noctis and nox, notice the owl in the logo.
Buying Link: Prime ABGB