New Intel Alder Lake series To Bring Amazing 20% Performance Increase
The upcoming Intel Alder Lake CPUs will offer around a 20% improved IPC and 2x performance uplift in the multi-threaded workloads.
Leaked info on the upcoming desktop and mobile series from Intel.
An official slide on upcoming Intel 12th Gen CPUs was leaked by Videocardz recently which states that the 12th Gen Alder Lake CPUs will offer around a 20% uplift in single-threaded performance with a 2x performance uplift in the multi-threaded workloads.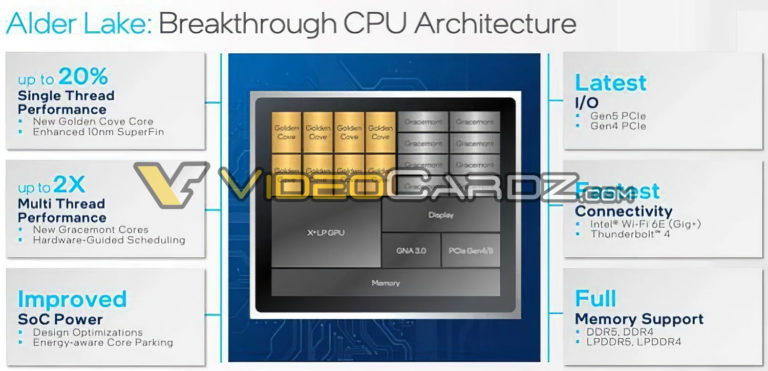 Incredible performance jumps made possible by Intel's new high-efficiency Gracemont cores and silicon built-in hardware-guided scheduling. The Alder Lake uses the improved 10nm Enhanced SuperFin process node which is a much efficient version of the older 10nm SuperFin process node series used in current-gen CPUs. The new process node will feature Intel Hybrid Technology with smaller high-efficiency cores and larger high-performance cores.
The CPU will feature up to 8 Golden Cove big cores and up to 8 Gracemont small cores. In addition to the improved IPC, Golden Cove cores also bring improved AI performance with enhanced security features to keep you protected, as well as improved network performance.
Intel's 12th Gen CPUs and Z600 series chipset features.
The Alder Lake platform will support:
PCI Express Gen5 and Gen4
Intel WiFi 6E
Intel Optane Memory H20
Thunderbolt 4 support
DDR5 4800 MHz Memory
SATA 3.0
Intel LAN PHY
eDP / 4DDI Display Capabilities
Also, both DDR5 and DDR4 memory will be supported. Intel also confirms LPDDR4 and LPDDR5 support on their mobile platforms. The Alder Lake platform will have 16 PCI Gen5 lanes and 4 PCI Gen4 lanes. The Direct Media Interface (DMI) finally has been upgraded to Gen4.
The desktop CPUs will support up to dual-channel DDR5 4800Mhz memory and up to DDR4 3200MHz modules on DDR4 boards. Only the high-end Z690 chipset series motherboards will be offering support for DDR5 memory.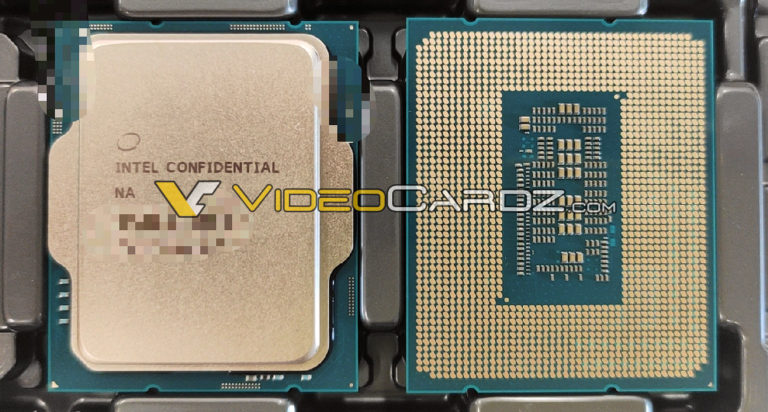 The 600 series motherboards will feature a new socket type called LGA1700. Both the shape of the CPU and the socket have changed with this newer generation platform.
The Alder Lake series are to arrive this year, but there are no specific details available at this moment.