Computex 2023
MSI, a global leader in gaming, content creation, and business & productivity, unveiled an impressive range of new products at COMPUTEX 2023. Showcasing their commitment to creativity and passion for building top-performing products, MSI provided visitors with a comprehensive experience. Major highlights were the latest graphics cards powered by the NVIDIA® GeForce RTX™ 4060 Ti GPU. These cards were designed to meet fans' demand for new graphics technology, featuring high-performance circuit board design and advanced cooling capabilities.
At booth L0818, MSI showcased a compelling array of new products, including laptops, desktops, graphics cards, motherboards, monitors, PC components, and collaborations with popular applications.
"We are wholeheartedly dedicated to bringing a wide range of high-end products to COMPUTEX 2023," said Sam Chern, MSI's Marketing Vice President. "While facing tough competition in the market, MSI remains committed to our original intention of 'TECH MEETS AESTHETIC' by tailoring our products to meet the market's needs. Our breakthrough performance, ultimate aesthetic, and robust product lineup are our response to the challenging environment."
Prestige 16 Laptop
The Prestige 16 Laptop, honored with the prestigious Red Dot Product Design of 2023 award, boasts a revamped design with a magnesium aluminum alloy chassis, resulting in a lightweight profile of just 1.5kg. Equipped with the latest Intel® Core™ processor and certified by the Intel® Evo™ platform, the Prestige 16 delivers exceptional performance. Additionally, it offers a Studio certified version that includes GeForce RTX™ 40 Series Laptop GPUs. Notably, the laptop supports 140W PD3.1, further enhancing its capabilities. With its slim yet powerful design, the Prestige 16 Laptop caters to users seeking a high-performance laptop with a spacious display.

Commercial 14 Laptop
The all-new MSI Commercial 14 Laptop offers tailor-made solutions for enterprises, prioritizing stringent security measures with surgical precision. It presents two optional features: NFC (Near-field communication) and a built-in Smart Card Reader, adding an extra layer of identity authentication. Additionally, the laptop's configuration can be customized to meet specific requirements. In addition to its exceptional business-oriented features, the Commercial 14 also showcases MSI's commitment to environmental protection. The keyboard deck incorporates a recycled material called "PCR," while over 90% of the packaging is made from recycled paper.
GeForce RTX™ 4060 Ti GAMING Series Graphics Card
Introducing the GeForce RTX™ 4060 Ti GAMING Series Graphics Card, the GAMING TRIO and GAMING series showcase a fresh yet recognizable aesthetic while maintaining the exceptional balance between performance, cooling, and low noise that gamers have come to rely on. The innovative TORX Fan 5.0 design incorporates pairs of three fan blades linked together to create a rim that optimizes airflow within the updated TRI FROZR 3 and TWIN FROZR 9 cooling system. The brushed-metal backplate featuring a flow-through design, effectively dissipates trapped heat while being sturdy. Furthermore, the graphics card boasts Mystic Light, which synchronizes captivating colors with the rest of the PC through Mystic Light Sync and Ambient Link.
The VENTUS series offers a dependable and budget-friendly choice for gamers who prioritize price-performance ratio. Equipped with the acclaimed TORX Fan 4.0, a reinforced backplate, and a well-rounded aesthetic that seamlessly blends into any build; the VENTUS 3X and VENTUS 2X BLACK models provide all the essential features necessary to tackle any workload.

Intel Z790 MAX Series Motherboard, PROJECT ZERO Back-Connect Motherboard and Expansion Card
MSI brings a unique new motherboard, starting with the popular back-connect motherboard – B650M PROJECT ZERO. This particular motherboard puts the power interface, fans interface, and others to the back of the motherboard allowing for much simpler and more elegant cable management. The eye-catching silver design allows you to represent your style!
The Z790 MAX series motherboards will be featuring the brand-new Wi-Fi 7 solution, the overall appearance design will have some upgrades to it, and several motherboards will be upgrading their network solution to 5GbE LAN.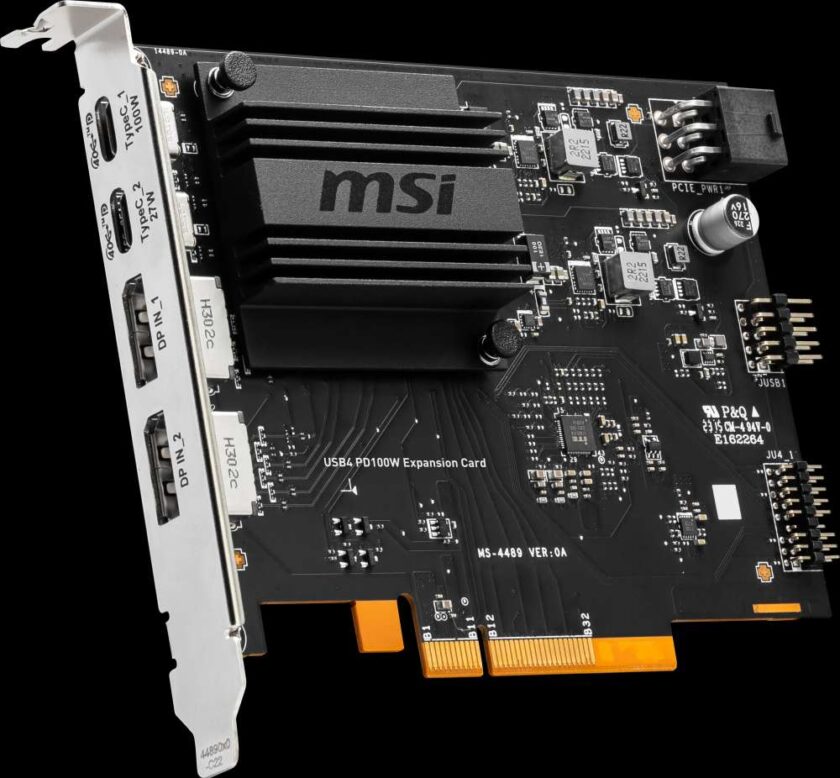 And also on display is the new USB 4 100W Expansion Card, which allows the motherboard to support dual USB 4.0 40Gb/s Type-C Ports with ultra-high transfer rate and up to 100W fast charging!
PRO DP180 13th Exceptional Creative Performance Desktop
PRO DP180 is a desktop computer validated by NVIDIA RTX Studio. It is loaded with up to a 13th Gen Intel® Core i7 processor alongside a discrete NVIDIA GeForce RTX GPU. The PRO DP180 offers a range of user-friendly features; its 2.5G and 1G Dual-LAN design coupled with Wi-Fi 6E helps network connections be faster and more stable than ever. The DP180 also offers a quick and straightforward level of connectivity through USB 3.2 Gen 2 Type C and various other IO ports. In addition, its built-in card reader supports SD & Micro SD Card for the best compatibility and convenience. The built-in Padlock and Kensington Lock dual design protect the unit with the physical lock making DP180 an ideal machine for businesses that require fast, secure, and easy workflow. With NVIDIA Studio certification, the PRO DP180 is primed to help its users unleash their originality and unlimited potential.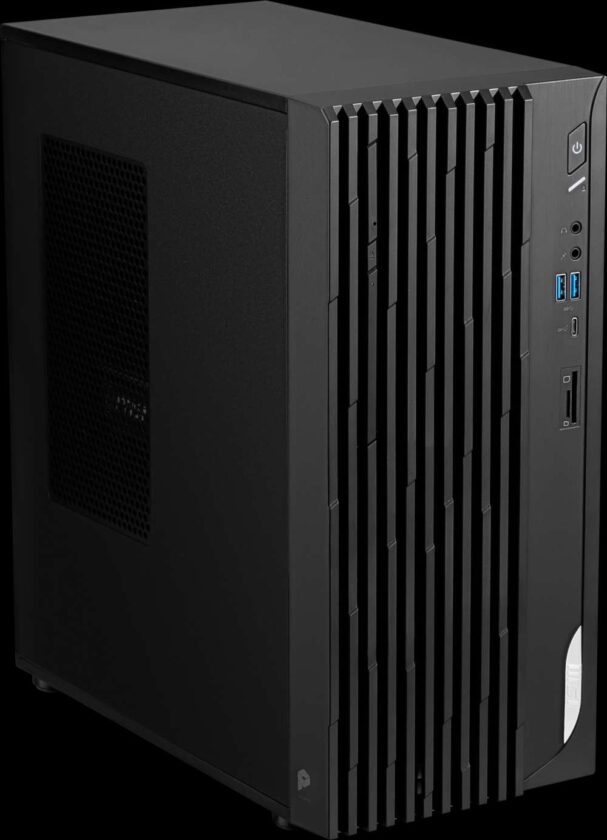 PRO DP10 13M – An Astonishingly Powerful, Surprisingly Small Mini PC
The PRO DP10, this pint-sized enclosure is more than your average prebuilt. The small design helps tidy up a desk and save space, while the available robust hardware and software configurations support users in multitasking. Up to a 13th Gen Intel® Core i7 processor with 12 cores enables users to edit graphics and work with multiple programs faster and more seamlessly. Furthermore, PRO DP10 supports up to four displays simultaneously with its rich selection of IO ports, including DisplayPort, HDMI, D-Sub (VGA), and Thunderbolt 4, which supports up to 40Gb transfer speed and display output up to 8K resolution. Connect and rapidly transfer data with high-bandwidth and low-latency 2.5Gbps Ethernet LAN or a Wi-Fi 6E that emphasizes transmission security and signal improvement. A reversible USB 3.2 Gen 2 Type-C helps users to conveniently transfer projects or files rapidly.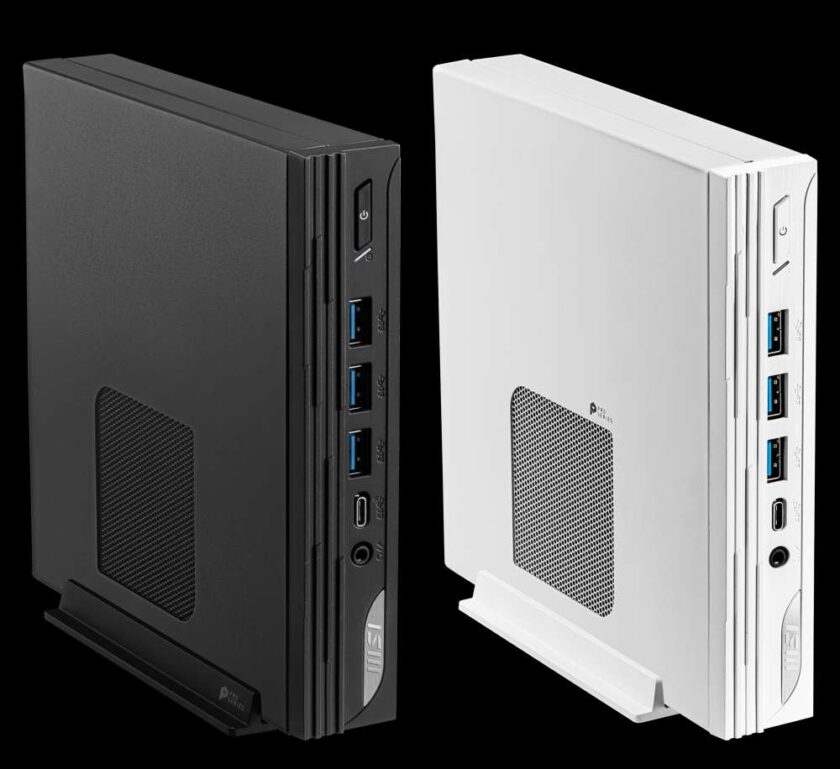 Experience the Deepest Blacks and Most Vibrant Colors with MSI's New QD-OLED Monitor Series
Experience unparalleled visual experience provided by MSI's latest QD-OLED monitor series. By combining Quantum Dot technology with OLED display technology, these monitors deliver exceptional depth in black levels and true-to-life colors, elevating gaming to new heights. The highly acclaimed MEG 342C QD-OLED monitor sets a new standard with its rapid 0.03ms GtG refresh rate, VESA DisplayHDR True Black 400, and ClearMR 9000 certifications. With added features such as KVM functionality and a range of I/O ports including HDMI 2.1 and USB Type-C with up to 65W PD charging support, it has quickly become a popular choice among consumers.
To enhance the immersive experience even further, MSI introduces the SpectrumBar, featuring exclusive Mystic Light lighting effect control. The SpectrumBar can synchronize with the on-screen display, creating a captivating and intense visual ambiance.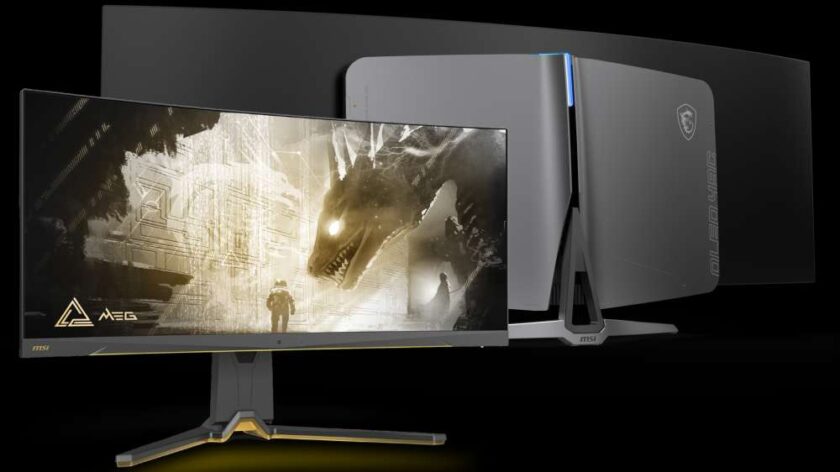 During COMPUTEX, MSI unveiled an innovative concept monitor, the world's first 49-inch 32:9 QD-OLED display. With an impressive refresh rate of up to 240Hz and superior QD-OLED technology, complemented by exclusive MSI features like Gaming Intelligence and OLED Care, gamers can truly immerse themselves in the deepest blacks and most vibrant colors.
Create New Possibilities of Visual Experience Modern MD272QXP Series Monitor
The Modern MD272QXP series presents a 27-inch IPS monitor with WQHD (2560 x 1440) resolution, delivering an exceptional visual experience. It combines advanced EyesErgo eye-care technology with an ergonomic design, ensuring optimal comfort for users. Equipped with a 27-inch IPS panel, built-in speakers, and a versatile 4-way adjustable stand, the monitor allows for easy tilt, swivel, pivot, and height adjustment, enabling users to find the most comfortable viewing angle for their work. 100Hz refresh along with TUV Certification puts lesser strain on eyes. The Less Blue Light PRO feature acts as a hardware blue light filter, reducing the harmful blue-violet region while preserving the original screen color and detail. Additionally, the monitor provides an immersive HDR viewing experience with enhanced contrast and vibrant colors.
Furthermore, the exclusive Productivity Intelligence (P.I.) software offers intelligent tools such as the KVM function, color management, and display modes to enhance productivity. The KVM function enables effortless switching between two computers using a single keyboard and mouse. The built-in USB Type-C connection with 65W power delivery allows convenient connectivity and charging of mobile devices.
MAG CORELIQUID E Series Liquid Cooler
The MAG CORELIQUID E Series, inspired by the passing of time and the shape of a solar eclipse, is an innovative product that combines advanced cooling technology with a striking visual design. By enlarging the contact area between the water channel and the copper base of the water block, the MAG CORELIQUID E Series maximizes heat dissipation from your CPU, while featuring enhanced micro-channel height for improved water cooling system efficiency. The 270-degree rotating water block cap design ensures the logo remains horizontal regardless of the mounting orientation. Users can integrate the MSI CORELIQUID E series with the MSI motherboard and adjust the speed of the cooling fan and pump through the MSI CENTER software, providing easy-to-use controls to fine-tune their hardware and achieve optimal computer performance.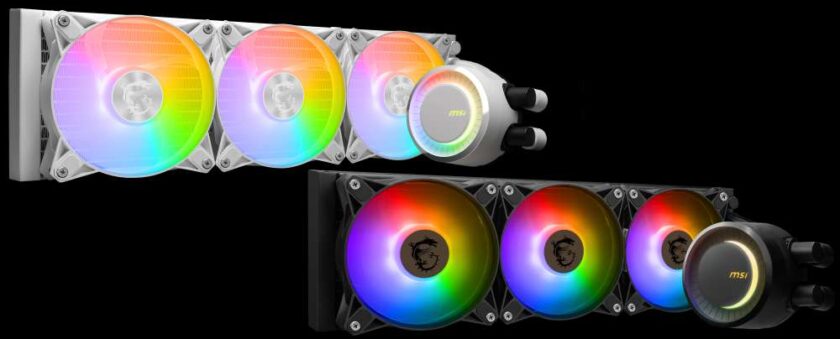 SPATIUM M570 PRO PCIe 5.0 NVMe M.2 FROZR SSD
The SPATIUM M570 PRO PCIe 5.0 NVMe M.2 FROZR, with lightning-fast read/write speeds of up to 12000/10000 MB/s, blends top-notch PCIe Gen 5 controller technology with MSI's passive thermal cooling design which consists of well-pathed Core Pipes that fully cover the controller and flash module while transferring heat along a surfaced heatsink for efficient airflow passthrough under a stylish dual finished cover, unleashing phenomenal transfer rates in 1TB, 2TB, and 4TB capacities for professionals, content creators, and gamers.
MRAX60 Mesh system Router
MSI reveals the MRAX60 Mesh system, which delivers speeds of up to 6000Mbps. Its unique antenna design and intelligent backhaul network extend WiFi coverage to every room, basement, and even front and backyards while maintaining maximum speed, satisfying the demands for 4K/8K video streaming, online gaming, and video conferencing. Users can quickly and easily set up the network with the MSI Router app, and the AI QoS automatically manages bandwidth. The MRAX60 supports security features like parental controls and WPA3 encryption, providing a seamless and secure high-speed internet experience for families.
Voicemod X MSI Voice Changer Application
MSI is collaborating with the well-known voice changer application called Voicemod. Voicemod can easily transform voices into various special effects without the need for additional synthesizers or soundcards, providing a much more interactive and fun live stream, game broadcast, online meetings, and much more! MSI has specifically created a set of RGB lighting effects that synchronize with the voice effects. Simply click on the voice effect and the corresponding RGB lighting will display accordingly. This allows live streamers and gamers can display their personal style, and the first-hand experiences will be accessible at the MSI booth during COMPUTEX exhibition! The partnership is scheduled to officially launch this fall, and players will be able to enjoy this feature on MSI's motherboards, graphics cards, gaming desktops, or gaming monitors.
MSI @ COMPUTEX TAIPEI 2023
Date: Tuesday, May 30 – Friday, June 2, 2023
Time: 9:30 – 17:30
Booth 1:  L0818 (Systems & Solutions)
Venue: 4th Floor, Hall 1, Taipei Nangang Exhibition Center
Booth 2: K0616 (Industrial IoT & Embedded Systems)
Venue: 1st Floor, Hall 1, Taipei Nangang Exhibition Center