MotoGP 20 carries with it the solid systems of its previous games, an unparalleled customizable driving model, the best AI in ANY racing game and a highly refined simulation experience while improving in very subtle ways to deliver the best MotoGP game yet.
It's very hard for an annual series like MotoGP to stay fresh and relevant but with great gameplay mechanics and tons of content, Milestone has managed to keep the MotoGP series exciting in a very saturated gaming scenario.
AT A GLANCE
Release date: 23 April 2020
Developer: Milestone Srl
Publisher: Milestone Srl
Platforms: PlayStation 4(Reviewed), Nintendo Switch, Xbox One, Microsoft Windows
Final Score: 8/10
MotoGP 20 carries with it the solid systems of its previous games, an unparalleled customizable driving model, the best AI in ANY racing game and a highly refined simulation experience while improving in very subtle ways to deliver the best MotoGP game yet.
Gameplay
The bread and butter of MotoGP 20 is the Career mode, but the series staples Grand Prix, championship, and time trial, the Historic Challenges, and two different options for multiplayer are also present. Continuing over from the recent releases, MotoGP 20 features dedicated servers powered by Amazon Web Services enabling excellent low latency matches. Public Match, Private Match, and Race Director Mode all return and multiplayer games are just as fun as ever.
From the point of view of the single-player experience, there are several improvements and additions. In particular, the Historical Challenges, which present themselves as thematic scenarios inspired by eras of the past. The history of the MotoGP is certainly made of epic moments, but it's the challenge that turned the great champions of the past into legends. You can unlock new bikers as well as powerful bikes by beating these challenges.
The Career mode follows your virtual rider as he wins matches and rises in popularity. There's a wide variety of championships from Moto3, Moto2, to the titular MotoGP. It has also been updated with a ton of new features that make for enriching racing experience and allows you to simulate the real-life experiences of professional riders. Unfortunately, none of these new features are explained well enough and someone new to the franchise or the sport itself might find themselves confused.
Just like in the real MotoGP simply being fast on the circuit is not going to be enough. Taking the best decisions on and off the pitch is crucial to find a winning strategy to master the Championship. You even get to select your own Personal Manager, who will be responsible for bringing in sponsorship and contract opportunities. You can evaluate the pros and cons of every offer before accepting, but be prepared to meet the expectations of your team as failing to achieve the objectives will result in the termination of your contract.
You can also improve performances of different bike parts, earning and spending development points, and allocating your R&D staff to reach the highest level. The more salary you earn, the more you can spend on hiring engineers and the faster your ride gets.
Historic mode allows you to revisit iconic matchups and locations using renowned riders has been overhauled. You now select from three scenarios by their difficulty. By completing challenges you receive diamonds, a form of in game currency that you can use to buy historic riders. There are 46 historic riders and 43 historic rides available, so there's plenty of content to go around. The historic mode's revamped mechanics are refreshing at first, but it can become a bit of a drab with time.
MotoGP's driving model remains just as solid, leaning heavily on the simulation side of controls and feel. The handling is realistic and there is a high emphasis on following real-world rules. Braking must be done rigorously before bending and controlling acceleration as well as optimal driving lines is necessary to win. There are many options available that allow you to increase or decrease the degree of challenge, the realism and the impact of physics on the behavior of the vehicle, so you can keep on gradually increasing the difficulty while you learn.
There's also a new fuel management system, that adds a layer of complexity and strategic decision. It's vital to balance power, so that you don't run out of fuel. Tire management and bike damage is just as important and there's a very thin line between being determined and reckless. It's fun and challenging and makes races very rewarding once you master the complex systems present in the game.
The other part of what makes MotoGP such a fun and hardcore experience is Milestone's neural AI. Debuting last year in MotoGP 19, A.N.N.A. allows for dynamic, aggressive and adaptable AI opponents that perform eerily similar to actual human racers. This adapting AI, combined with dynamic weather, and a realistic physics system gives rise to unpredictable, realistic gameplay that makes every race adrenaline rushing experience.
For a solo player, there's nothing more important than having a realistic, challenging yet fair AI. MotoGP 20 delivers on this front with opponents that offer a good amount of challenge while not being flawless, making almost human like mistakes, adapting to challenges and obstacles. Many games have tried this before, but few have been able to execute it so well.
Visuals and Presentation
MotoGP 20 lets you customize your rider and bike, allowing for a personalized experience. Bike stickers, helmet, racing numbers, name on the suit, as well as livery can be customized using the editor.
Iconic locations such as Mugello, LeMans, Silverstone, are reproduced in a very faithful way, from the ambiance to the scenery. The lighting system is fantastic at times and weather effects are gorgeous. Rainfall is a sight to behold as the sky darkens and raindrops hit your screen, and it is equally impressive when the sky clears up and puddles form, reflecting the surroundings.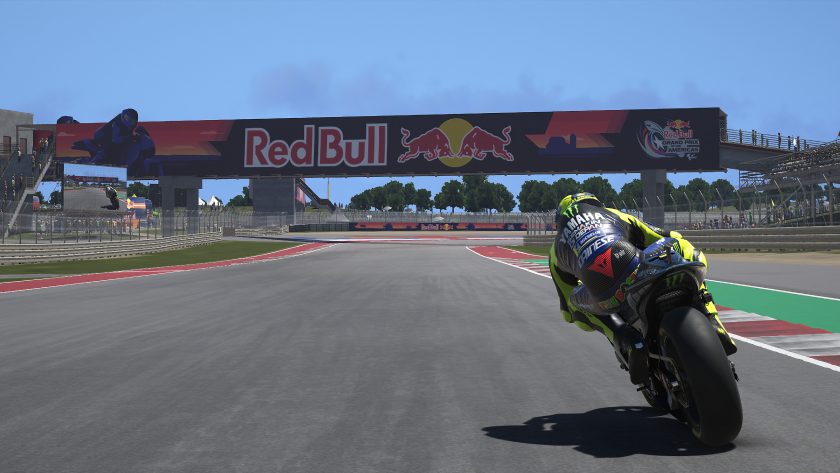 The HUD and overall UI remains just as slick and minimal. There is never any distraction on the screen to take your focus away from racing, yet, there is a constant stream of the necessary information to help you make calculated decisions. Broadcast style cutscenes and excellent player models, as well as bikes, give a realistic and enjoyable experience.
The game runs on a very stable framerate on the base PS4 and manages to look very impressive. The side effect of having to maintain a stable framerate and gorgeous visuals is that it remains locked at 30 fps. On both the Xbox One X and PS4 Pro, higher resolutions and a capped 60 FPS is available. While on the PC, there's no issue with the performance and it runs at whatever resolution and visuals your system can manage.