Mid Range Gaming PC Build for Holiday 2017
5 min read
The holiday season of 2017 is upon us and as we brace for Christmas and New Year, we here at TechArx present the gaming pc which can run games at 1080p 60 at High/ultra settings and also not break your bank. This PC offers the best ratio between Cost and Performance. This PC is also capable of some light 1440p gaming as well.
NOTE: Techarx is not sponsored by any of the companies mentioned below and the recommendations are based on the comprehensive knowledge and experience of the Techarx team itself. Pricing used in this build is as of time of publication
Processor: AMD R5 1600
The R5 series of Ryzen CPU's challenges the sweet spot of the price to performance segment that Intel's i5's have held since the Sandy Bridge 2500k days. This hex core, 12 threaded CPU is a monster in productivity and gaming alike. Offering better or similar average fps in modern titles along with vastly superior minimums, this is the CPU of choice for any mid to lower high-end buyer. You could get an 8600k also but it does not have HT support and is costlier and as of now mostly out of stock.
CPU Cooler: COOLER MASTER HYPER212 TURBO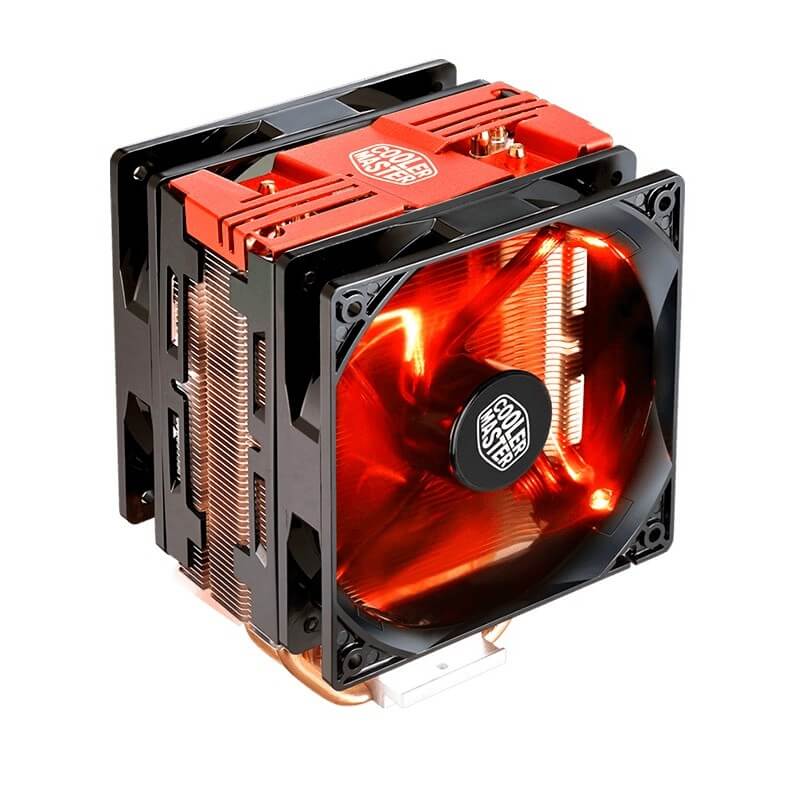 The Hyper 212 line of CPU coolers from Cooler Master is always a solid choice for people looking for solid thermals at throwaway prices. This turbo version comes with Red LED fans. It also has AM4 support out of the box. You could, however, go with Cooler Master Master Liquid Lite 120 or Master liquid 240, or comparable coolers from the competitors, if you want the AIO route.
Motherboard: ASUS ROG STRIX B350-F GAMING
This B350 board offers looks and features at a very attractive price. This board contains 2 reinforced PCIe 16 slot. It supports Ram up to 3200Mhz, Nvme etc. This Board is obviously not as high end as the x370 ones but for the price and the CPU we paired it up with it will do the job.
Memory: CRUCIAL BALLISTIX ELITE
Ballistix Elite DDR4 memory leverages the latest advancements in efficiency technology and is engineered to run at lower voltages for inherent energy gains. Armed with a thermal sensor and our high-end Ballistix M.O.D. Utility for real-time temperature monitoring, Ballistix Elite DDR4 wrings up to 40% more power efficiency out of your memory. 16 GB kit of this memory will enough for your gaming needs. Only 1 Draw Back, No RGB
Storage: WD BlUE 1TB
For the HDD, we recommend the Western Digital Blue Series which boasts an RPM of 7200. Getting a 1TB variant is recommended, allowing you to partition if needed. This will be your main storage of your steam and origin game backups, movies, work-related backups and a 1TB variant should be more than enough for starters. If you do need more, get another of these as they are fairly cheap.
GPU: ZOTAC 1060 6GB AMP
The GTX 1060, like the last Gen GTX 970 ( the card it replaced ) provides the most bang for the buck in the present market. This card is capable of High to Ultra Settings at 60 + fps on all modern games at 1080p and can also do light 1440p gaming.
PSU: SEASONIC S12II-620
The Seasonic S12II series needs no introduction, as this is a well-established, long-standing Seasonic series that has withstood the test of times. The S12II Bronze Series achieves the 80 PLUS® Bronze standard of providing at least 85 % power usage efficiency at 50 % operating load. This efficiency combined with active power factor correction enables this power supply to lessen energy waste. It is a reliable power supply backed by 5 years of warranty.
Case: NZXT S340 ELITE
Expanding on the S340's renowned durability, the S340 Elite features a tempered glass panel to showcase builds with crisp clarity. The top IO panel has been optimized with an HDMI port and additional USB ports for a streamlined VR experience. It includes a magnetic cable management puck to conveniently store VR or audio headsets with fast and flexible mounting access. The S340 Elite is strong, compact, and takes the S340 chassis to new heights
Price Chart
TOTAL : Rs 82,379
Below is the same system with alternate Ram and Motherboard for our International readers. Pricing as of today on Amazon. Pricing is quite a bit better in the US as we could squeeze in an X370 motherboard, which was surprisingly cheaper than the B350 Strix F.
| | | | |
| --- | --- | --- | --- |
| Component | Product | Price (USD) | Links |
| Cpu | AMD RYZEN 5 1600 | $189.99 | BUY NOW |
| Cpu Cooler | CM HYPER 212 TURBO | $44.99 | BUY NOW |
| Motherboard | ASUS PRIME X370 PRO | $127.99 | BUY NOW |
| Memory | CORSAIR VENGENCE LPX 16GB 3000 MHZ | $196.99 | BUY NOW |
| Hard Disk | WD HARD DISK 1TB SATA BLUE | $49.00 | BUY NOW |
| Video Card | ZOTAC GTX 1060 6GB AMP | $269.99 | BUY NOW |
| Power Supply | SEASONIC S12II-620 | $49.90 | BUY NOW |
| Case | NZXT S340 ELITE | $89.99 | BUY NOW |
TOTAL: $1018.84
So there you have it folks, a highly capable gaming PC for around the 80k mark INR.Again the Huge price of NAND and DDR4 memory as of now makes it impossible to squeeze in an SSD in this budget. You could squeeze in one by sacrificing on say the CPU cooler for the box cooler of Ryzen or going with a cheaper Case or even 8gb of Ram, but we felt this was a better route to go for. Also since the Mining craze still is affecting Polaris Prices we could not recommend the RX 580. If prices do fall, that would be a great alternative to the GTX 1060. Surprisingly as mentioned above the motherboard prices in the US is quite a bit cheaper allowing us to squeeze in an X370 board.