OVERVIEW
     From being components of expensive workstation builds to home grown entertainment PC's, SSDs or Solid State Drives have come a long way since the days of old. With proven high-speed operation and data transfer speeds, a steadily growing number of PC users have gladly adopted SSDs simply because of their sheer utility, although many still doubt the obviously beneficial price to storage curve and hold on to mass storage drives, even though the performance difference between the two heavily compensates for even the smallest amount of data storage. Does the Kingston UV 300 enter a battlefield, set to change the planes altogether? Or does it fall back and into a fray of others just like it, too many promises than can actually be delivered on? Let's find out, shall we?
FIRST IMPRESSIONS
     Off the bat, the very first thing that's noticeable with the UV-300 its very lightweight frame. The top side of the drive is made of metal, while the bottom and the drive housing is a pretty standard fare plastic. The difference, though, is hard to notice, with the same color scheme and surface texture flowing through across both sides of the drive, staying true to tried and tested Kingston design.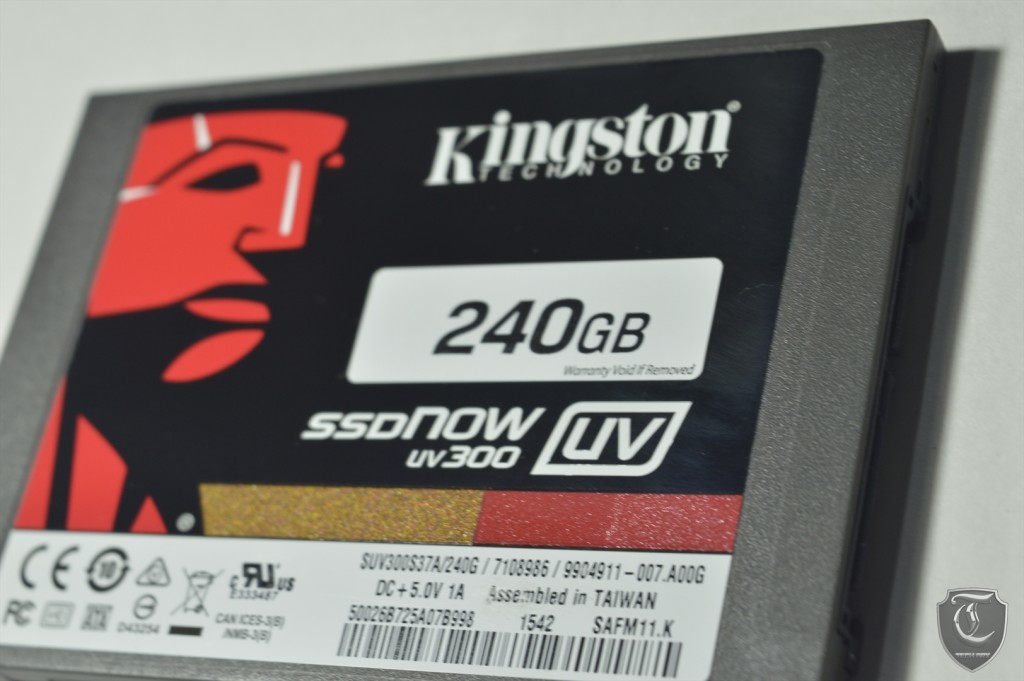 There are two screw holes on either,horizontal side to mount the drive almost anywhere on a case, and a nifty little utility that Kinsgton added was the optional sticky plastic plate to properly align the drive to the mother system in case the thickness of the disk is inadequate to fit in said system [Good job Kingston, we couldn't have even thought of this ingenious little solution by ourselves]. On the front, you've got the standard SATA power and data connection ports, while the rear is as smooth as delectable rear ends could go, and, despite the small, lightweight, form factor the overall build quality of the UV-300 is surprisingly sturdy.
SPECIFICATIONS
     As the first of Kingston's SSDs to use Triple Level Cell (TLC) NAND technology, the UV-300 promises to improve cache levels and reduce the overall cost of the generic SSD, thereby claiming a fair bounty in spearheading a change in the natural price-performance norms of the SSD market . It also comes with the Phison S10 quad-core controller for further optimized performance and endurance, with promised 550MB/s Read and 490MB/s Write speeds that go way beyond, often 10 times the read and write speeds of traditional 7200RPM hard drives.
[nextpage title="Performance"]
BENCHMARKS
AS you'll see below, we were quite willing to push this little bugger hard, and boy were we in for a treat. A slew of tests, tense moments, and a whole 2 days later, the results were pretty appealing[albeit quite expected].
– Setup : The setup we used for this review consisted of
–  Intel Core i5 6600K courtesy Asus India
– Maximus VIII Hero motherboard courtesy Asus India
– Kingston Hyper X Fury HX426C15FBK4/32 DDR4 32GB Kit courtesy Kingston
– Kingston SSD Now UV300 SSD courtesy Kingston
– SK Hynix SL 301 SSD courtesy Abacus Peripherals.
– CoolerMaster V1000 PSU.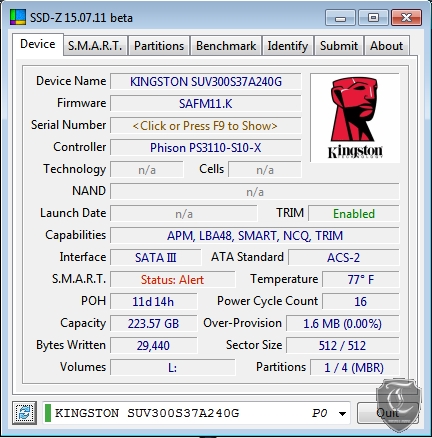 ATTO Disk Benchmark
     The great thing about ATTO is that one can test with predefined block sizes. So, we can test with a 32MB sequence of 4KB files, yet also 32MB in 1MB files, providing an opportunity to test with various file sizes. This benchmark is a preferred among manufacturers as ATTO uses RAW or compressible data and, for our benchmarks, we used a set length of 256mb and tested both the Read and Write performances for various transfer sizes ranging from 0.5 to 8192kb with a ques depth of 4.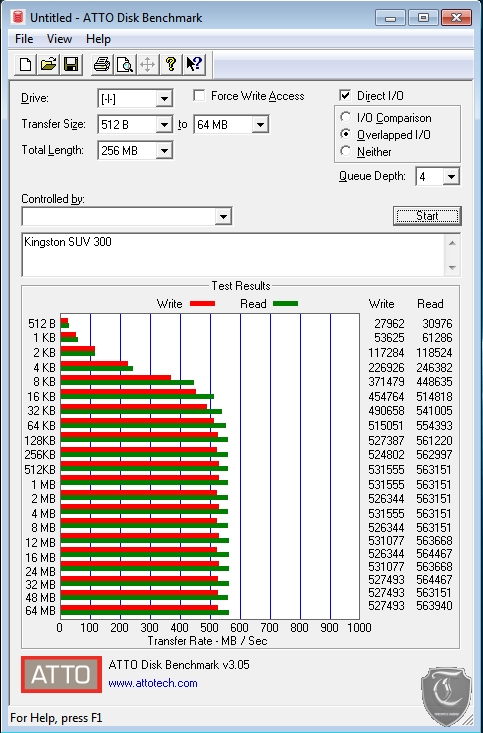 With speeds peaking much beyond the 500MB/s mark, the procedure's started off on a good note, so does the trend continue with our next benchmark?
Anvil's Storage utilities Benchmark
     Anvil Pro, or Anvil's Storage Utilities[Depending on what you'd want to call it] is an 'all inclusive' storage utility that allows testing transfer speeds as well as IOPS and lets the user tweak and adjust to find just the right mix in their testing medium, the IOPS tests being fully configurable with preset testing scenarios for read, write and mixed IO. The Benchmarks menu includes an SSD test, Endurance Testing and 3 pre-configured IOPS tests.
HD Tune
     HD Tune Pro is a hard disk utility and benchmarking utility for Windows. This tiny application allows you to scan your hard drives for errors or take a deeper look at several performance figures coming from the storage unit. We used the included Benchmark utility tool to our hearts' content, because why not?
Crystal Disk Mark
     Crystal Disk Benchmark is used to measure Read and Write performances through sampling of highly compressible data (oFill/1Fill), or random data. Crystal Disk Mark scores usually drop a bit compared to ATTO, and this is the result of the test data now being primarily incompressible – Mostly movies, music and photographs. We tested the drive with multiple data sizes ranging form 100MB to 1000MB.
AS SSD benchmark Suite
     This nice little German application gives an extensive result set. The test is popular, so I included it. AS SSD, for the most part, gives us the worst case scenario in SSD transfer speeds because of its use of incompressible data.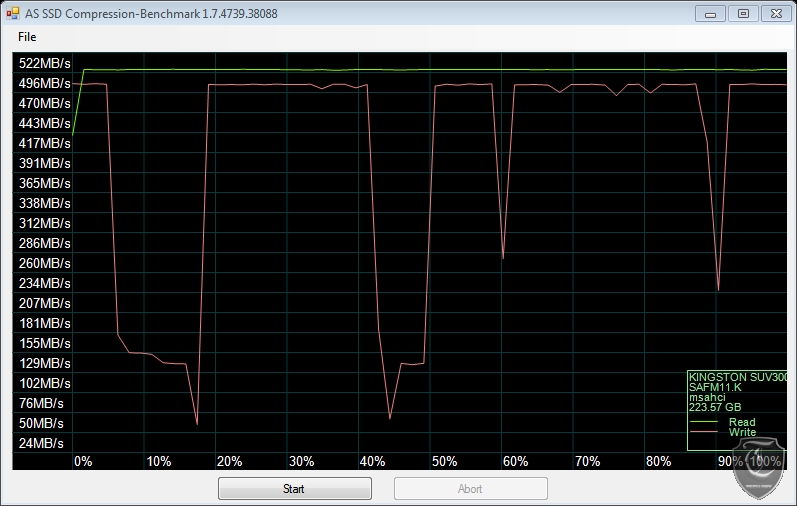 [nextpage title="Conclusion"]
PROS
At 3.7k INR for the 120 GB version and 6.5k INR for the 240 GB version, the UV-300 is one of the best SSD's we've had the chance to test till now, and most certainly among the creme de la creme from Kingston's stables, boasting significant performance boosts compared to previous, older generation hardware. Consider it as THE definitive, first major upgrade in drive performance and OS boot speeds for computers still running traditional mechanical Hard-drives as system drives.
CONS
The only negative point we found was the noticeable,yest ever so slightly less write speed when compared with other bracket dominating 240GB SSDs, but can easily overlook when price comparison comes in place.And with a price of sub-7k for 240GB, i'd personally short-list the Kingston UV-300 as one of our favorite goodies that's come our way this year.
VERDICT
The UV-300 aka the little bad boy get a little golden Badge from us!