The lower end of NVMe SSDs is like the wild wild west; you will find all sorts of combinations and products. On the one hand, you have the usual budget/price-saving versions of controllers which are essentially butchered to keep the prices low, on another end of the spectrum you will see a product made of several mixed-and-matched components with the specs kept vaguely the same. Tonight (day?) we will be briefly testing out a product that is the result of a mix and match of suitable components.
Today we will be checking out the Kingston NV2 NVMe SSD targeted at the budget end. We have previously tested out the NV1 NVMe SSD which gave us a decent performance. Let us check out what the predecessor does, shall we?
Specifications
Kingston NV2
250GB
(SNV2S/250G)
500GB
(SNV2S/500G)
1TB
(SNV2S/1000G)
2TB
(SNV2S/2000G)
Form Factor
M.2 2280
M.2 2280
M.2 2280
M.2 2280
Interface/
Protocol
PCIe 4.0 x4/
NVMe 1.4
PCIe 4.0 x4/
NVMe 1.4
PCIe 4.0 x4/
NVMe 1.4
PCIe 4.0 x4/
NVMe 1.4
Controller
?
?
Phison PS5021-E21
Silicon Motion
SM2267XT
DRAM
No
No
No
No
Memory
Toshiba 112-layer 3D TLC BiCS5
Toshiba 112-layer 3D TLC BiCS5
Toshiba 112-layer 3D TLC BiCS5
Toshiba 112-layer 3D TLC BiCS5
Sequential Read
3,000 MB/s
3,500 MB/s
3,500 MB/s
Sequential Write
1,300 MB/s
2,100 MB/s
2,100 MB/s
2,800 MB/s
Random Read
N/A
N/A
N/A
N/A
Random Write
N/A
N/A
N/A
N/A
Endurance
80 TBW
160 TBW
320 TBW
640 TBW
Warranty
3-Year
3-Year
3-Year
3-Year
As we can see, Kingston leaves out quite a few pieces of information blank. This helps Kingston to revise particulars as necessary while staying within specs (Gen4 support in this case).
Looking a bit under the hood we see the 2TB version of NV2 has the Silicon Motion SM2267XT as opposed to the Phison PS5021-E21 controller found in the 1TB. The SM2267XT is designed for DRAM-less applications. This controller offers four NAND channels and is capable of 500K 4K random IOPS read/write throughput according to Silicon Motion. All of the drive's four 512MB NAND memory modules are mounted on the same side.
Performance Numbers
We ran the NV1 through our usual gauntlet of benchmarks. The results were all within expectation. The SSD wont blaze through the benchmarks, but this one is not a slouch either.
Atto Disk Benchmark
The great thing about ATTO is that one can test with predefined block sizes. So, we can test with a 32MB sequence of 4KB files, yet also 32MB in 1MB files, providing an opportunity to test with various file sizes. This benchmark is preferred among manufacturers as ATTO uses RAW or compressible data and, for our benchmarks, we used a set length of 256mb and tested both the Read and Write performances for various transfer sizes ranging from 0.5 to 8192kb with a user-selected queue depths.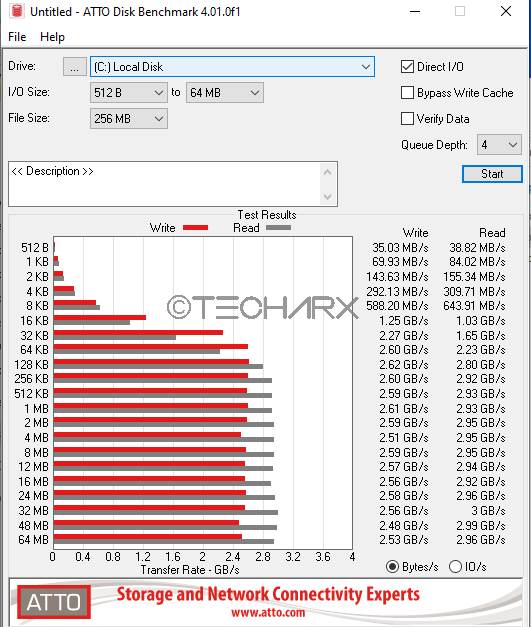 CRYSTAL DISK Benchmark
Crystal Disk Benchmark is used to measure read and Write performances through the sampling of highly compressible data (oFill/1Fill), or random data. Crystal Disk Mark scores usually drop a bit compared to ATTO, and this is the result of the test data now being primarily incompressible – Mostly movies, music, and photographs. We tested the drive with 1 GiB Sample with and without the heatsink that came with the motherboard.
AS SSD benchmark Suite
This nice little German application gives an extensive result set. The test is popular, so I included it. AS SSD, for the most part, gives us the worst-case scenario in SSD transfer speeds because of its use of incompressible data.
Anvil's Storage utilities Benchmark
Anvil Pro or Anvil's Storage Utilities[Depending on what you'd want to call it] is an 'all-inclusive' storage utility that allows testing transfer speeds as well as IOPS and lets the user tweak and adjust to find just the right mix in their testing medium, the IOPS tests being fully configurable with preset testing scenarios for read, write and mixed IO. The Benchmarks menu includes an SSD test, Endurance Testing, and 3 pre-configured IOPS tests.
AJA System Test
AJA system test is used to benchmark the performance of a drive for video production workflow across various codecs with different settings.
Conclusion
THE Kingston NV2 is meant to bolster Kingston's already impressive portfolio. While the NV1 was not very good, the Kingston NV2 with its improved controller and 112-layer TLC NAND(assumed) makes it a very competitive offering. Couple that with a comprehensive warranty and Kingston's lineage, and we have a good product at hand.
This will not win benchmark battles as it is not made to win battles; but this will do your job of everyday data storage and do it considerably fast, as it is supposed to do.