Kingston launches HyperX Cloud Revolver for the Indian Consumers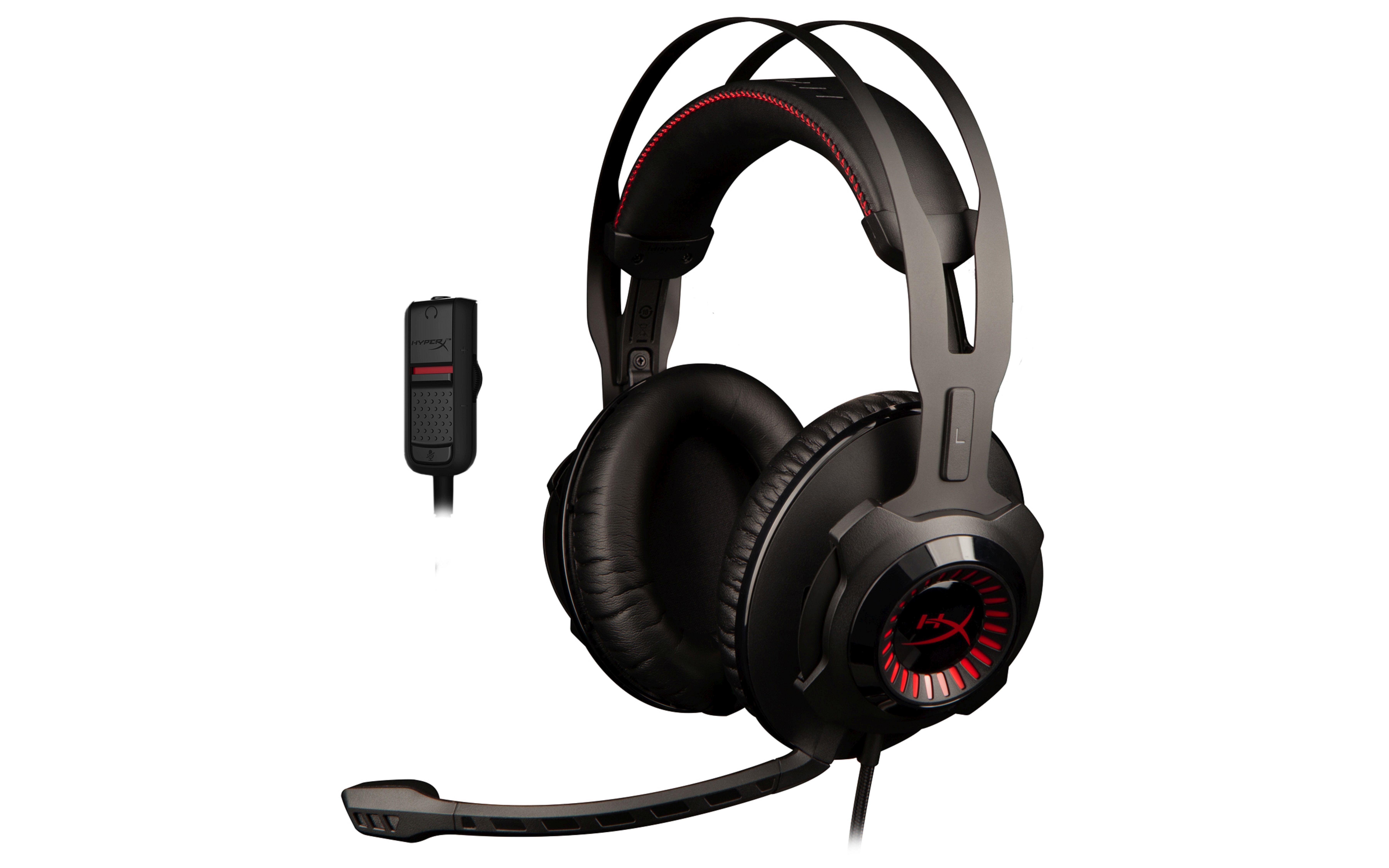 Kingston, the leading company in memory products, unveiled their newest product of the HyperX division, the HyperX Cloud Revolver. The newest addition to the Cloud headset family carries the "Cloud" name proudly and has a reputation for great sound , comfort and durability all the while boasting a price tag of 11,999 INR.
The HyperX Cloud Revolver features a studio grade stage with 50mm directional drivers which deliver the wider than usual depth and width for greater audio precision for your critical gaming moments. The fine-tuned driver, the precision-crafted mechanical design of front acoustic chamber and larger ear cups allows players to hear their opponent's movement with greater clarity for the superior advantage. For others, this headset promises the grandiose feeling of sitting inside a Concert hall while listening to their favourite music or watching their favourite movie.

The HyperX Cloud Revolver uses Kingston's signature Red memory foam and premium leatherette on the ear cups and headband for premium comfort and ease for long gaming hours. The Steel frame suspension promises long-lasting durability, stability and quality. HyperX Cloud Revolver utilises a noise-cancelling microphone that ensures crisp and clear voice quality with minimal background noise. The microphone is compatible with multiple platforms such PC, consoles and even mobile devices and is certified by VoIP service providers such as TeamSpeak, Discord, Mumble, Ventrillo, Skype and so on. As an added bonus, a 2mm audio control box extension is also included with the assortment of stereo and microphone jacks. To sweeten the deal, even more, the HyperX Cloud Revolver comes with a two-year warranty.
The Official Kingston HyperX Cloud Revolver Specifications and Features:
Studio-grade sound stage: HyperX Cloud Revolver has a wider audio range that creates depth and width for optimal audio precision and a competitive edge. You'll hear your opponents' location more accurately from further away. It's larger sound stage is ideal for FPS and open environment gameplay and for a concert hall-like experience when listening to music.
Next-generation directional 50mm drivers: Refined 50mm directional drivers are positioned parallel to the ears for a clean, crisp sound with enhanced bass. The drivers direct the sound into the ear for precise audio positioning.
Signature HyperX award-winning memory foam: Red memory foam is visible from the back of the ear cups to differentiate HyperX from its competitors. The higher quality, dense foam signifies HyperX award-winning comfort and quality while providing ultimate comfort during prolonged gaming sessions.
2M audio control box extension with stereo and mic plugs: HyperX Cloud Revolver comes with a 2-meter audio control box extension with stereo and mic plugs for PC. It's ideal for use with the onboard sound card.
Durable steel frame: Designed in Germany, HyperX Cloud Revolver has a solid-steel frame for long-lasting durability and stability.
Detachable noise-cancellation microphone: The removable microphone boom makes it easy to plug in for gaming or unplug to listen to music. It features a flexible design and custom mic positioning.
Multi-platform compatibility: HyperX Cloud Revolver is compatible with PC, Xbox One™1, PS4™, Wii U™, Mac® and Mobile2 so you can use one headset for PC and console gaming.
TeamSpeak certified: TeamSpeak™ certifies the voice quality to be clear and crisp with excellent sound quality. No audible echoes, background noises or voice distortions were detected in tests. Other compatible chat clients include Discord, Skype™, Ventrilo, Mumble and RaidCall.
Headphone:
Driver: Dynamic, 50mm with neodymium magnets
Type: Circumaural, Closed back
Frequency response:12Hz–28,000 Hz
Impedance: 30 Ω
Sound Pressure Level: 104.5dBSPL/mW at 1kHz
T.H.D.: < 2%
Input Power: Rated 30mW, Maximum 500mW
Weight:360g
Weight w/ mic and cable: 376g
Cable length and type:Headset (1m) + Audio Control Box (2m)
Connection: Headset – 3.5mm plug (4 pole) + Audio Control Box – 3.5mm stereo and mic plugs
Microphone:
Element: Electret condenser microphone
Polar pattern: Uni-directional, Noise-canceling
Frequency response: 50Hz–18,000 Hz
Sensitivity: -40dBV (0dB=1V/Pa,1kHz)
Kingston aims to sell their products for the competitive and normal gamers and enthusiasts and as such, HyperX products can be found at many leading gaming tournaments and conventions all over the world such as Gamescom, PAX and DreamHack. The Kingston HyperX Cloud Revolver will be available in all leading Indian retail and e-tail stores such as Amazon. For more information about the HyperX Cloud Revolver, head over to this page.