Kingston now jumps into the audio scene with HyperX Cloud, which is a mid-range gaming headset with a lot of feature and options. The brand is very well known for it's storage and memory products and now they have surprised the crowd with a great looking (and performing as well) stereo headset targeted mainly towards the pro-gaming community. This product is a result of Kingston's new partnership with Qpad, a Swedish brand and the HyperX Cloud is actually a rebranded Qpad QH-90 which Kingston acknowledges as codeveloping with the Sweden based company. The QH-90 itself is a very good stereo headset and the Kingston's rebrand is also cheaper than the original QH-90.
Technical Specifications
Headphones:-
Headphone Style – Over-the-ear, closed circumaural
Cable length – 1m + 2m extension (incl. a 10cm mobile/tablet extension)
Connector – 3.5mm audio jack
Output Configuration – Stereo
Driver Size – 53mm (dynamic)
Frequency Response – 15 Hz – 25 kHz
Impedance – 60 Ω
SPL (Sound pressure level) – 98 ± 3dB
Microphone:-
Microphone Type – Condenser (back electret), detachable, adjustable
Pick Up Pattern – Cardioid
Frequency Response – 100 Hz – 12 kHz
SPL (Max) – 105dB
Microphone output – -39 ± 3dB
Mic boom length – 150mm (incl. gooseneck)
Connector – 3.5mm audio jack

Overview
This product comes in a great packaging from Kingston which really shake off the feel of it's mid-range pricing as I start unboxing. The headset along with all it's accessories are perfectly housed inside the matte black box and protective foam cradle. Beneath the lid of the box there's a small introductory note by HyperX General Manager, Anders "G8V1k1ng" Willumsen.
The headset looks amazingly well built for it's pricetag and it looks elegant with premium finish showing off everywhere from the foam-padded and leather-stitched headband, matte aluminium frame, rubberised earcups to the braided cabling. The mic boom is detachable and it's approximately 6 inches in length.
Kingston made no compromise with accessories as the package includes an extra pair of earpads, optional cable with in-line remote, another 2m cable extender, airliner adapter, 4-pole smartphone compatible cable adapter, a carry pouch made of padded-mesh.
Closer Look
The main frame, including the earcup holder is made of aluminium, which makes it lightweight but at the same time without compromising the strength. It is also quite flexible and easily fits in for everyone and the clamping pressure of the headband (with proper adjustment) is just perfect. In short there's nothing to complain about in here, neither loose fit nor too much uncomfortable pressure.
The earcups are made of rubberised plastic with the aluminium frame sporting the HyperX logo on each cup. The black frame is also matte finish which looks somewhat like brushed aluminum.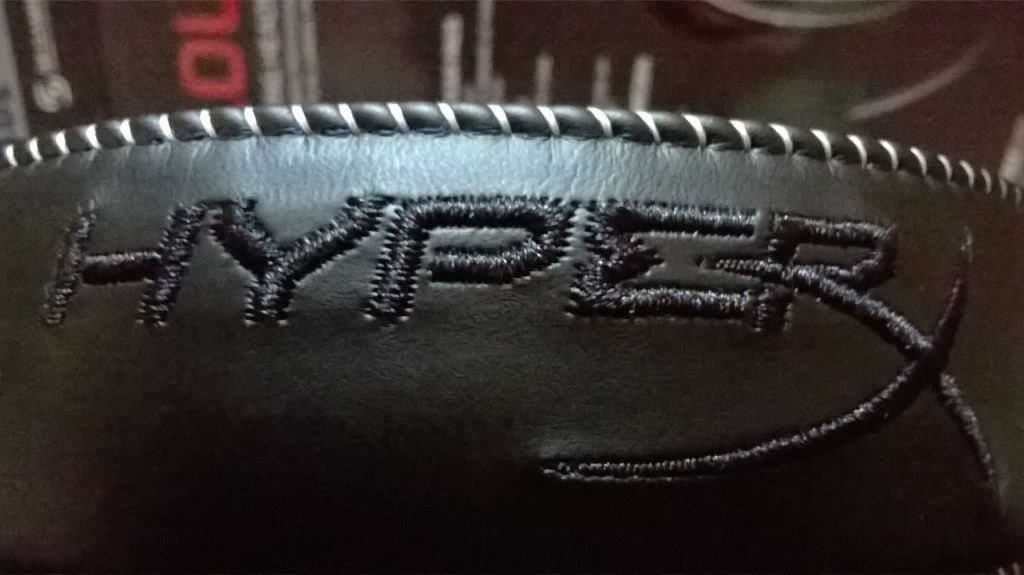 The headband is (in my opinion) the best part of this headset's design. It looks gorgeous with the leather stitched foam-padding. The thread color is in sync with the color of logo on the earcups and the sparkling black "HyperX" stitching is very detailed and stands out with a different shade among the matte black leather. It provides a very comfortable fit and an elegant look to the whole thing.
Now coming on to the earpads the stock pads provided with the HyperX Cloud are leather covered for ultimate comfort and noise isolation. But that's not all, Kingston also provides an extra pair of velour earcups should you find the leather ones not comfortable. However I'd like to add here that using the leather ones which is the default will produce the best sound and noise isolation compared to the foam ones.
The mic boom is detachable and it comes with rubber plug to close up the port while using the HyperX Cloud as just headphones.
The main cable is braided , including the detachable 1m cable with the in-line remote. The 2m additional cable extender and the smartphone adapter are made of rubber cables and all the 3.5mm jacks and connector ports are gold plated. It also comes with an airline adapter (2×3.5mm mono to stereo) and a carry bag.
The control-box/in-line remote is multifunctional and comes with a button for play/pause audio or accepting/hanging-up calls (for smartphones), a volume controller and a dedicated mic mute button.
Performance
Now moving onto the actual performance testing , honestly speaking these 53mm drivers sound a lot more than what you actually pay for. This is a steal deal from Kingston. "Awesome" would be an understatement for the HyperX Cloud. No audible distortion even at max volume , crystal clear treble, natural mids and a very good thump on the bass. Although it could disappoint the bassheads (and audiophiles) slightly for lacking those very deep "boom" on the lower end but then again considering this is a gaming headphone it just blows everything out there in the market for it's price. Sound reproduction is as flat as these standard gaming headsets can be , if not better than the rest.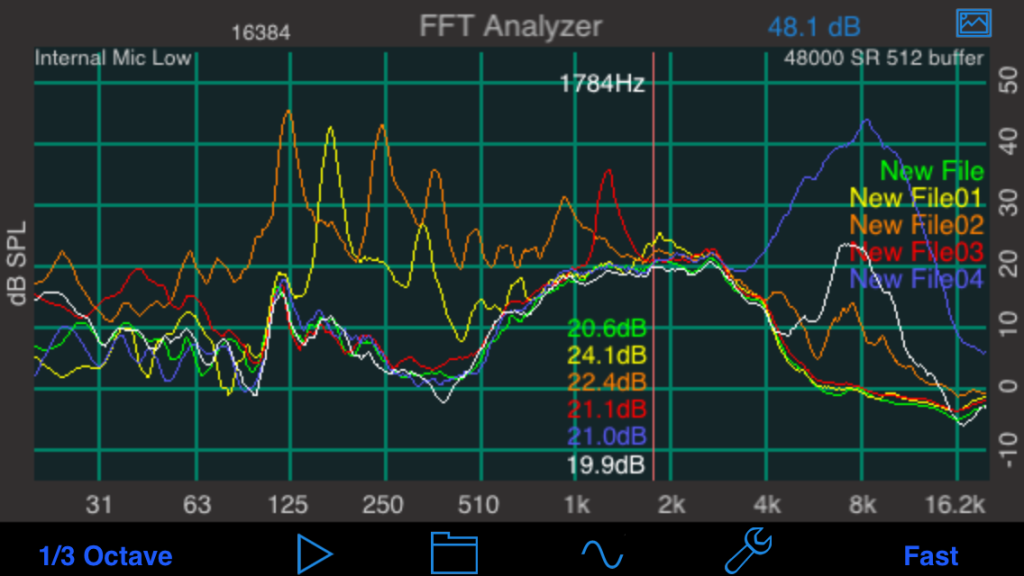 Games ,movies, music everything played just fantastic. Noise isolation is also too good and there's very low leakage even at loud volume. However using the velour earpads will change the sound significantly, mostly the bass will be less felt and noise isolation will be less too. This is due to how each type of material affects the sound. With the velour cups the treble dominance increases and it might be useful for certain type of audio where more prominent treble is needed but I would personally recommend using the leather ones for best experience.
The HyperX Cloud being the first audio product from Kingston is really impressive. Every detail of a game is clearly noticeable and the overall sound is more than enough to satisfy any casual gamer or even the pro-gamers for it's price. For a stereo headset it provides decent positional audio and top-notch stereo-depth. After testing it for hours with CS:GO, Battlefield 4 and Far Cry 4 I can certainly tell that every gunshot , footstep, explosion is reproduced naturally, clearly noticeable and it doesn't fall behind the surround headsets in the pro-gaming scene. Well I am not implying that it's better than the high end surround headsets technically, but it just does the job perfectly for it's price segment.
Other games that I have tested are DOTA 2, AC 4: Black Flag, NFS: Rivals, and Dragon Age Inquisition which have a lot of ambient background audio going on and it picks up even the slightest details nicely, which is pretty impressive, again. There's no room for complaining here regarding the HyperX Cloud's gaming performance, now let's see how it fares in media performance.
Coming to media performance now, movie watching experience is enjoyable with the HyperX Cloud. Although it cannot be compared with true 5.1 surround headphones it does give satisfactory output being a stereo headset. The sound quality is also great , and subtle background details are easily noticeable in movies. After watching few popular movies which include action , suspense-thriller and musicals I can say apart from slight lack of bass it is all good. Explosions , rumbles , car engines etc. sort of sounds could use deeper bass but still the HyperX Cloud delivers a good enjoyable audio.
Music listening experience with the headphones are simply fantastic. Now we all know that gaming headsets usually fall short when it comes to music , specially the mid range ones , and when I started testing HyperX Cloud I wasn't expecting this performance. For casual listeners it cannot get any better at this price considering that this is primarily a gaming headset. Bass is moderate but deep and detailed , mids are decent and treble is again crisp. After testing a range of popular as well as lesser known genres with it I can certainly say it's a winner for it's price. The way it separates out every instrument in a song is the sign of superb clarity. Mainstream genres like rock , pop, country , hip-hop , commercial dance music sounds too good as they are already mastered for a large variety of sound systems , but however very complex genres like classical , metal , trance, electronica etc. with a lot of subtle detailings , layered instruments also sounded very clear proving it's capability across the whole spectrum. Slight lack of power on the very low end might not fully satisfy the bass fans but overall it's enjoyable for the most part.
The microphone is decent , although with some distortions but considering it is used for VoIP it performs very well , with natural reproduction of voice.
Performance (In-depth)
Having said all that let's wrap up with some in-depth performance talk. The 53mm dynamic drivers produce clear , overall natural and flat output. On bass test it could hold up to 30Hz well and clear. There's little to almost no distortion on either end of the spectrum even at max volume. The drivers could deal very well with some lossless FLAC and studio master WAV tracks that I have tested and reproduced a broad range of the spectrum decently , losing out to only the region that is cut out in commercial mastering. The drivers do have slight warm bias but that will go unnoticed for the casual listeners mostly and the deeper bass that I said earlier it's lacking is really very low and these drivers aren't supposed to produce sound that low being a gaming audio system, however it is worth mentioning for the audiophiles. The bass is very tight and enjoyable for the most part. Soundstage also feels wide and natural.
The mic is okay however it could use better noise cancellation.
(AKG-K550 has been used as point of reference for these comparison tests.)
Final Verdict
Given the specifications, build and performance along with all those accessories this is a steal-deal from Kingston at $70 (US Price) / ₹6,000 (Indian Price). As I mentioned earlier, this is a rebranded QH-90 which is again a modified version of Takstar Pro 80 which is infact a budget audiophile grade headphone and as a result the HyperX Cloud performs so well in media department. The design is also fancy and it looks very well as a gaming headset. It stands in the price point of the mid-range headsets while delivering the performance of starting high end phones. Bottom line, anyone looking for an all-purpose headset with good sound quality , or immersive gaming audio can buy the HyperX Cloud eyes closed. Even pro-gamers looking for audio solution at budget can check it out but however if your priority is accurate positional audio then consider checking out other options. Virtual surround (tested with Razer Surround app) works fairly well with this though. That said, this is undoubtedly a breakthrough for Kingston in the audio scene with their first product and a great all-purpose affordable headset. Recommended!
TechARX Rating –
9/10
For now the headset is available in Amazon.
Black : HyperX Cloud Gaming Headset – Black (KHX-H3CL/WR)
White : Kingston Technology HyperX Cloud Gaming Headset, White (KHX-H3CLW)