Data Security is of paramount importance these days. From business data to government documents, the need to encrypt and protect has risen considerably. Likewise, the need for products with strong data security has increased. Today we have Kingston's DataTraveller 2000, a USB drive with onboard 256bit hardware encryption.
Features and Specifications:
Interface: USB 3.1 Gen 1
Superior Password Protection: User sets a PIN to prevent unauthorized access.
Compatible with Windows® 10, Windows 8.1, 8, 7 (SP1), Mac OS X v. 10.11.x+, Linux v. 2.6.x+, Chrome OS™, Android
Secure: drive locks down and reformats after 10 invalid login attempts.
Dimensions: 80mm x 20mm x 10.5mm with sleeve, 80mm x 20mm x 10.5mm without sleeve.
Waterproof / Dustproof: Certified to IP57 rating.
Operating Temperature: 32F to 140F (0C to 60C).
Storage Temperature: -4F to 185F (-20C to 85C).

| Part Number | Capacity | USB 3.1 Speed | Price |
| --- | --- | --- | --- |
| DT2000/4GB | 4GB | 80MB/s Read, 12MB/s Write | Rs.9351 |
| DT2000/8GB | 8GB | 120MB/s Read, 20MB/s Write | $68.99 |
| DT2000/16GB | 16GB | 120MB/s Read, 20MB/s Write | Rs.12000 |
| DT2000/32GB | 32GB | 135MB/s Read, 40MB/s Write | Rs.13000 |
| DT2000/64GB | 64GB | 135MB/s Read, 40MB/s Write | Rs.19999 |
Close Look
Coming to the looks of thing, the USB will grab your attention due to its shocking electric blue color. If the color is not enough the sheer size of the drive will amaze you measuring 8cm long and 2cm wide. You have the drive itself and a metal cap that covers the entire body. There is a rubber seal near the base to keep the drive waterproof and dustproof. the drive is rated IP57, however, Kingston doesn't advertise it anywhere. One the front of the drive is the alphanumeric keypad with a lock button. The keys are tiny but well placed to eliminate wrong keypresses. There are three LEDs, two green and red at the top with lock and unlock icon and one unmarked LED at the bottom.
Setup and usage
Everything that you need to know about the Kingston DataTraveller 2000 comes within the manual. However, that is locked inside the drive so you need to unlock it first. The default pin is 1-1-2-2-3-3-4-4.
Setting the pin on DataTraveller 2000 is easy once you have done it. Once the USB is unlocked, you press the key button twice to enter the new pin. You press the key button twice after to confirm the pin. If the led turns green, you did it right!
If you forget the pin, you have no other choice but to start over. the process to reset the drive is easy: Press and hold 7 and KEY, Release both. Then press 9 three-time and then press 7 again. The DataTraveller 2000 also has several access modes, you can Read/Write, Read-Only, and adjust the Timeout Lock. The drive also comes with an admin PIN for corporate deployment.
For the sake of peace of mind, the user manual can be downloaded from here.
Performance
Now, on to the performance.
We ran the DataTraveller 2000 with a subset of our storage benchmark suite. Let's take a look at the results, shall we?
First up is Atto Disk Benchmark
The great thing about ATTO is that one can test with predefined block sizes. So, we can test with a 32MB sequence of 4KB files, yet also 32MB in 1MB files, providing an opportunity to test with various file sizes. This benchmark is a preferred among manufacturers as ATTO uses RAW or compressible data and, for our benchmarks, we used a set length of 256mb and tested both the Read and Write performances for various transfer sizes ranging from 0.5 to 8192kb with a queue depth of 4.
With write speeds touching 160MB/s and read speed doing 47MB/s, the DataTraveller is no slouch and roughly matches the advertised speeds.
Anvil's Storage utilities Benchmark 
Anvil Pro or Anvil's Storage Utilities[Depending on what you'd want to call it] is an 'all inclusive' storage utility that allows testing transfer speeds as well as IOPS and lets the user tweak and adjust to find just the right mix in their testing medium, the IOPS tests being fully configurable with preset testing scenarios for read, write and mixed IO. The Benchmarks menu includes an SSD test, Endurance Testing, and 3 pre-configured IOPS tests.
HHD Tune Pro is a hard disk utility and benchmarking utility for Windows. This tiny application allows you to scan your hard drives for errors or take a deeper look at several performance figures coming from the storage unit. We used the included Benchmarks to our hearts' content, because why not?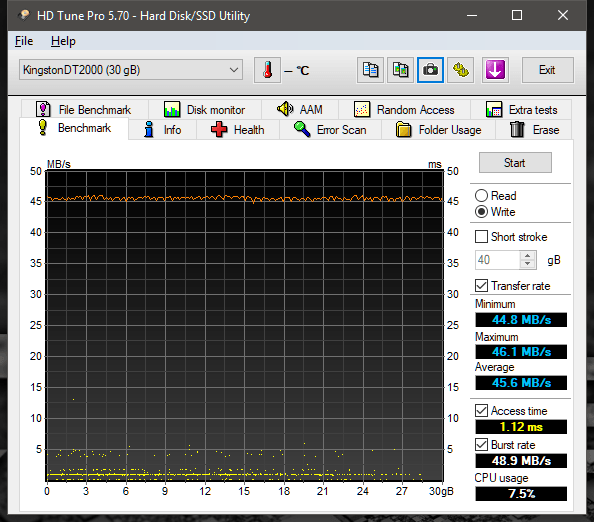 Crystal Disk Benchmark is used to measure Read and Write performances through sampling of highly compressible data (oFill/1Fill), or random data. Crystal Disk Mark scores usually drop a bit compared to ATTO, and this is the result of the test data now being primarily incompressible – Mostly movies, music, and photographs. We tested the drive with multiple data sizes ranging from 500MB to 1000MB.
Conclusion
Data protection and encryption is of utmost importance. From industrial espionage to the keeping of government secrets, there is a need for secured storage. The Kingston DataTraveller 2000 fills that niche perfectly without being a slouch in terms of performance. This is a product aimed mainly at the corporate sector, but this product can be used by someone like a freelancer or a lawyer for safekeeping of documents, etc. With that many of usage scenario, Kingston has managed to bring another winner in their portfolio.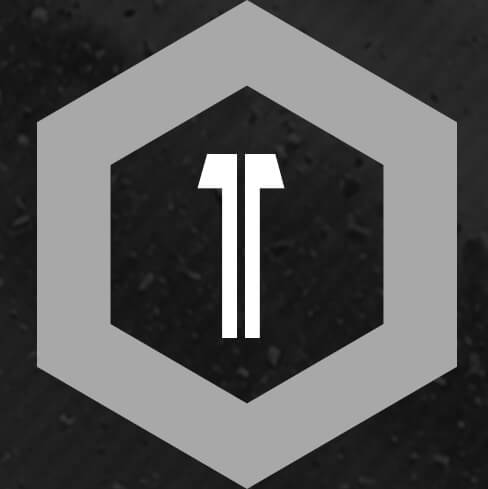 Read our other Kingston and HyperX peripherals Review here