Kingston Canvas Go! Plus Micro SD Card Review: Slightly better than the rest
Kingston Digital released the 'Canvas' series of Flash memory cards in 2018 and the series was widely popular. However, with changing time and scenario it was due for a refresh as consumer needs have changes and speeds have improved. In March 2020, Kingston released the new and improved 'Canvas Plus' series Flashcards. Canvas Plus comes in three different variations for both SD and microSD cards: Select Plus, Go! Plus, and React Plus. The card we will be testing out today is the Go! Plus variety.
Specification of the Canvas Go Series
Kingston Canvas Plus Memory Cards
Canvas Select Plus:
Designed for recreational/amateur Full HD and 4K DSLR cameras (SD), and Android mobile devices (microSD).
Class 10 UHS-I speeds up to 100MB/s read.
MicroSD supports Android A1 app performance class to expedite workflow on tablets and smartphones.
SD and microSD in capacities up to 512GB.
Canvas Go! Plus:
Ideal for shooting 4K UHD video and burst-mode photography on your DSLR (SD), or using with your 4K action cameras and drones (microSD).
Class 10 UHS-I U3 speeds up to 170MB/s read3, 90MB/s write.
MicroSD supports Android A2 app performance class to expedite workflow on next-gen tablets and smartphones.
SD and microSD in capacities up to 512GB.
Canvas React Plus:
Top-of-the-line UHS-II performance to capture professional-grade 4K/8K videos and high-resolution photos on industry-standard cameras.
Class 10 UHS-II U3 speeds\up to 300MB/s read, 260MB/s write (SD) and 285MB/s read, 165MB/s write (microSD).
The first UHS-II microSD to support Android A1 app performance class to expedite workflow on tablets and smartphones.
SD and microSD in capacities up to 256GB.
Performance
Kingston sent out the 256GB Micro SD model with an adaptor [SDCG3/256GB] for review. And since no review is complete without some numbers, we ran our own set of benchmarks on it.
All the benchmarks were done with and without the SD Adaptor that comes in the package. The Canvas Go Plus was connected to a Transcend RDF9 USB 3.1 Gen 1 Card Reader. The Card reader in turn was connected to a USB 3.1 port of our test system. We looked around for the Kingston Mobile Lite Plus or the ever-dependable FCR-HS4, but for whatever reason, it was not possible to get one either online or offline at the time of the review.
Atto Disk Benchmark
The great thing about ATTO is that one can test with predefined block sizes. So, we can test with a 32MB sequence of 4KB files, yet also 32MB in 1MB files, providing an opportunity to test with various file sizes. This benchmark is preferred among manufacturers as ATTO uses RAW or compressible data and, for our benchmarks, we used a set length of 256mb and tested both the Read and Write performances for various transfer sizes ranging from 0.5 to 8192kb with a queue depth of 4.
CRYSTAL DISK Benchmark
Crystal Disk Benchmark is used to measure Read and Write performances through sampling of highly compressible data (oFill/1Fill), or random data. Crystal Disk Mark scores usually drop a bit compared to ATTO, and this is the result of the test data now being primarily incompressible – Mostly movies, music, and photographs. We tested the drive with multiple data sizes including 32MB for standard DSLR raw file size and 1GB roughly emulating a video.
AS SSD benchmark Suite
Last but not least is AS SSD Benchmark. This nice little German application gives an extensive result set. The test is popular, so I included it. AS SSD, for the most part, gives us the worst-case scenario in SSD transfer speeds because of its use of incompressible data.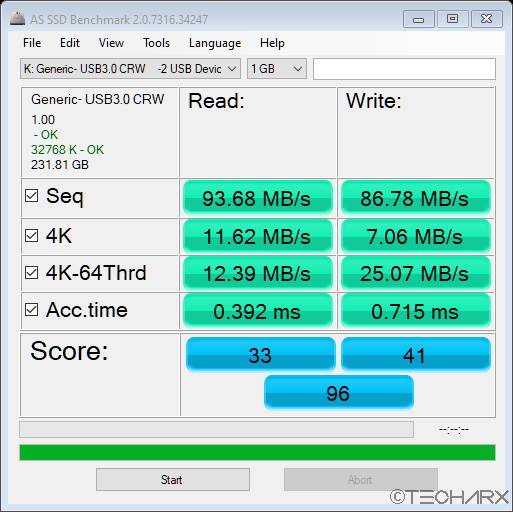 Final Words
Kingston Canvas Go Plus is not exactly a new product in the market, nor does it have something extremely extraordinary which would make you ditch whatever you have right now (maybe except the Application Performance Class 12 (A2) rating). The Application Performance Class 2 (A2) rating allows for higher performance than A1 cards by using functions of Command Queuing and Cache which will make a lot of mobile users happy who are suffering from sluggish app performance when running from expandable storage. If you are actively looking for a fast MicroSD card for your phone or the new snazzy drone or an SD card for your DSLR, the Canvas Go should be on your list. The stock issues however are a different story and Kingston India would do itself a big favor by fixing it ASAP. We looked both offline and online for the Canvas Go series of Cards along with a suitable card reader from Kingston and were hugely disappointed.
Kingston has a legacy of good performance and slightly higher prices. The Canvas Go Plus series of cards tick both the boxes and add a little bit of extra to it in the form of Application Performance Class 2 (A2) rating. We definitely recommended it if you are looking for something new but don't ditch your existing setup just for the sake of this product.