iPhone's are great. While they might not be most customizable of the lot, they do what they were advertised for and has a fan base(cult?). Today, however, we won't be focusing on that. We will be checking out an iPhone managing tool which can give stiff competition to Apples own iTunes.
Presenting the DearMob iPhone Manager.
Before going further, lets look at what features do we have in DearMob iPhone Manager.
Photo Management: iPhone means great photos, and those tend to fill up your storage over time if you are an avid photo taker. Since space is an issue with the iPhone unless you get the costliest model, DearMob iPhone Manager provides an option for Photo transfer from and to your iPhone and several other management features. It helps you to optimize your photos and saves space by storing your photos.
Music Sync: Music Sync in iTunes is painfully slow. However, with DearMob the speed increases exponentially thereby saving time. You can also import music from computer to iPhone without iTunes.
Video management: Like photos, videos tend to fill up storage space easily. With DearMob you can transfer them to your PC or Mac. Additionally, you can convert unsupported videos to work with Apple devices.
Backup and Restore: One of the strongest points of DearMob iPhone Manager, with backup and restore function DearMob allows you to backup and restore your data or sync your data from iPhone to iPhone.
With the main features outlined, let us take a deeper look.
Upon installation of the software, we are presented with the main screen
The screen shows what the software is capable of and puts all the features nicely in a neat manner. No clutter, no hiding behind menus, just as it should be.
Clicking on photo transfer brings up a new menu where we can check out all the photos on the phone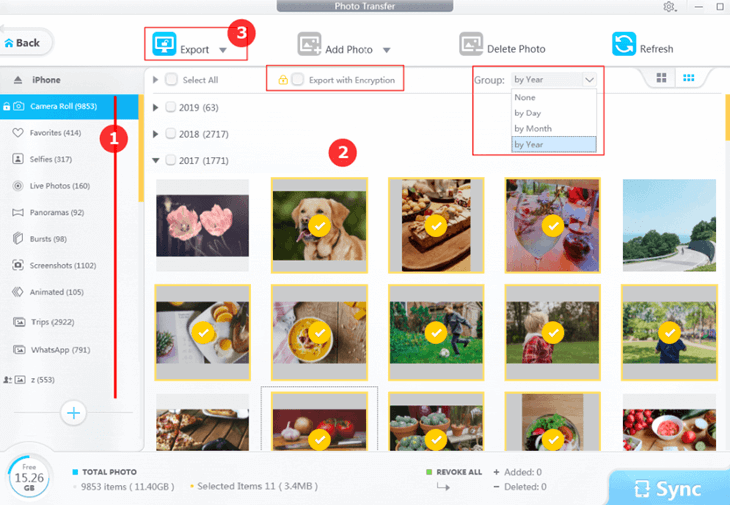 Navigation is as easy as it gets, everything is detailed nicely. All the management features are available like grouping, individual selection and batch export. Should you feel that your phone storage is getting lower, you can just batch export all the pictures to your PC/Mac and start with a new, fresh and light phone! There is a handy "export with encryption" option is available should you need it.
Next up is the Video management screen.

Here also, the menu is simple, and all the necessary options like the photo management tools are available.
One thing that I have to add here is that all the user files are actually protected by military-grade encryption that is being used by the software. You can get more information about the encryption by heading over to https://www.5kplayer.com/iphone-manager/data-security.htm
Next up we are going to talk about is the crown jewel feature of this software (according to us). The backup and restore feature.
The backup and restore menu is simple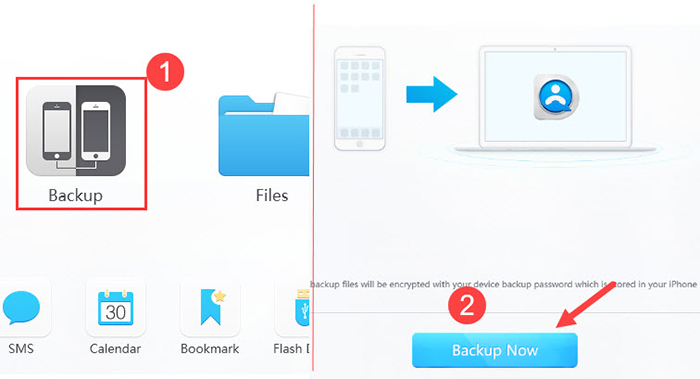 You have the option of backing up your entire phone with encryption in case you need to give it for repairs or if you are getting a new one that just came out. You just select the phone from the software menu and click backup.
Restoring is also easy. You just connect your phone, fire up the software and click on restore.
For a full tutorial, you can refer to this guide here: https://www.5kplayer.com/iphone-manager/backup-iphone-without-itunes.htm
Without dragging too much, we would touch upon Last but not the least is the media management options. The ease of media management in DearMob iPhone manager makes this tool a true iTunes alternative.
The Music manager window gives the option to easily export, delete or edit your music files right from the phone itself.
There is a comprehensive tag editor present which sweetens the deal a bit more. All in all, this software will convert the most hardcore iTunes supporter. There is also a small ringtone maker if you are into custom ringtones.
Conclusion
Finding a good iTunes alternative is not easy these days. Every product has something missing which makes everyone go back to the Apple Software which is at times very restrictive.
DearMob iPhone Manager manages to put them into a very good position thanks to feature set and design. The user experience is easy, simple, straightforward and coherent. The developer has given their absolute best while ideating and developing the software.
I will keep the ending short and precise. DearMob iPhone Manager is one of the best iTunes Alternative Software in the market.
Pro's
Intuitive Interface
Military grade encryption.
Much easier to use than iTunes.
Video transfer speed is super fast.
All essential features included including a robust backup and restore function.
Con's