Human Farm – a meat industry simulator where – YOU are the main product, revealed on the first teaser trailer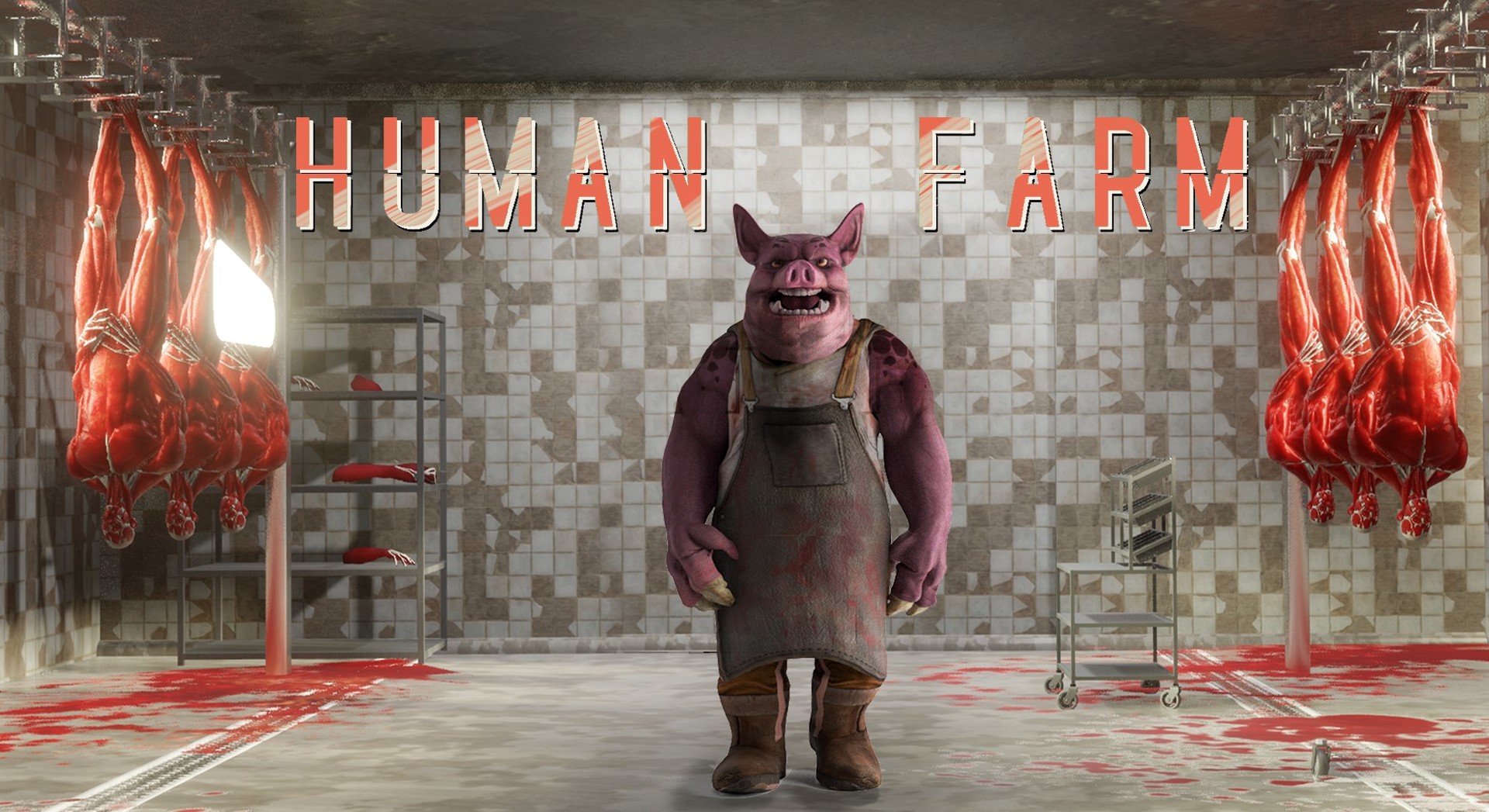 Imagine a place where all humans are living in cages, on a farm. You are the humanoid pig that takes control of the Human Farm – a place built to keep living stock under control, in order to change human beings into… food.
Pigs have found the perfect source of profit and more food than they ever needed. Welcome to the reality where humans are no longer born. They are grown. You decide when humans sleep and get fed. Do anything to make your pupils comfortable.
As long as human stocks are kept high and the snouts are being fed, your business is going to flourish.
Facing the purifying precision of chopping the limbs and packing human flesh, will you have the guts to run this cruel but such a profitable business?
Remember that in this business the weak are being eaten so dominate the world markets and flood them with your fresh, dripping human meat!
Running a "Special" meat industry is not a piece of cake.
Add Human Farm to your Steam wishlist to be up to date with the freshest and juiciest news about the game.
ABOUT THE GAME
Human Farm is a game about an alternate world where evolution took a slightly different path. At first glance, it looks like planet Earth, with one exception: the dominant species has pink skin, three fingers on each hand, and a snout with great business sense.
Play as a humanoid pig and manage the process of harvesting human meat. You start with a small, local slaughterhouse.
Grow and improve your business with upgrades. Automate your production, develop new branches in your industry, hire more employees and create your brand's image.
HUMAN FARM MAIN FEATURES
Know the State of Your Flock – Make sure your animals have good living conditions. Keep them clean, do regular housekeeping in their cages. Avoid worst-case scenarios like Human Flu; it can kill your business.
As a manager, be smart and cunning. You can deliver high-quality products only if your human livestock is not aware of their ultimate fate…
Automate the production process – Farming human meat is a very complex and monotonous process that requires constant supervision. A sterile working environment should be your priority, otherwise, your precious product will be constantly at risk of contamination.
Invest in upgrades that will automate and accelerate your production process. Increase your workforce and implement new technologies.
Create your company's Image – Do not underestimate word of snout! The best advertising is done by satisfied customers. Increase your retail space and improve the interior design with new furniture. Each pleasant shopping experience can potentially lead to more clients and sales.
Grow your business – Start locally, think globally. Your goal is a large scale, industrial enterprise that ships to international markets. Invest your money to improve your assets: cold storage warehouses, shops, slaughterhouses, living areas where you grow humans, and many others.
Human Farm is currently under development. The game is heading to PC and consoles in 2021.