Google has finally launched updates to Google Docs that has the speech recognition capabilities.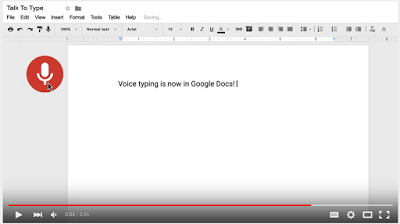 Google Product Manager  Isaiah Greene said,
We launched Voice typing in Docs to help you capture ideas, compose a letter, or even write the next great novel—all without touching your keyboard. Starting today, you can also edit and format your documents with your voice.
To get started, User need to select "Voice typing" in the "Tools" menu when  using Docs in Chrome and start giving voice command to make edit. However Google mentions only selected command such as Copy, insert table, italics, highlights. The full list is available here.
This video will clear all your doubts .
Google in the mont of september has introduced many features to its docs , sheets. As a part of the update google brought voice typing feature into docs for the web. The voice recognition is said to understand punctuation's and  support upto 40 languages.
"See  changes" and "Research"  are other features introduced.
To turn on the new capability, you'll need to enable the voice typing option from the Docs tools menu.