GIGABYTE GA-Z170X-Gaming G1 Review : Ferrari for Z170 arrives
It's another year of the same thing. Intel has released another refresh of their processor and chipset generation, and we're back to square one discussing about how much money should you really spend on it? The abundance of low and medium range motherboards coming with more and more features is a strong sign that users do not want to spend an absurd amount of money in their base setup. Not everyone needs dual NICs, twelve SATA ports, plethora of bundled applications or a throw-everything-at-you UEFI. But every year we see the flagship boards come out in an advertising league of their own, promising performance superior to their low-cost brethren, and every year we see that despite the claim, the edge is negligible. You ultimately end up paying for features – features that you seldom use.
Does the GIGABYTE GA-Z170X-Gaming G1 buck this trend? Let's find out.
With Z170 series boards, GIGABYTE's design choice has gone through a makeover and their Gaming series boards now come with a white and red livery. I like this styling but the glossy plastic make the implementation look less spectacular. It would have been awesome to see GIGABYTE retain their signature green themed boards. At times, this sort of convergence towards making every motherboard red black or white isn't really welcome.
Just by looking at the humongous box that GIGABYTE Z170X Gaming G1 comes in one realizes that this is not your average Joe. GIGABYTE crams the G1 with every feature possible. We have the hybrid VRM cooling option in the G1, which means that there are two G1/4" threaded connectors on the heatsink and a copper channel underneath connecting them. We have seen this being implemented by several manufacturers from the Ivy Bridge days and now most flagship boards have been including them. The board is E-ATX, mostly because of the top right hand side of motherboard has a dedicated LED section with Gaming G1 moniker. While the aesthetic touch is nice, this makes the board unfit for cramped mid towers. The G1 has a ridiculous 22 phase power delivery system. There's also a dedicated Turbo B-Clock IC to handle BCLK based overclocking (though the IC underneath the B-Clock is unknown). Other than that we see a beefed up audio implementation courtesy of a Sound Core 3D chip from Creative with three OP-AMPs (one from TI, two from JRC). With the Z170X-Gaming 7 we found out that the sound solution was good, but not spectacular, so I am holding my judgment on this one until the end of this review. Lastly, the Gaming G1 has Killer's latest DoubleShot X3 Pro – a combination of two Killer E2400 network controller and their 2×2 WIFI 802.11ac module, the AC-1535. This is on the absolute top of the stack for Killer's available solutions, though many of us maybe a little disappointed to see Intel's Jacksonville controller not making the cut. But I guess that like Realtek, there may have been a bundle available from Killer for their DoubleShot package which helps GIGABYTE to keep the end price inside a controllable limit. GIGABYTE supplies the Gaming G1 with a USB 3.1 front bay box and an M.2 to NVMe adapter, adding the compatibility with Intel's 750 series SSDs. Four PCIe x16 slots with metal shielding are there, along with a full quota of three SATA express slots among a total of ten SATA ports. Lastly aesthetics wise, the board comes with a plethora of lighting – from I/O ports to audio separation paths to almost the entire right hand section of the board. Thankfully the colour of the LEDs are user configurable and can also be tuned to pulsate or glow according to sound.
Bundled USB3.1 front bay adapter
GA-Z170X Gaming G1 Visual Analysis:
I said before – the G1 is big. The appearance is further bolstered by the huge plastic cover on the VRM heatsinks carrying the G1 Gaming moniker. It looks like part of a complete armour, carrying over to the audio section of the board and working as a neat cover to the silver top of the board's I/O. From the left top corner, we have the eight pin CPU power connector flanked by a four pin fan header and the LED connector for the I/O shield. On the other end of the top VRM heatsink there are two more four pin fan headers. The CPU_FAN header is marked white. Four DIMM slots are provided with the Gaming G1, with full dual channel functionality and compatibility of speeds up to 3666MHz of DDR4 memory. The right hand side of the board is laden with components and looks busy. Above the DIMM slots are the voltage checkpoints. The power button is easily accessible and is on the top right hand corner of the board, followed by the two digit debug display and CMOS clear and reset buttons. With Z170 we see that GIGABYTE has introduced two more buttons in their Gaming line of boards – OC and ECO. What they do is pretty clear from the names itself; OC overclocks the processor to a preset value, and ECO puts the system in a power-saving mode.
The monstrous 22 phase VRM is handled by two IR35201 PWMs routing them two IR3553 and IR3570 driver ICs. I am not sure who would require this beefy a VRM implementation, but adding more components always means that the board will consume more power than others, something that users need to keep in mind. That being said, the added oomph makes sure that the board is rock stable on higher frequencies.
The LED lit Gaming G1 moniker runs through the extreme top right side of the board and hence the 24pin motherboard power connector and two internal USB3.0 headers are pushed a little inward from their default position.
For Storage, a total of ten SATA ports are provided, all of them are 6Gbps standard. GIGABYTE equips the Gaming G1 with three SATA express ports, which when enabled take up six of the ten SATA ports available. Apart from this, the motherboard also has two M.2 slots available between PCIe x16 slots 2 and 3, and 3 and 4. These slots are wired x4.
As for expansion we have four full length PCIe x16 slots and three PCIe x1 slots. The Gaming G1 uses a PLX8747 chip to provide additional PCIe bandwidth to its available slots, so unlike previous boards it actually supports 8x/8x/8x/8x mode quad-GPU setup.
The bottom of the Gaming G1 looks cleaner than most boards but still crams in a lot of connectors. From right to left, we have two four-pin fan headers, the front panel connectors, two BIOS switches (one to enable/disable DualBIOS, the other to flip between BIOS1 and BIOS2), two USB2.0 internal headers, the TPM header, a SATA power connector for providing additional power to the PCIe slots, two more switches to control audio gain (front/rear audio), the swappable TI OP-AMP and the front panel audio connector.
Audio duties are handled by Creative's Sound Core 3D quad core audio chip, the CA0132. GIGABYTE has gone full hog on the Gaming G1's audio, providing a Cirrus Logic 8416 decoder coupled with a dedicated DAC in the form of a TI Burr Brown PCM1794. Not only that, they have dedicated amplifiers on board for each channel (for rear end audio ports, New Japan Radio Company JRC2114Ds handle this, and for front panel, TI Burr Brown OPA2134PA takes care). The usual suspects remain as well – Nichicon Gold capacitors, and four WIMA audio-grade film capacitors, further tuning the audio and reducing noise/interference. This again is a ridiculous amount of hardware crammed into a board, but it works as a showcase as to how far we have come from the early days of onboard audio.
For I/O, the Gaming G1 has seven USB3.0 connectors, one of which can be used for their Q-Flash Utility. Two USB2.0 ports are present as well and are gold plated to provide cleaner power to instruments like external DACs. A keyboard/mouse combo PS/2 port is there. A gold plated HDMI2.0 connector serves as the only video output port from the motherboard. The Gaming G1 also has two USB3.1 ports at the back, one type A and the other type C. Dual NICs from Killer, the 2T2R WIFI antenna connectors and the audio ports complete the package.
In the Box:
GA-Z170X-Gaming G1 motherboard
Motherboard driver disk
Wireless module driver disk
User's Manual
Quick Installation Guide
Six SATA cables
I/O Shield
One 2-Way SLI bridge connector
One 3-Way SLI bridge connector
One 4-Way SLI bridge connector
One 2-Way CrossFire bridge connector
One set of GC-USB3.1 BAY
One GC-M2-U2-MiniSAS
One G Connector
One Wi-Fi antenna
One Wi-Fi antenna retention cover
One pack of back I/O dust covers
BIOS/UEFI:
GIGABYTE's UEFI has gone through several phases like other manufacturers. But unlike most others, they were the most adventurous when it came to UEFI implementation, something that didn't always work in their favor. For Z87/Z97, we saw arguably one of the most controversial implementations yet, a dedicated OC mode. While the motive behind such a move was clear, the addition of another UEFI section was cluttery to many users including me. Thankfully, the Haswell-E UEFI brought some much-needed changes for GIGABYTE, improving performance, and for Skylake we see an evolution in the right step. The UEFI retains its black theme, removes the OC page, and is much more streamlined to navigate.
I have discussed the UEFI in detail in my Z170X-Gaming 7 review and for the most parts the Gaming G1 is identical. Let's look at the UEFI again and understand its different options.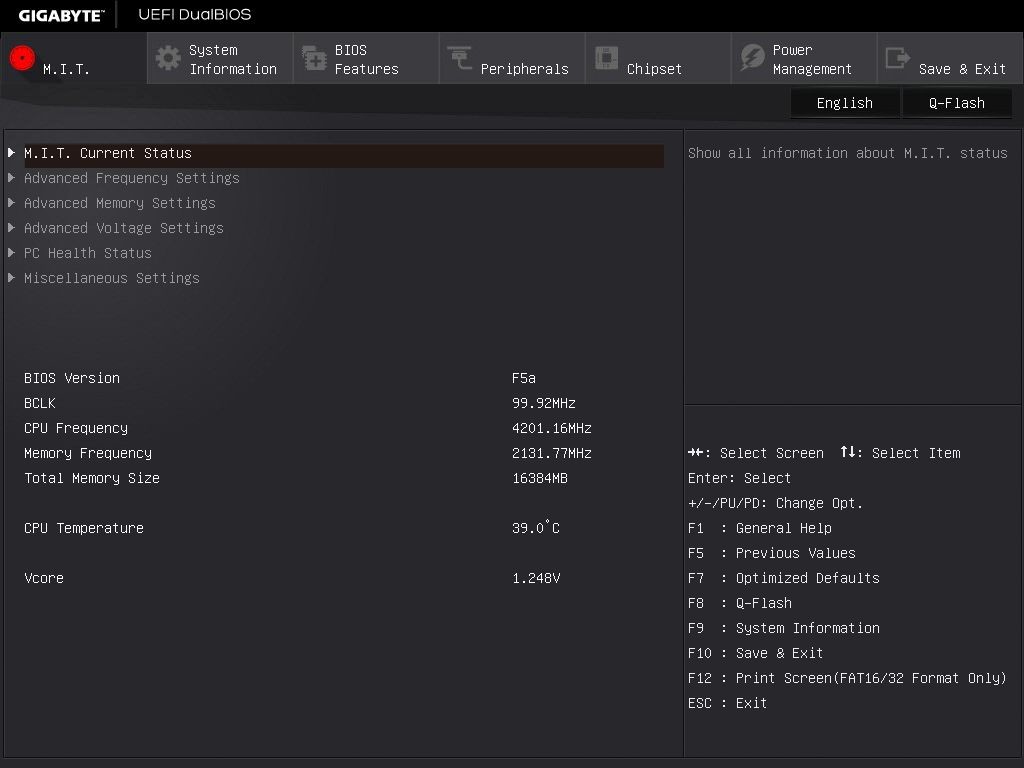 Most of GIGABYTE's CPU and DRAM related options are inside the M.I.T menu (Motherboard Intelligent Tweaker). The first page shows basic information like BIOS Version, BCLK, CPU and DRAM Frequency, CPU Temperature and VCore. Detailed information about the CPU & memory is listed in the Current Status, while PC Health Status lists details about system voltages. Again, I think these two should be merged into one, since having three or four different statuses showing similar information is not required. We also have a dedicated System Information tab which shows BIOS version, BIOS release date etc., further hampering the ease of usage.
Under M.I.T, the Advanced Frequency Settings has most of the 'overclocking' features built in. GIGABYTE details the options that can be used from automatic to manual. Performance Upgrade can automatically enhance the performance of the system by theoretically measuring the overclock required to achieve so and then applying it to the CPU and DRAM, while CPU Upgrade has a few custom profiles made for Core i5-6600K and Core i7-6700K that can be used to bump the CPU frequency to that very speed. I am happy to see GIGABYTE introduce the option to tinker the Graphics Slice/Unslice Ratios here – something that can be used to overclock or underclock the GT530 iGPU of Skylake. In the Frequency menu the ability to switch XMP profiles on and off are also provided.
In Advanced CPU Core Settings the options for Uncore is detailed, as well as CPU/DRAM power limits and CPU C states.
Advanced Memory Settings menu has the usual options for DRAM, including individual channel Sub timing changes, XMP, and IMC Timing changes.
Advanced Voltage Settings, as the name suggests, has options for CPU/DRAM/PCH voltage and power.
BIOS Features lists boot options – BBS priorities, fast boot amongst many.
The Peripherals tab is extensive and has controls for the on-board devices. The option for motherboard LEDs can be accessed from here. Audio LED and Rear Panel LEDs can be set to be Still, Beat or Pulse modes and can glow in seven colours (Blue, Green, Light Green, Red, Pink, Yellow & White).
This section also has a dedicated submenu for Intel Thunderbolt and Intel's Jacksonville Controller, the I219-V. Chipset section is pretty Spartan with options and contains VT-d, Audio Controller and iGPU settings. Power Management controls the options of AC Back, Power on and off by keyboard/mouse, and USB DAC Power. Overall, GIGABYTE seems to have taken most of its criticisms seriously and worked on them. While some remain – like confusing arrangement of options and similar sections scattered across the UEFI, for the most part it remains fluid, easy to use and fast to operate.
Bundled Software:
Like their UEFI, GIGABYTE's App Center has gone through significant design and functionality changes over generations and is now much polished and less obtrusive. The semi-transparent menu reminds of Windows Aero (though it can be changed from options), and the big, bright buttons and color scheme make for a pleasant experience even for non-enthusiasts.
I have discussed GIGABYTE's App Centre before. Unlike other manufacturers, GIGABYTE approaches the bundled software package in a mobile-esque manner, calling the software modules Apps and the host platform App Centre. For Z170, the App Centre has been given a fresh coat of paint. It is now transparent and sports a cool white theme (colour can be changed). Individual applications are themed white and orange. Apart from the paintjob, most apps retain their previous functionality here.
Other Bundled Software:
Killer Management Suite comes bundled with the GIGABYTE Z170X-Gaming7. Akin cFOS Suite, this is a software solution for network packet prioritization and monitoring. Killer has kept the interface unchanged, which means that it looks like Windows 8's Metro UI. In my opinion that needs a revision, but as long as the suite works as it is supposed to, I am happy to ignore the dated aesthetics.
Creative X-Fi Audio Software compliments the audio chip on-board and provides several options to tweak the audio output and input. Creative's Scout Mode allows directional audio to be enabled, which can give a certain advantage in detecting enemies in fast paced action titles. There are equalizer presets to work with as well based on user's preferences. For the Gaming G1, it's essentially the same software with the red and black paintjob.
Test System:
The following test system was used for this review:
Intel Core i7-6700K, 4C/4T, Skylake, 4.0GHz base, 4.2GHz turbo
GIGABYTE Z170X-Gaming G1 motherboard, BIOS F5a
G.SKILL Ripjaws4 memory, 16GB, 15-15-15-35-2T
ASUS R9 290X Matrix GPU, Hawaii
Kingston SSDNow V300 64GB SSD for boot drive and benchmarks
Corsair AX760i 80Plus Platinum Power Supply
Corsair H100i AIO Closed loop CPU cooler
Open Test Bench
Thanks to GIGABYTE for providing the respective samples.
Benchmarks:
CPU Benchmarks:
Lets's start looking at what the Gaming G1 offers. Once we put the board to test, the results turned out to be really interesting. Despite being priced on the top of the Z170 stack, the Gaming G1 fights to attain its position with boards priced much lower.
PassMark:
I compared two boards with two i7-6700K chips. Please note that these two i7-6700K chips are different and hence the difference in performance may be attributed to that in some way. Nevertheless, the results reflect the total picture – the Gaming G1 wins some, and loses some.
Web Benchmarks:
We have started including web benchmarks relatively soon, and as a result the graphs are are a lot less crowded.
Overclocking:
I had a mixed experience with overclocking on the Gaming G1. While the board performed admirably with the Core i7-6700K under multiplier based overclocking, the BCLK tuning ran into a snag, even with the latest BIOS. Then again, overclocking is subjective – it varies from motherboard to motherboard and from processor to processor, and several factors that determine how much the components can be pushed.
For multiplier based overclocking, I was able to push the Core i7-6700K to 5040MHz @1.5v. While this is in no way safe voltages for a CPU under a closed loop cooler like the H100i, this represents a limit of what this particular chip is capable of.
Conclusion:
Reviewing boards like the Z170X-Gaming G1 is becoming harder day by day. With manufacturers cramming in more features in their low and mid-level boards, the performance difference between two motherboards $100 apart with the processor being at stock is hardly even 5%. The only justifiable factor then becomes number of features provided and premium components. Thankfully, the Gaming G1 has those in spades – 22 phase power delivery, Creative's Sound Core 3D Audio Chip with Sabre DAC and four OP-AMPs driving front and rear channels, a PLX8747 chip for quad GPU configurations (8x/8x/8x/8x), LEDs at virtually every corner that can be tweaked, dual Killer NICs and 2×2 Wireless ac module, three SATA express ports, dual M.2 x4 slots – the list goes on. But how many of these features can even an enthusiast use fully? This is a hard pill to swallow for most, and still every year we see motherboards come out that push the limit of what can really be called a prosumer level.
General criticism aside, the Gaming G1 is a good board to work with. It pushed the i7-6700K past the 5GHz barrier and remained stable during my overclocking tests. Though it had a hard time beating a motherboard almost half its price, the performance was relatively near and should improve further with time (a more stable BIOS maybe?). The audio is subjective and it remains to be seen how GIGABYTE's implementation strikes a chord with audiophiles, but most of the audiophiles I know use their own dedicated solutions and may not care about onboard implementations. Still, as I noted before, the onboard audio has evolved quite a bit over the last few years and the Gaming G1 stands a solid testament to that.
The UEFI & bundled software have seen changes in the last few generations of boards for GIGABYTE and in the Gaming G1 they are in their finest iterations ever. The BIOS lag is all but gone, the navigation is fluid and the options are seamless. Oh, and no three pages worth of the same things, but there are still a few things that GIGABYTE needs to iron out. What's with two similar menus effectively showing the system status?
That brings us to the final conclusion. It is very hard to recommend a board like the Z170X-Gaming G1 like it is very hard to recommend a Lamborghini or a Ferrari. But if you have the cash and the will to splurge, this is one of the best motherboards you can get for Skylake. But you will have to give it breathing space for it to spread its wings, just like the sports cars need a highway to show their speed. Most city dwellers however will be content with their Altos and Swifts, and that isn't a bad thing. PC hardware has come a long way. Motherboards like the Z170X-Gaming G1 is a proof of what the engineering can do, and the general declination of people buying a flagship board because most features are available on boards half the price also says a great lot about the advancement. The Gaming G1 is good; statutory reminder though: you only have two kidneys.