Mike Rayner,  Coalition's Technical Director was interviewed by Epic's official YouTube channel at E3 2016 about the new Gears Of War 4 and this is what he has to say :-
"We're always keeping the game running on both platforms at all time. Of course, we have to specialize for each platform to really deliver the best PC gaming experience, targeting the most high end hardware all the way down to min spec hardware. Then, on Xbox One we put a lot of effort in really pushing the hardware to deliver the visual showcase that Gears is known for.
On Xbox One, we've been able to use the DirectX 12 API. It really allows us to push the visuals and get the most optimal performance. Then carrying that over to PC, it lets us drive for higher frame rate and push the game as far as possible.
One thing that we're able to do with Gears of War 4 is to author all the content at 4K resolution. On Windows 10, if you got a system that can support it, you're gonna get high resolution texture packs, a real premium 4K visual experience. On Xbox One, it's optimized for 1080P."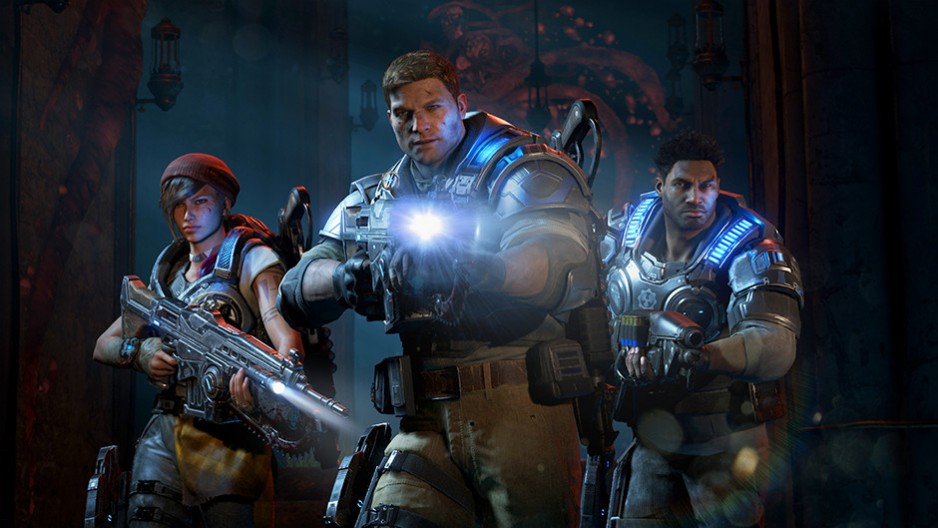 After how things went with the release of Gears Of War:Ultimate Edition for PC On Windows 10, this sure seems like a good news.The game had several bugs which were after a patch fixed to a certain extent.
Gears of War 4 will also support cross-play between Xbox One and Windows 10 in co-op modes, via the new Xbox Play Anywhere.
MultiPlayer Details
The multiplayer parts of GoW 4 are being co-developed by Splash Damage who recently made Dirty Bomb.On Xbox One, the game will run at 30FPS during the campaign and 60FPS during multiplayer; there will be a dynamic resolution scaling system to allow consistent frame rate during the most intensive scenes.
The Coalition's Rod Fergusson hinted that the Xbox One S will have less issues of this kind due to its slightly upgraded CPU and GPU.
On PC, the game will run at an unlocked frame rate even during cross-play between PC and XboxOne.
Protagonist JD Fenix (the son of Marcus) will have to face a new and unexpected threat alongside his friends Delmont Walker and Kait Diaz.
It will be available for both platforms on October 11.
Stay Tuned to TechARX for more news on the game but till then watch the Interview and check the game out yourself folks.
https://www.youtube.com/watch?v=i_qMeLIjC38