Deepcool shows a very unique cabinet to the global market named TRISTELLAR and this case is a part of GAMER STORM ITX Chassis Series. The design made by Deepcool is seriously very unique with excellent compatibility and great cooling performance We can see there are three sections , one for motherboard , graphics card and power supply unit. The cabinet supports CPU Coolers upto 80mm in height 120mm AIO liquid coolers, a power supply up to 160mm long and full length video cards. Can't say much about Airflow and cable management in this case.There is two USB 3.0 ports in front and two 3.5mm port for mic and headset and a manual reset button. This case in available in the market and comes with three types of colors.
Lets take a brief look at the three cabins :-
Graphics Card Cabin :-
This cabin supports full-length (up to 320mm) graphic cards, which is connected to motherboard by a short PCI-E extension cable. Included 90mm case fan in front provides sufficient airflow to the cabin, next to graphic card slot, there are three 2.5″SDD bays with hot plugging (SATA) ports.
Motherboard Cabin :-
Motherboard cabin supports Mini-ITX motherboard with either Intel or AMD base; low profile (up to 80mm) CPU air cooler or 120mm radiator, it allows to install 120mm case fan as long as radiator is not installed.
PSU Cabin :- 
PSU cabin is capable to accommodate 160mm length PSU, it includes two 3.5″ HDD bays with hot plugging (SATA) ports, and supports one 5.25″ slot-load optical drive installation.
To connect components together, cables pass through a hollow aluminum spine in central of ''V'' shape frames, which comes with a LED power button at the front. I/O ports on the top cabin is great for accessibility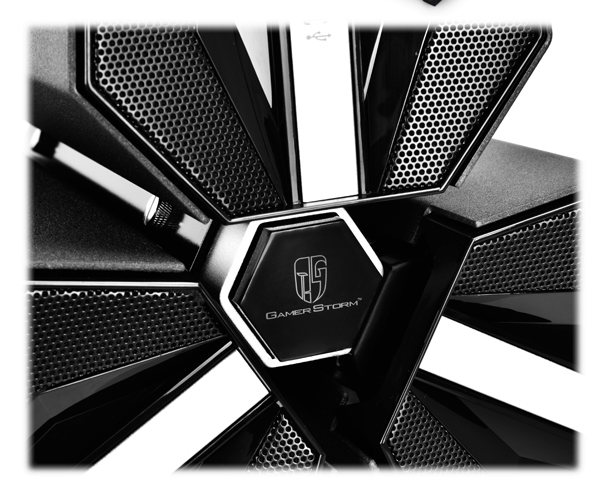 Source : Deepcool.com