Corsair has introduced a new series of fans into its Cooling solution lineup. The Corsair ML series is disparate from its predecessors or other offerings on the market because of its all new Magnetic Levitation fan bearings and a custom rotor design. Owing to the aforementioned features, Corsair assures "Higher airflow, lower noise and better cooling, whatever the requirement". According to reports, the new Corsair ML series fans are capable of dramatically abating the friction between the rotor blades allowing for quieter operation throughout the speeds the fan operates in. The other fans may offer similar cooling performance, but their is a world of difference between the noise levels of the Corsair ML series fans and its competitors.
Corsair will be releasing the ML series fans in 120mm and 140mm variants, with or without LED lighting and corner bumpers. In the image below, you can see that the 120mm fans are listed right above the 140mm offerings. The Corsair ML PRO fans will add coloured rubber corners among which you'll have the option of Red, White or Blue LED equipped models with paired rubber corners. The standard 'ML120' fans will comprise of two standard 120mm fans without any LEDs or coloured rubber corners.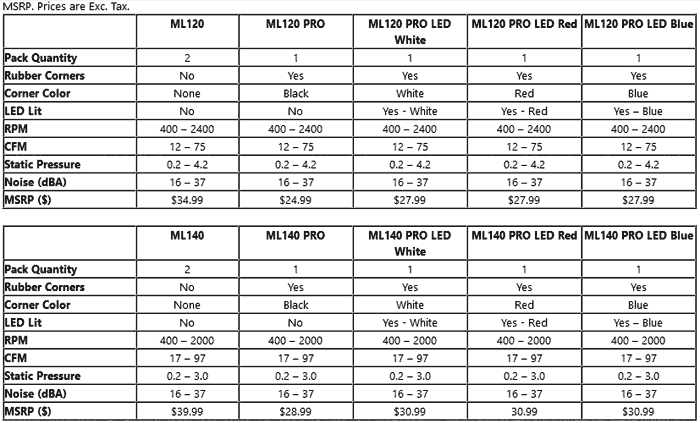 Corsair has made rather flatulent claims regarding the incredibly low noise levels that the Corsair ML series fans boast of and taking a glimpse at the specification, it appears all the more believable. The specifications for the fans as averred by Corsair are :-
Magnetic Levitation Bearing: Harnesses Magnetic Levitation technology to provide lower noise, higher performance, and a longer lifespan.
Custom Rotor Design: Delivers the perfect balance between high static pressure and high airflow, operating flawlessly in the most challenging environments.
Extensive Control Range: A 2,000 RPM control range gives you total control between low noise and absolute performance. At 400 RPM ML Series 120mm fans provide 12 CFM of airflow at just 16dBA for near silent running. At 2,400 RPM, the same fans offer a huge 75 CFM of airflow, at an un-intrusive 37dBa. You choose the balance between silence and performance, and the ML Series delivers.
Colour Customization: Replaceable corners mounted to anti-vibration rubber dampers allow you to match your fans with the rest of your build while delivering quiet operation at higher speeds.
Bold LEDs: ML120 PRO LED and ML140 PRO LED are available in Red, White or Blue, with ultra-bright LEDs mounted to the centre rotor, outputting a vivid blast of light and colour.
The new Corsair ML lineup is available readily at your nearest hardware stores or online retailers. The pricing may however, vary according to tax and customs. Corsair has proclaimed that their fan build quality is similar to what would sprout, had NASA manufactured system fans.
[youtube https://www.youtube.com/watch?v=66YimN69L2o]