CES 2015 continues to surprise us with the sheer number of new products launched and even new takes on existing concepts. We have already covered Corsair and MSI and now we look at what ASUS had in store this year.
Starting with Displays we have the ROG Swift PG27AQ monitor which comes with 27-inch 4K/UHD IPS-spec LCD gaming monitor with G-Sync.
This monitor comes as an update to the already existing PG lineup of displays. Not too much info is revealed but from initial looks we can say its exactly as the the PB278Q with 4K (3840 x 2160) resolution and Nvidia G Sync. Coming out possibly in the second half of 2015 since ASUS is still working at tweaking a couple of things with the display.
Poised to fill the void of WQHD IPS 120HZ+ display in the market,the MG279Q is another new addition to the ASUS' display lineup.  This is a new monitor SKU, and according to Asus onwards from 2015 the display lineup will be divided as following since all the displays pack exclusive  features, PG = premium gaming (ROG), MG = mainstream-performance gaming, and VG = value gaming.
Specs of the MG279Q is quite impressive. Apart from being a 27 inch WQHD IPS display with 120+Hz refresh rate, it also has quite a bevy of connectivity. DisplayPort, Mini DisplayPort, two HDMI ports and a Mobile High-Definition Link (MHL) 2.0 (1080p max), plus simultaneous charging and 2x USB 3.0 complete the list of things available. Plus a supper narrow bezel design completes the package.
Next up we saw a few gaming mouse and surfaces with the ROG branding.
First up is the entry level ROG SICA, named after a short sword or large dagger of ancient Illyrians, Thracians and Dacians and Ancient Rome, SICA is designed for fingertip grip style gamers.
ROG Spatha on the other hand will be the premium offering among the ROG mouse lineup.
The mouse will offer both wired and wireless operation along with a host of other features like
12 programmable buttons for MMOs
Magnetic docking station for storage and charging
ROG exclusive swappable Omron switch sockets
ROG Armory software
Laser sensor and high-quality ALPS scroll wheel
ASUS also unveiled a patterned mouse pad called the ROG Whetstone.
Specially made for the ROG range the Whetstone developed and tuned after taking suggestion from the E Sports team Taipei assassins.
The GR8 console PC updated with Gladius mouse and M801 mechanical keyboard, and the G20 Compact desktop upgraded with Intel Core i7 and upgraded Nvidia GeForce GTX 980 option were also displayed.
Following the the footsteps of EVGA and Nvidia , ASUS came out with their take on the SLI bridge and with an all aluminum construction and a ROG logo in the middle the bridge looks pretty sweet.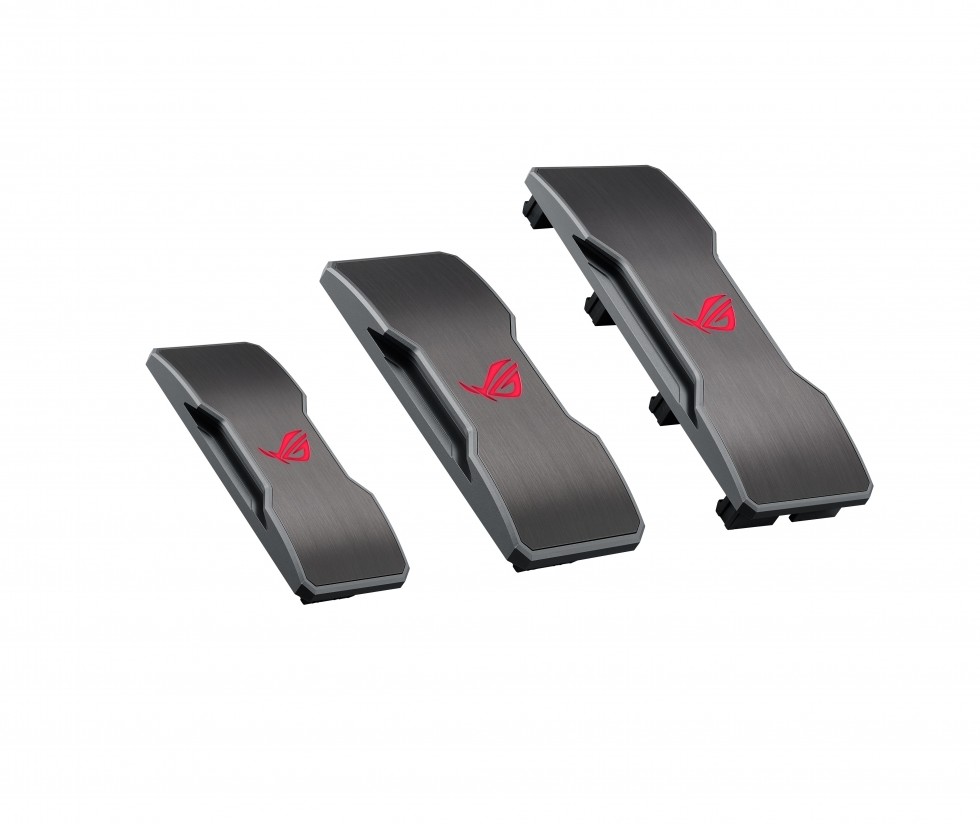 Apart from PC Hardware Asus had a few announcements for other products too.
On the phone side of things ASUS announced the Zenphone 2 and Zenphone zoom, next iterations of their popular Zenphone series.
Zenphone 2 is the new flagship of the family. ASUS seems to have upgraded everything here, from the screen resolution (1080P), to a faster Intel Processor (up to 2.3 GHz 64-bit Intel Atom processor Z3580). 2 or 4 Gigs of RAM, a 13 MP sensor, LG G2-esque volume up/down buttons on the back, and all this in a price of $199 : looks like ASUS have a winner in their hands already.
Zenphone Zoom is another model out which is identical to the Zenphone 2 but has a 3X optical zoom and dual LED flash.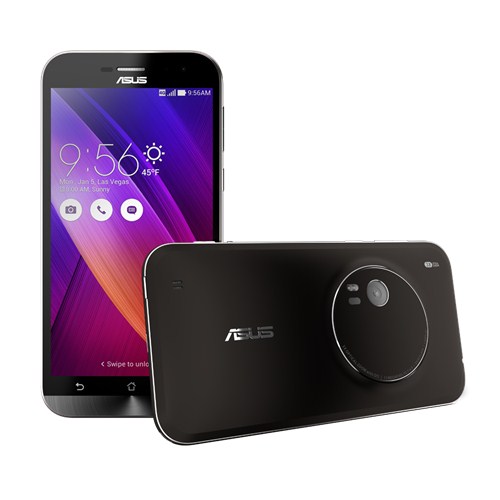 The updates on the ultraportables were announced too, in tandem with Intel's Broadwell M launch.
With all-aluminum design, the Transformer Book Chi Series is the new lineup featuring the new Intel Core M processors among other things.
We have the T300 with with a big WQHD screen.
Then, we have the T100 with with a 1080p screen.
And lastly we have the T90 with a 800p display.
Oddly enough only the T300 model comes with the Core M processors,the T100 and T90 comes with the quad core Intel Atom processor form the Baytrail series.Also only the flagship model comes with 4GB DRAM;the other two comes in 2GB/1GB DRAM configuration.
Availability for most products discussed here is still unclear but we will continue to update you as they launch.