CAT unveiled the CAT S60, the world's first smartphone with a thermal imaging camera, at the Mobile World Congress this year. The main highlight of the phone is the thermal camera, which allows you to capture thermal photos, videos, panaromas and time lapses. The target market of the phone is building engineers, utility workers and so forth. However, anyone can purchase the S60 at their own will.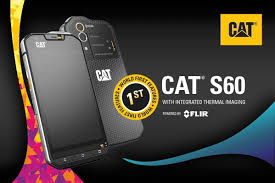 This smartphone also has the capability to detect heat sources up to 100 feet away. Other than that, it offers water proofing up to 1.8 meters. Speaking of camera, it has a 13MP camera at the back and a front camera of 5MP. It features a 4.7inch display proetcted by Gorilla Glass 4. Powering the device is a Snapdragon 617 SoC, 3 GB RAM and 32 GB internal storage. The S60 will be running Android Marshmallow. It will also have 4G enabled.
CAT has also promised an SDK which will help third-part developers tailor apps for the S60, using its thermal camera.
Here is Android Police with the S60 at the MWC.
The S60 will be available for pre order in Europe from June. Other places will follow after that. It is priced attractively at $599, which translates to around Rs 40,200.
Excited about the S60? The TechARX team sure is!