ASUS reveals their B250 Mining Expert motherboard|19 Expansion Slots, Triple 24 Pin Power Connectors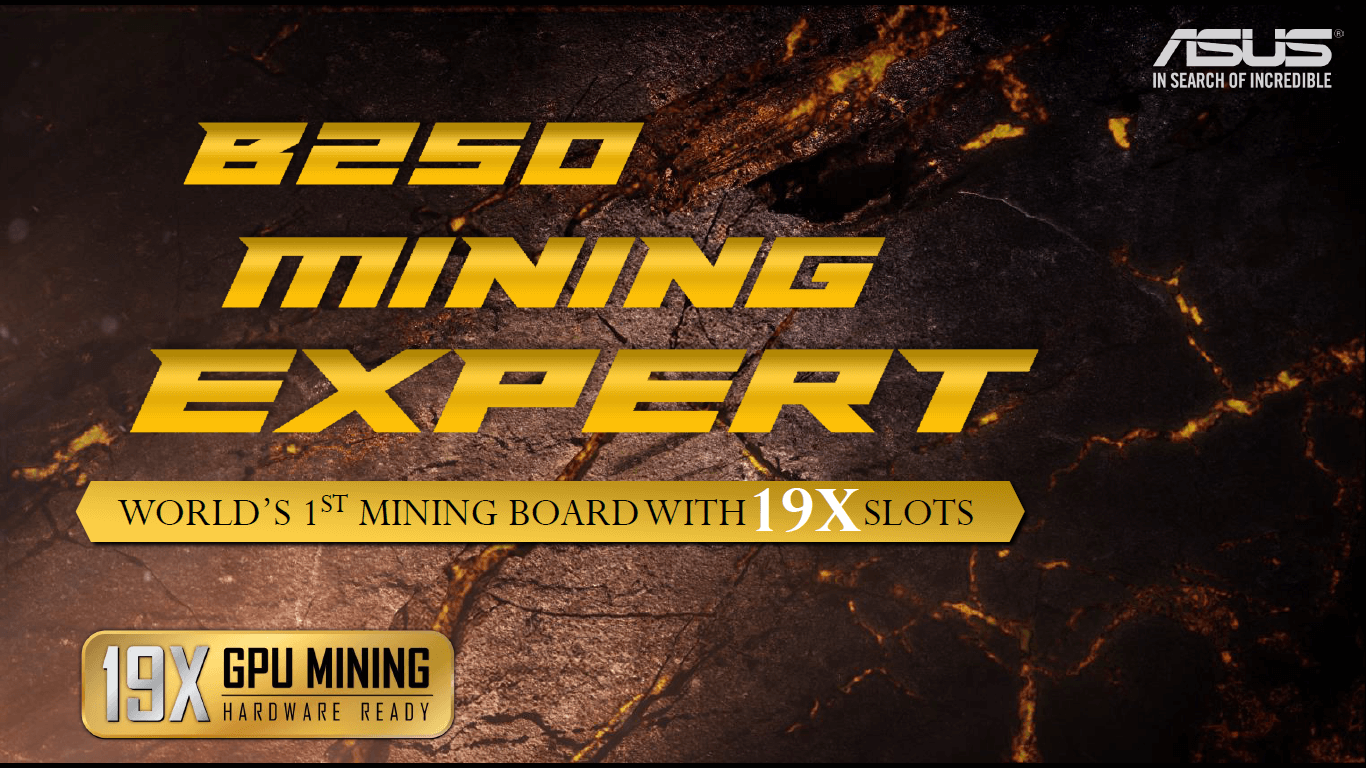 The Age of crypto-currency mining is here to stay for a while, and so is the market for dedicated mining hardware. We are seeing manufacturers coming up with mining specific hardware like GPU's and motherboards as such. Keeping up with the current trend Asus joins the party with their first ever mining motherboard: the B250 Mining Expert.
B250 Mining Expert: 19 Expansion Slots, Mining Optimized BIOS, Triple 24 Pin Connectors
The Asus B250 Mining Expert Motherboard comes with a host of features aimed at mining like Triple ATX12V Power Delivery, PCIe slot detection, and Mining Bios optimization. The bios is apparently optimized to churn out better hash rate and ROI.
Some features of the board include
Triple-ATX12V Power Delivery
PCIe Slot State Detection
Mining Mode BIOS Optimization
Voltage-stabilization Capacitors
Taking a closer look we see the B250 Mining Expert supports the Intel 7th and 6th Generation processors featuring the LGA 1151 socket and B250 Chipset. Memory wise the board supports up to 32GB of DDR4 memory with 2400MHz support. Apart from that, the board features a 6+4 DIGI+ VRM solution for power delivery. Storage wise we see four SATA III along with a total of 6 USB 3.1 and 4 USB 2.0 ports for I/O. Rear I/O includes 1x PS/2 ports, 2 USB 2 ports, 4 USB 3.0 ports, HDMI, Intel LAN (I219V Gigabit) port and an 8 channel audio jack powered by the ALC887 codec from Realtek.
The juicy part comes on the expansion coverage side. Asus decided to go all out and included 19 expansion slots(18 are PCI-e Gen 3.0 x1 and a single slot is PCI-e Gen 3.0 x16). To support such a large number of GPU's Asus have divided them into three groups. Each group has its own dedicated ATX 12V power supply along with a molex power connector for extra stability. Each of the PCI-e ports also have a capacitor to protect agaisnt any surges.
The drivers from AMD and Nvidia support upto 16 GPUS due to driver limitations. However, with the upcoming AMD driver update(coming sometime in late 2017) we will be seeing the limit lifted. That fact alone makes the board pretty future-proof.
Another interesting feature is the Post UI displays which show the status of all cards in the system. It's useful since it will show the cards which are not working and will help in troubleshooting if any.
Pricing and availability are unknown at the moment, we will update as soon as we get details.