ASUS Republic of Gamers (ROG) today announced the ROG Herculx, a tool-free graphics card support that installs in almost any PC case with a power supply shroud.
Modern ROG graphics cards already deploy full-length backplates and integral stiffening frames to minimize flex and distortion of their printed circuit boards over time. But if a graphics card features a thick, high-performance three-slot heatsink, users might consider additional support to further minimize the likelihood of GPU sag over the lifetime of the card. The vertical design of the ROG Herculx gives it the strength to hold even the largest graphics cards on the market.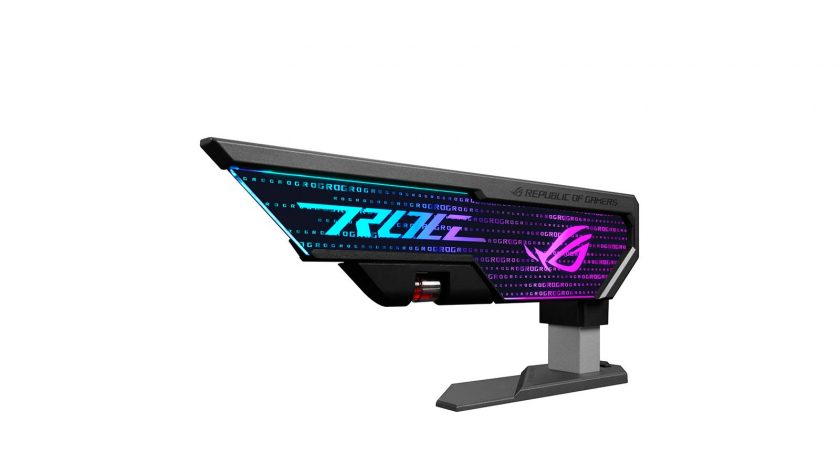 Other options on the market, like the ROG Wingwall, screw into an open expansion slot bracket in a PC case. This horizontal approach works wonders — if users have an open slot. The ROG Herculx is an easy-to-use alternative that fits most cases with a PSU shroud located beneath the graphics card. Its single-piece foot is constructed of high-damping rubber so that it forms a stable base, and it rests firmly on the shroud to allow the holder to support the GPU from below. This vertical design keeps it from directly occupying an add-in card slot, leaving users some spare space to add shorter-length expansion cards or maintain steady airflow — all the while stabilizing the graphics card. Both the support column and the counterweight are constructed of zinc alloy for long-term structural integrity.
Installing the ROG Herculx could not be easier. Between its two adjustment mechanisms, it offers a wide 72 to 128 mm support height range that is compatible with all chassis form factors — no tools necessary. A fine adjustment ratchet lets users move the brace up or down with a spin of an integrated wheel, and the detachable spirit level ensures that a GPU is perfectly horizontal once the Herculx is in place. To minimize the risk of any damage to a graphics card or other components when users remove the brace, they can release the support structure slowly and smoothly with the press of one key.
The ROG Herculx adds extra visual flair to a user's system, too. Its integrated addressable RGB LED element is compatible with Aura Sync for easy coordination with the rest of the lighting in a system. With the unique 3D lighting pattern and transparent gradient effect across its ROG logo, the Herculx will bolster a graphics card in style.