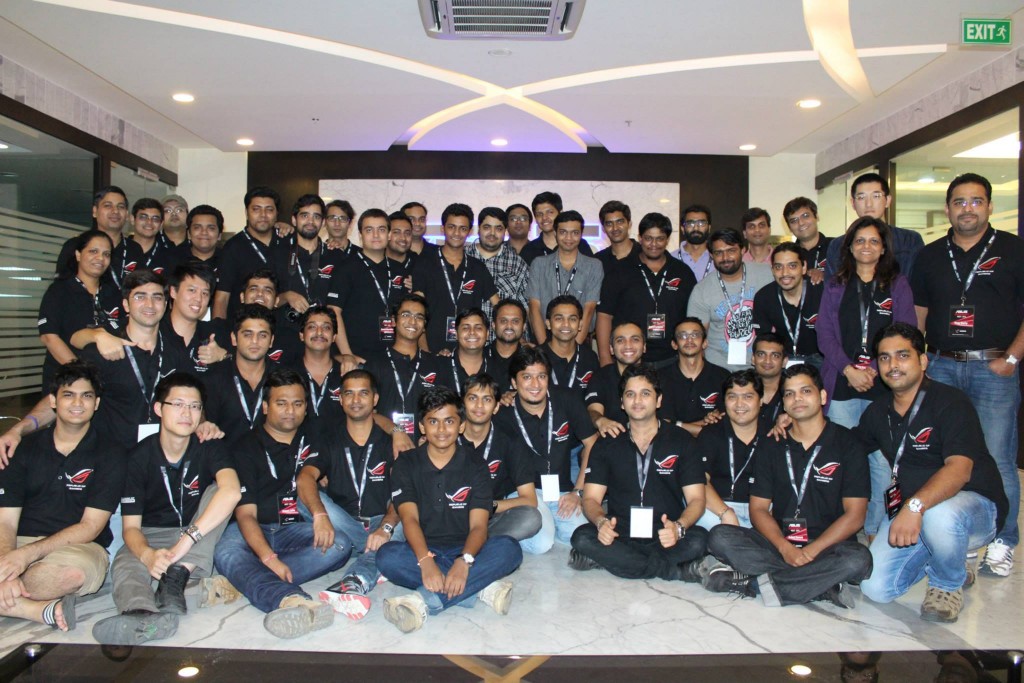 27th September, 2014: In its fourth iteration, the Taiwanese Manufacturing Giant Asus hosted its yearly Enthusiasts Meet in its Mumbai head office. The event was spread throughout the day and contained Q&A sessions which were focused on receiving feedback from the DIY community, showing off upcoming as well as existing products and last but not the least, a glimpse into extreme overclocking and what it can achieve via a live LN2 OC session.
Mr. Vinay Shetty, Country Head, Component Business, started the proceedings with an overview of how Asus took off as an initiative.  The company was founded 25 years ago, on 1989 in Taipei, Taiwan, by T.H. Tung, Ted Hsu, Wayne Hsieh and M.T. Liao and continued on the become the one of the largest Taiwanese brands. Known for its products around the world, Asus now has a net worth of over 1.7 Billion US Dollars, and ended last year with revenues shooting up to a staggering US$14 Billion. Asus also continues to dominate the Taiwanese brands in terms of quality, winning the Best Taiwanese Global Brands Award for a couple of years in a row.
The Asus Team
"The best part", Vinay expressed, "is that Asus has a really diverse product portfolio. Most of us relate Asus to Motherboards and Graphic Cards and Laptops. But we are so much more than those things. We have displays, accessories, networking products, audio products, AIO and SFF computers, chromeboxes, tablets, phones, optical drives and storage, even enterprise level components like server RACs. Asus is trying to expand itself more into these domains and not be stuck to a particular set of categories. We always make sure innovation is encouraged."
Asus as a motherboard vendor continues to rule the roost. 485 Million Units were shipped since 1989 (placed end to end, they can circumnavigate the earth 3 times, as one of Asus' slides mentioned). As tablet vendors they rose to number 3, right after Samsung and Apple, selling over 11 Million Units in 2013. That is quite astonishing, even in taking into account that some of that is due to the continued collaboration with Google in producing the excellent Nexus 7.
Asus also positioned itself strongly in worldwide PC shipments. Though the PC shipments as a whole are in decline, the Taiwanese company was listed as the fifth largest in terms of market share.
The focus on design is also a key part as per Asus. They employ an in-house design center (ADC, or Asus Design Center) where brainstorming about new product designs is done. Aesthetics play a large role in today's electronic components, and it was nice to see that Asus was taking this seriously.
The ensued open discussion about issues with existing products as well as enthusiast/general user expectation from Asus was refreshing, and in the span of around two hours a lot of things were discussed from motherboard rants to adhering to open source based firmware for routers.
Mr.Jack Cheng on Skype
There was an hour and a half long discussion with Mr. Jack Cheng, Asus R&D. The conversation, initially aimed at giving some high-level insight into Asus proprietary technologies, especially in their motherboards, went into further depth about Asus' motherboard design language, what Asus' targets are while releasing a motherboard for a specific generation of processors to be competent as well as ahead of the game, and adherence to newer technology standards to name a few. Jack also took into consideration the feedback from us for their future products, especially motherboards.
Asus India had arranged two rooms decked with their present and upcoming products. Let's go through what were shown.
Motherboards, Graphic Cards, Displays, Accessories & Complete Systems:
Asus has been focusing heavily on their most recent launches, i.e. Haswell-E/X99 and Devil's Canyon/Z97 based motherboards.  The prime focus amongst them was on the X99 part. As of now, we have seen five motherboards released from Asus, two mainstream (X99-Deluxe, X99-A), one ROG (Rampage V Extreme), and one workstation (X99E-WS). Asus showed off every motherboard but the WS one.
OC-Socket
For X99, Asus is emphasizing on what they are calling the OC-Socket. It turns out that Intel's HEDT socket LGA2011-3 has some extra pads which are practically unused in the reference design. Asus has tapped into this unlocked potential and added six extra pins in the socket, possibly bypassing Intel's stringent FIVR compulsions, something camp blue has been very secretive about off late. Asus says OC socket increases overall stability and allows higher voltages to be pumped into processor and memory modules, effectively opening the door for higher overclocking potential. We are yet to get any official numbers about how much actual increase in performance the OC-Socket enables, but for now it looks to be a significant plus to Asus' lineup of motherboards.
X99-A
Of the ones in display, X99-Deluxe and Rampage V Extreme proved to be the crowd pullers. X99-Deluxe is the mainstream flagship and comes with a livery of glossy white and matte black. It is also equipped with world's first 3T3R WiFi ac solution, enabling up to a staggering 1300Mbps transfer speed. Rampage V Extreme is the crème-de-la-crème of Asus' ROG stack, a successor of the X79 Rampage IV Extreme, and comes at a hefty price tag of 35k+ INR, while the X99-A is a modest mainstream offering for people who want to shift to the newer platform without robbing a bank.
X99-Deluxe
For Z97 they have released their usual foray of motherboards with some additions.
Z97-Deluxe represents their flagship mainstream board. It has support for Triple SLI/CrossFireX, has a beefy 16 Phase VRM, onboard WiFi ac (2×2), and premium shielded audio in the form of CrystalSound 2 (RealTek ALC1150 by the looks of it).
Maximus VII Impact
We also got to see for the first time the Maximus VII Impact, the mini-ITX ROG motherboard for Z97 chipset. Impact is a new SKU for ROG, introduced only with Haswell/Z87, and the growing trend of building small form factor PCs with the potential for overclocking/high resolution gaming, Asus has jumped the gun and produced a Z97 iteration as well. The core design remains similar to Maximus VI Impact, but to cram in more features, Asus has done more verticalization than before: Impact Power II (the vertically stacked/soldered VRM circuitry), Impact Control II (Daughterboard in the rear I/O hosting debug display, KeyBot, ROG Connect and USB BIOS Flashback) and SupremeFX Impact II (Audio solution) continues in their second generation, along with Impact CoolHub, which is a little daughter board with 2×4-Pin Fan header and the LN2 mode header. Included in the package is mPCIe Combo IV, a PCIe 3.0 x4 card with a single M.2 Socket 3. Asus houses an 802.11 ac/BT 4.0 module in this slot.
Z97 Sabertooth Mark-1
The Sabertooth Z97 Mark-1 was also present. With Z87, Asus ventured into diversifying their TUF (The Ultimate Force) SKU, and in Z97 we see the complete range coming into picture. There's the micro-ATX Gryphon, the Mark-2 being middle-of-the-road, and the Mark-1 representing the top of the line. Mark-1 has dual Intel NICs, the distinguishing thermal armor, I/O and slot covers and support for upto 3 way SLI/CrossFireX, though the last PCIe 3.0 slot is a crippled x4.
Maximus VII Hero
We also got to see the Maximus VII Hero and the Z97-Pro amongst other Z97 offerings. The PRO is a cut-down version of the Deluxe, while the Hero, newer SKU like the Impact, represents the middle ground between the more expensive Formula and the budget friendly Ranger.
Crossblade Ranger
Amongst AMD motherboards, Asus had the brand new Crossblade Ranger on display. 'Ranger' – the name indicates a VFM ROG solution (Maximus VII Ranger for Intel Z97 for comparison), something which AMD fans were asking for years. It's interesting since the Ranger is based on AMD A88X FCH (Bolton D4) chipset, pretty much locking it to the FM2+ APUs (Kaveri).  Nevertheless, it comes with all the goodies that Asus throws into the mix for their ROG line of motherboards – SupremeFX audio, red and black livery, 8 phase VRM, Debug LEDs, Voltage checkpoints, even Slow/LN2 mode switches. We'll keep you posted about how this motherboard performs.
A88XM-A
A88XM-A, the micro-ATX AMD board represented the budget section of AMD lineup for Asus. Single PCIe 3.0 16x slot, a 6 phase VRM without any heatsink and modest I/O connectors tend to tell you that this is clearly catered for the low-end market. Asus does pack the board with its usual set of software and hardware features like Digi+ VRM and AI Suite 3.
There were three complete systems on display.  The biggest of them all was a custom cooled Z97 based system housed in Corsair's behemoth 900D. The custom loop of a 360mm and a 240mm radiator from XSPC kept the Core i7-4770K, VRMs for the Maximus VII Formula and the Poseidon GTX780 Platinum cool. Corsair's GS800 served as power supply for the rig, and a couple of SSDs were also thrown into the mix.
Water-cooled 900D running a 1440p display
The second one, driving an Asus PG278Q monitor (or ROG Swift, for a better name), had an Intel Core i7-5960X running on an X99-Deluxe motherboard with a GTX980 STRIX edition GPU.  The monitor is a new addition supporting NVidia's G-Sync technology, and features a 2560×1440 TN panel.
ROG Swift in action alongside STRIX accessories
The third, an NVidia Battlebox, featured a duo of GTX 780Ti GPUs on an Asus Z87 motherboard with an i7-4770K, driving the Asus 4k PB287Q monitor.
NVidia Battlebox, and PB278Q
In the GPU section Asus had a few of the current generation as well as upcoming graphic cards on display. The GTX970 and GTX980 in their STRIX avatars garnered quite an interest, as did the current generation cards like Striker GTX 760, GTX 780Ti Matrix Platinum, and GTX 750Ti STRIX. The STRIX range of cards is heavily geared towards silent operation with fans not turning up with temperatures under 65C. The design is an evolution of their DCUII, though it takes a different route than the Matrix line of GPUs.
GTX970 STRIX
Asus also had the latest STRIX line up of gaming accessories which included the STRIX Tactic Pro mechanical keyboard, STRIX Claw optical gaming mouse and the STRIX DSP and STRIX Pro headsets. STRIX Glide Speed and STRIX Glide Control mouse pads were also showcased. We are yet to conclude on any one of them, but we will surely in future and keep you updated on them.
Amongst other accessories, the ROG Gladius mouse was shown. The Gladius is a mouse with 6400 dpi sensor (50g acceleration) and comes with swappable Omron switches and a detachable cord.
ROG Gladius Mouse
Audio and Networking:
Asus is also heavily positioning themselves on the audio and networking market, with the release of their Xonar external and internal sound cards and DACs. The top of the line Xonar Essence One MKII DAC was on display.
Xonar Essence One MKII and Xonar U7
The MKII is equipped with a top of the line TI PCM 1795 DAC, and contains eleven swappable op-amps for audiophiles to really tweak the sound signature. This premium DAC contains headphone amplifiers (2 x LME49720) to drive up to 600 Ohm impedance headphones, has Native Direct-Stream Digital (DSD) support via DSD over PCM (DoP), asynchronous USB audio and 8X symmetrical upsampling.
Audiophile and enthusiast Faheem Maldar was present with a couple of premium headphones to give eager listeners a taste of high-end audio.
RT-AC87U
For networking, most attention went to RT-AC87U, Asus' flagship wireless router. Asus is advertising it as the world's first AC2400-class dual-band 802.11ac wireless router with a 4T4R antenna configuration, and the first in the world to employ Multi User MIMO technology. Asus bundles a few of their suites with this router like AiRadar Universal Beamforming and AiProtection with Trend Micro Security. This also supports adaptive QoS. The 4×4 antennas improve coverage by up to 33% compared to standard 3×3 models, and Asus says typically RT-AC87U can effortlessly cover an area up to 465 sq. Meters.
DSL-AC68U
Also on display were the RT-N14UHP, a high power wireless N300 3-in-1 Router/AP/Range Extender, and the DSL-AC68U, a dual band Wireless-AC1900 Gigabit ADSL/VDSL modem router.
SFF PCs/Chromeboxes:
The second room was decked with Asus' small form factor PCs. Asus has been focusing to these for the past few years and now with general push towards SFF PCs with the advent of Intel's NUC, Google's Chromeboxes and Valve's Steamboxes, the attention to these have become even higher. On display were the ASUS Chromebox, and the VivoPC VM62N with a static demo of the ROG GR8. The VT207N 10-point touchscreen monitor and the MB168B USB powered monitor were shown too.
The Chromebox is a recent addition to Asus' lineup, and will come in three flavors, with Intel Haswell parts (Celeron 2955U/Core-i3 4010U/Core-i7 4600U) with 4 GB RAM for the i3/i7 models. Storage is provided via a 16 GB NGFF M.2 SSD.
VivoPC VM62N
As for VivoPC, Asus is aiming on providing a more complete solution, building up on Intel's already excellent NUC platform. The VM62N is pretty powerful in its own right, coming with an Intel Core i3-4030U processor, 4 GB of RAM with support for up to 16 GB, an NVidia GeForce 820M 1 GB discreet GPU and support for up to two drives via Vivo DualBay (one 3.5" + one 2.5"). It also has 802.11ac WiFi, Gigabit Ethernet, Bluetooth 4.0, HDMI, DisplayPort and S/PDIF, an SDXC card reader, 4 USB 3.0 ports and 2 USB 2.0 ports, so your connectivity needs are covered. The VM62N is encased in a beautiful brushed metallic chassis which looks the part and comes preloaded with Windows 7 Professional or Windows 8.1. Asus was also focusing on the SonicMaster audio that it has integrated in the device, though we would reserve our judgment for that later when we get our proper hands on with it.
ROG GR8
Asus is lending its popular ROG moniker on SFF PCs as well, and the GR8 is a product born out of it. Asus has crammed an Intel Haswell Core i7 processor and an NVidia GTX750Ti GPU in a chassis which is 2.5 liters in volume, and generously calling it the 'console-PC' (oxymoron?). There's support for up to 8 GB of DDR3 memory and two 2.5" hard disk drives, a slot loading DVD/Blu-Ray drive, and Wireless-ac is on board along with other ROG goodies like SupremeFX Audio.  . Asus says it's the first of small form factor Console PCs but didn't reveal any more info on other upcoming models. GR8 comes preloaded with Windows 8.1 and is fully compatible with Valve's SteamOS.
VT207N, MB168B and VM62N
On the two monitors being displayed – VT207N is a 19.5-inch 10 point touch screen monitor, and has a resolution of 1600×900, while the MB168B is a portable 15.6-inch 1366×768 USB-powered WLED/TN offering. Both are being pitched for commercial use.
LN2 benching session:
Toolius in action
The icing on the cake was a taste of extreme overclocking using LN2, courtesy of Shatul Durlabhji, or 'Toolius' as he's known among the enthusiasts. He used an Asus X99-Deluxe and a Core i7-5960X and gave us a glimpse of what the chip was able to offer in terms of overclocking. During the short demo he managed to go past 5.2 GHz on the CPU with the board, which was no mean feat considering how fidgety Haswell CPUs had been in the past when it came to overclocking. The board also proved to be a solid companion.
Conclusion:
All in all, the event was a fantastic success. Most of the event went through meeting Asus team and sharing feedback face to face and getting to know their product design philosophies and how they worked upon all the customer feedback, positive and negative. It was also really fun to meet a lot of fellow enthusiasts whom we've known throughout the years and see LN2 overclocking standing 2 feet away from the pots. Interaction with Jack and delving deeper into technologies such as OC-Socket was the icing on the top.
Asus has gotten me excited for a lot of the products that I saw on display, especially their X99 range and monitors. I hope they continue to do the good work, taking in customer feedback in good spirits and always providing the best. They are searching for the incredible – I hope that doesn't make them complacent.