We had an initial look at ASUS' GTX980 STRIX OC in my previous article here. Now let's see if it has a performance to match its looks.
Test Setup:
Intel Core i7-3930K running at stock 3.2 GHz, cooled by SVGTech HOC40
ASUS Rampage IV Extreme motherboard, BIOS 4403
GSKILL RipjawsZ 16 GB DDR3 memory, 9-9-9-24-2T
ASUS GTX980 STRIX OC, NVidia Driver Version 344.65 (WHQL)
Corsair HX750W 80+ Silver PSU
Corsair Carbide Air 540 enclosure for closed testing
Kingston SSDNow V300 64 GB SSD as boot drive, WD Green 3 TB drive as data drive
Dell Ultrasharp U2713HM 2560×[email protected] monitor
Performance:
All my tests were done in my monitor's native resolution.
Metro: Last Light is first, and here is a glimpse of what the 980 is capable of. With all the settings cranked up, the card manages to break past 60+ FPS with ease, even touching 80 in a couple of instances. The game is especially punishing in higher details and it is a delight to see the 980 cruising here without any major framerate drop issues.
Released over an year ago, CryTek's venerable Crysis 3 is still a tough game for most GPUs. While it's not as crushing as the original, with effects dialed up, it can still be quite a handful. I pushed everything up here, and still managed to get 35 plus FPS. Though there were some dips below 30, the gameplay in general was super smooth.
C
Battlefield 4 still continues to be immensely popular amongst multiplayer FPS enthusiasts. In 1440p, the 980 STRIX OC cruises, even in Ultra detail.
IO Interactive's Hitman Absolution is not as demanding as Metro or Crysis, but looks really pretty with every detail maxed out. The 980 STRIX OC has a field day here, with 100+ FPS.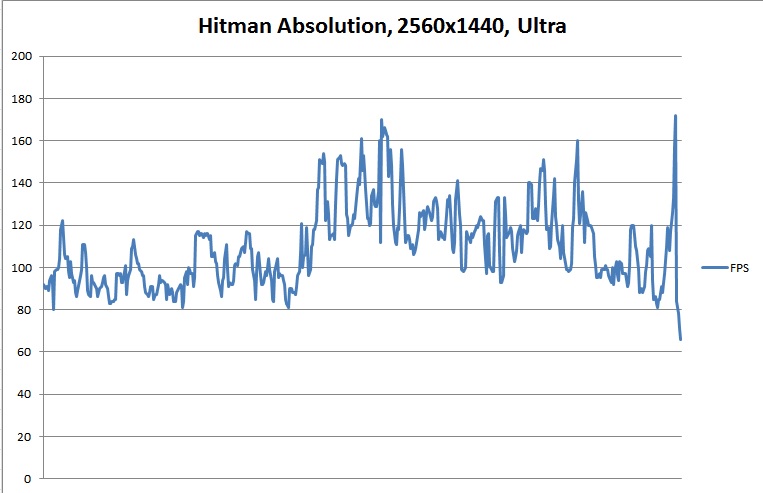 Next up, Sniper Elite 3. The story here is also similar. 1440p seems to be the sweet spot for the card.
Last but not least, Monolith's Shadow of Mordor is one of the best games that came out this year. Monolith also released an Ultra Texture Pack for PC, and I installed it to see if that made any difference in performance at all. The result? Check the graph.
Let's look at a little comparison that I made with some previous data I had. I am pitting the 980 STRIX OC against its predecessor, the 780 STRIX OC 6 GB – and while it's an established fact that the former is faster across all games, the difference sometimes can be shocking. In Battlefield 4, the 980 is 24% faster, while in Crysis 3 the lead is 21%.
While doing general benchmarks I summoned another monster – AMD's R9 290X. The flagship Hawaii card is notorious for its heat and power consumption, so I borrowed my friend's Sapphire R9 290X Tri-X, one of the best aftermarket 290Xs available, for comparison. The STRIX 780 remained in the mix as well, for an interesting trifecta of cards.
Once again, the performance numbers indicated the superiority of the 980 over 780. For the 290X Tri-X, it was a mixed result. It came close to the 980 STRIX OC in a couple of benches, and then lost out by a huge margin in some others (24% in Catzilla), but did not manage to beat the Maxwell 2.0 Flagship in any of the tests.
Overclocking, Temperatures:
Overclocking this card was extremely easy. I managed to get 1356 MHz on core and 1883 MHz on memory – for a flagship card they are quite impressive. The card managed to score 16640 in 3DMark11, an 9% increase.
I monitored the GPU temperatures during a complete run of 3DMark Fire Strike Extreme, a stressful exercise for any GPU. The GTX 980 STRIX OC never reached over 75C. I must mention here that the card is extremely silent as well, with the fans never spinning up before the card temperatures reaching 65C.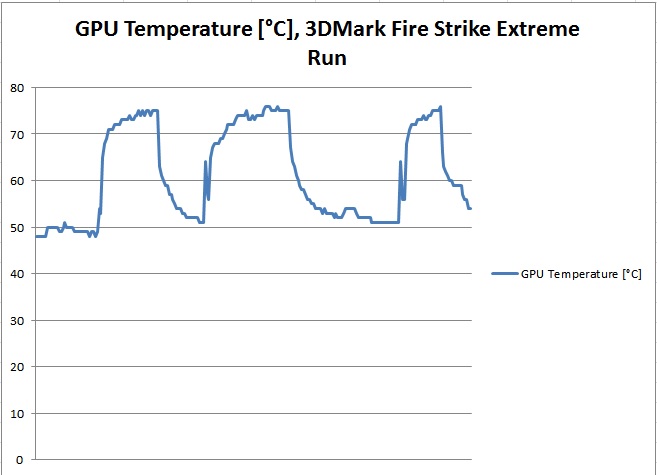 Conclusion:
Make no mistake – the GTX980 is a beast of a card. NVidia managed to surpass expectations with Maxwell 2.0, and with ASUS' own take on it, the STRIX OC version takes this a step further. The card is aesthetically pleasing, the matte black design is gorgeous to say the least. The performance is right up there, toppling previous generation flagships with ease. And then the power consumption and thermals continue to tell the excellent story. As a complete package this is incredible.
Now to the tough part. Anyone who has a GTX780/780Ti may not see this as an appealing proposal, since the STRIX OC is expected to be a little costlier than the already eye-watering price of the GTX980. Secondly, buying this card for 1080p gaming is OVERKILL. It cruised through every game in the highest detail in QHD (1440p), so it shouldn't break a sweat in lower resolutions. The GTX 970 STRIX OC is a better proposition for them.
For AMD owners, the choice is both tough and simple. The 290X Tri-X comes dangerously close to the 980 STRIX OC in some benchmarks, and then loses out to some in a huge margin. The key factor, however, remains to be power consumption and temperatures. While a good aftermarket cooler can take care of the thermal absymalities of Hawaii GPU, the power consumption remains a sore spot for camp red. The 980 STRIX OC runs quieter, cooler and faster in almost all scenarios.
I still retain the same nitpicks about the design. A while glowing STRIX logo should've looked much better on a black card and that too when you are paying a premium for it. Also, it does not hurt to include individually sleeved PCIe power extension cable instead of the standard-fare stuff.
Overall, I can not be happier; ASUS seem to be progressing towards the right way with their STRIX line of GPUs, and the GTX980 STRIX OC stands a solid testament to that.