Maxwell has been quite a success story for NVidia. Built on TSMC's 28nm process, the first generation iteration gave us GM107 in the form of GTX 750Ti, a powerful mid-range card with abysmally low power consumption and increased performance compared to its predecessor. But GM107 was clearly a cut down part. With the launch of GTX980 and GTX970, NVidia finally unleashed the second generation Maxwell cards, GM204. While the primary goal for Maxwell remained the same (lower power consumption and better performance in a denser chip), Maxwell 2, or GM204 was aimed at flagship parts and hence made the job more difficult for NVidia compared to first gen GM107 – something which they passed with flying colors.
A few months after its release, GTX980 and 970 are available in a variety of flavors. Seemingly every manufacturer has their third party cards available, and in the middle of everything, the reference cards continue to sell quite well (water cooling enthusiasts mostly choosing reference boards for their better compatibility with waterblocks).
The card we have for review is the ASUS STRIX-GTX980-DC2OC-4GD5 or ASUS STRIX OC GTX980 in short, a modestly overclocked GTX980 tuned for silent operation. The STRIX moniker was introduced as a platform last year and Asus has introduced quite a few cards (780, 750Ti for NVidia, R9 280/285 for AMD, both OC/non-OC variants) over time.
 (GTX 980 Market Segment Analysis Image courtesy : TechPowerUp!)
With the release of GM204 ASUS has been quick to release the STRIX cards (both 980 and 970 STRIX available now), even before their regular designs like DCUII. This is an interesting move, one which we will discuss in the main review.
The packaging is almost identical to the STRIX 780 6GB I reviewed earlier this year with the front having a huge picture of an owl (silence?) and the back printed with features of this card (Digi+ VRM, SuperAlloy Power, DirectCUII + 0DB operation etc.) with the card's front picture and I/O panel diagrams.
Inside, the package contents strike a similar chord too. Apart from the card, ASUS' package includes the obligatory CD containing the graphics drivers and their GPUTweak monitoring and tuning software, a single 8 pin to dual 6 pin PCIe power cable, and two batches of red/black stickers to adjust the color theme of the card. Personally I am not a fan of these split power cables.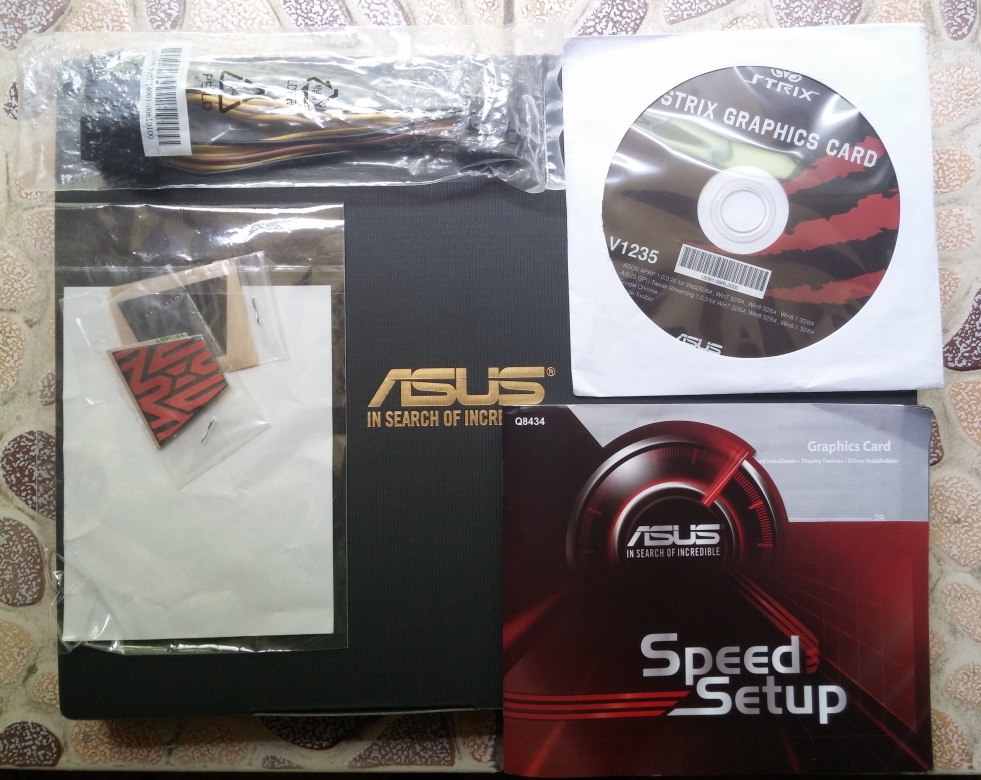 Onto the card now and much hasn't changed over the initial 780 design I had my hands on a few months back. You still get that awesome matte black metallic shroud with sharp contours and minimalistic use of red on the fan centers. The matte black finish also makes it very easy to paint the shroud should you want to for some reason.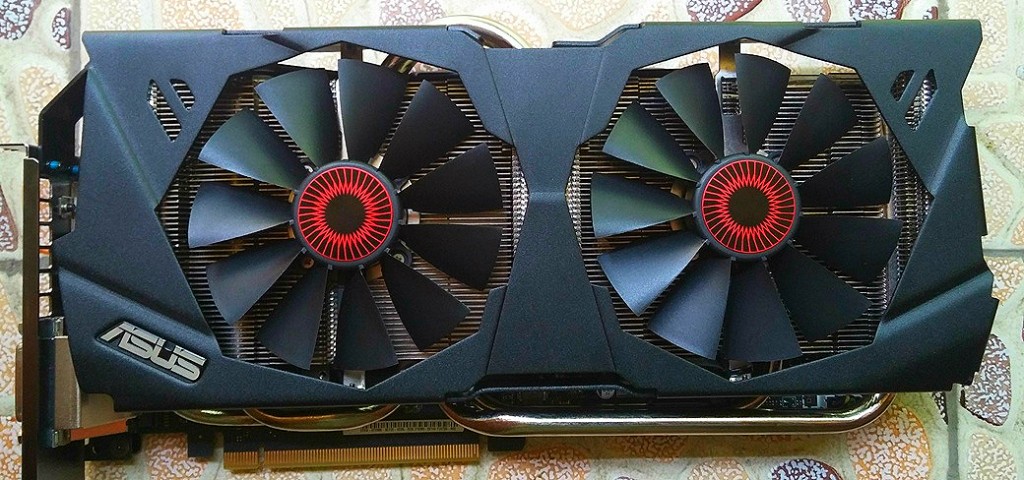 Also included is the perforated backplate with ASUS DirectCUII stamped on it. At 28.86 x 13.44 x4.09 Centimeters, the card is not oversized and should fit most of the cases without much effort, and the same two slot design as its predecessor means multi-GPU configurations can breathe easy.
There's a total of five heatpipes, four on the bottom and one on the top, to transfer heat from the GPU.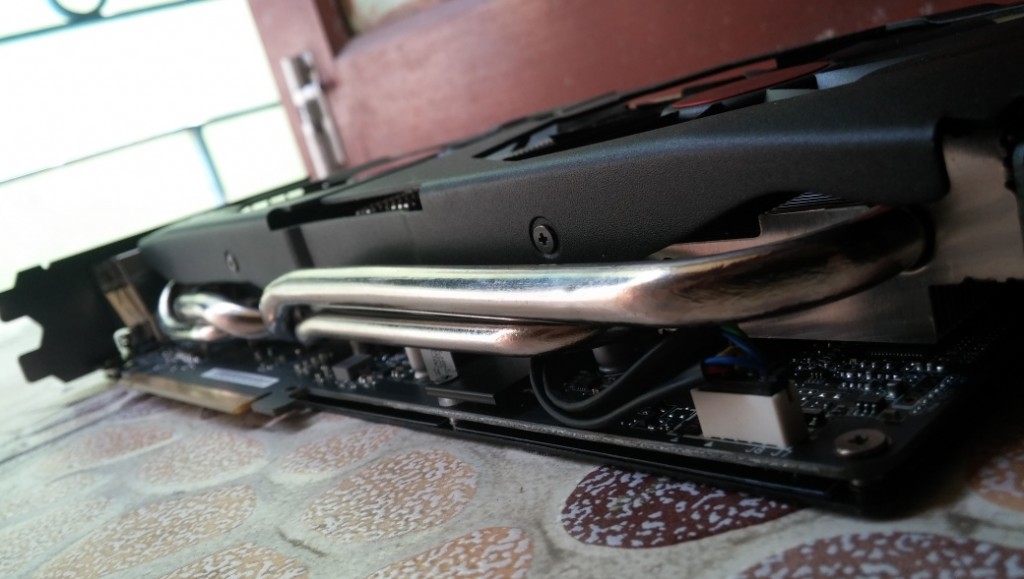 In terms of I/O, we get a DVI-I, a HDMI 2.0 port, and three regular DisplayPorts (v 1.2), so with one of these cards you can easily build a multi-monitor setup since four of them can be used concurrently. It also supports HDCP, and has an inbuilt HDMI sound device with support for HD Audio and 3D Blu-Ray movies.
Like my previous review, I did not disassemble the card to see its innards. However, courtesy the folks over at TechPowerUp! I found out that ASUS was using Samsung memory chips for this card, part number K4G41325FC-HC28.
The PCB looks much cleaner than the 780, and one can clearly see the chokes for the 10-Phase VRM circuitry that ASUS is promoting as part of their Digi+ VRM.
Lastly, we do have the voltage check points, and the power connectors. STRIX 980 requires a 6 pin and an 8 pin PCIe power connector (compared to dual 6 pin PCIe power connectors for the reference card). Up to Quad SLI configuration is supported by the card.
Initial benchmark results suggest quite a bump from the previous generation flagship GTX780, though I would like to reserve my judgment for the full review. Stay tuned!