Ant Esports Launches Wente 220 RGB Microphone and StreamCam 120 HD Webcam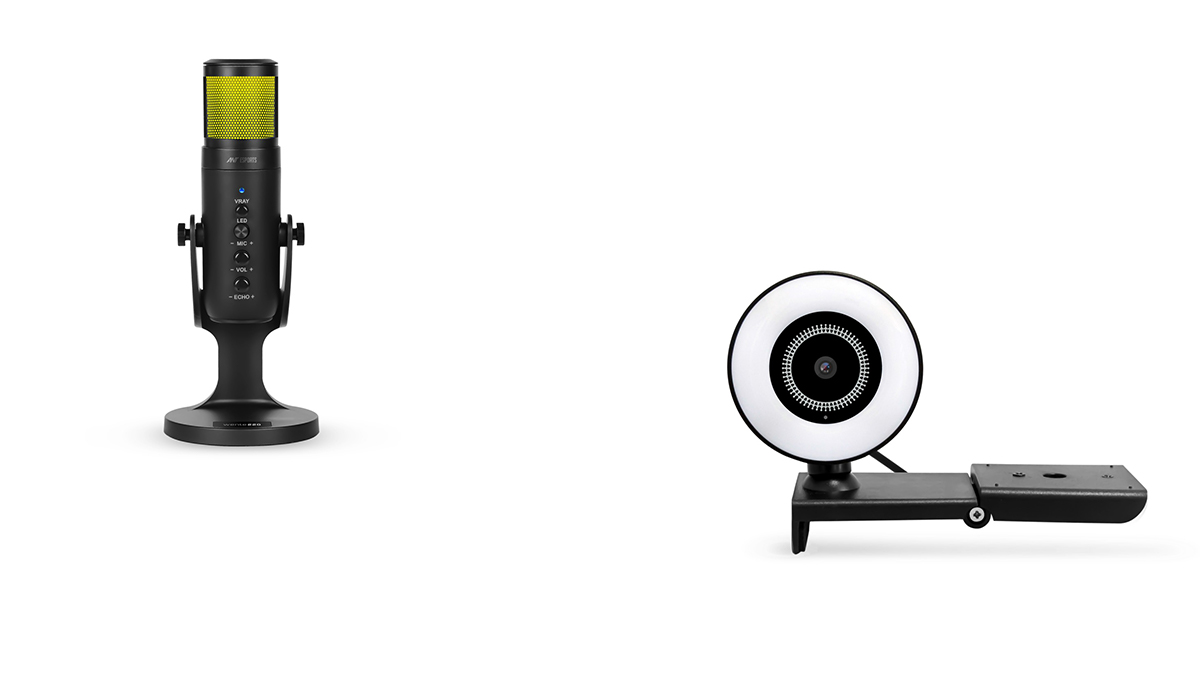 Ant Esports a leading name in the Indian gaming peripheral market announced the addition of two new products to their rapidly expanding lienup, the Wente 220 RGB Mic and StreamCam 120 webcam. Both these products are a first of their kinds from Ant Esports who so far has proven itself in the peripheral market especially with their past release of the MK1200 Mini keyboard which took the market by storm.
The Wente 220 RGB is a condenser microphone with functional features such as one-touch mute, cardioid pattern pickup and real-time audio monitoring via a 3.5mm jack. It obviously comes with RGB lights which not only is a highly demanded feature in today's market but also makes it the first mic in its price segment to offer such a rich feature set.
It carries a minimalist design language of a long cylinder which is mounted on an anti-shock mount that allows it to be tilted at a 180-degree angle for easy accessibility to the ports below. It is powered by a USB Type-C to Type-A wire for universal connectivity and compatibility making it suitable for almost every streaming platform.
Coming over to the StreamCam 120, it marks Ant Esport's debut into the grueling competitive stream cam segment. The camera comes with a full HD 60 FPS sensor that is complemented by a build-in mic that not only makes it suitable for gaming but also for daily usage like Zoom calls where one can benefit from the build-in mic for hassle-free usage. One stand-out feature here is the build in ring light which so far we've seen only in the premium segment, the light comes with three levels of brightness adjustability so one can choose the perfect light as per their surrounding environment.
A build-in stand with a universal clamp and tilt features makes it highly compatible and versatile for mounting atop screens of various sizes and thicknesses, be it a thin laptop or a thick desktop screen.
"Living by the motto of bringing quality gaming products to every gamer in the country, we are thrilled to have launched our first of many streaming products in form of the Wente 220 and StreamCam. Now even a budget gamer can realize his or her dream to start streaming and take their gaming to the next level" Amit Putatunda, National Product Manager Ant Esports
Pricing and Availability
The Wente 220 RGB Microphone and StreamCam120 HD Webcam are available immediately from the Ant Esports nationwide network of authorized retailers and distributors, as well as direct from the Ant Esports website.
The Ant Esports Wente 220 RGB Microphone and StreamCam120 HD Webcam are backed by a one-year warranty and the Ant Esports nationwide customer service and technical support network.
For up-to-date pricing of Wente 220 RGB Microphone and StreamCam120 HD Webcam, please refer to the Ant Esports website or contact your local Ant Esports sales or PR representative.