AMD R9 390X, Nvidia GTX 980 Ti and Titan X Benchmarks Leaked , Unconfirmed GTX 9xx shows up
Game benchmarks for the Nvidia GeForce GTX Titan X, GeForce GTX 980 Ti and AMD Radeon R9 390X have been leaked. And AMD's Fiji XT tops the charts. The leaks were published by the website Chiphell.
There is also an unconfirmed , 9xx GPU in these benchmarks , that could be the 960ti or 965 .
However none of these are confirmed , and we'd still advise you to take this with the usual grain of salt.

At 4K we see that the R9 390X and Titan X come head to head with the 390X being slightly faster. In comparison to the GTX 980 Ti ( cut down GM200 ) the gap widens further in favor of the R9 390X.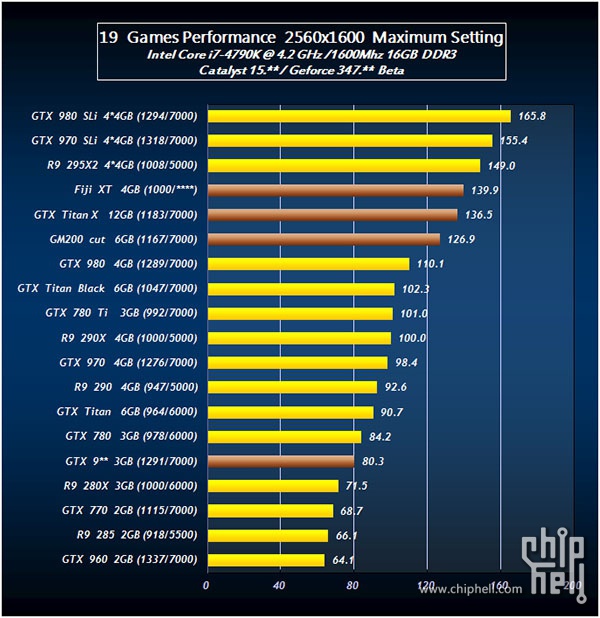 At 2560×1600 and FireStrike Extreme benchmarks,  the R9 390X leads as the fastest single-GPU ,  the Titan X follows closely and the GTX 980 Ti coming third. The 9xx comes between the GTX 770 and the GTX 780.
Power consumption is where we are really suprised , AMD somehow managed to make a 4096 GCN GPU consume slightly less power than a 2816 GCN chip. They must've integrated some of its new  power efficiency technologies which we heard about recently with Carrizo. AMD states that with Carrizo the company managed to deliver the largest power efficiency leap ever.
Over here we see how the new voltage adaptive operation works , What the AMD engineers have done here is feed the SOC 1.25v and implement a very precise voltage monitoring mechanism. So that when the voltage dips to 1.245v the system would recognize that and reduce the frequency for a very brief moment in which that dip occurs to maintain system stability  , The result is a 15% improvement in performance for a given voltage. Essentially a 15% improvement in performance per watt.
Finally a comparison between the 390x , Titan x and 980TI .