Higher frequency RAM is still a niche. The performance improvements on most applications with crazy fast memory diminishes with increasing frequency, and even for gamers anything beyond 2400MHz hardly makes sense. As Dr. Ian Cutress from AnandTech remarked in his article about DDR4 memory scaling: "For professional users, we saw a number of benefits moving to the higher memory ranges, although for only very minor performance gains. Cinebench R15 gave 2%, 7-zip gave 2% and our fluid dynamics Linux benchmark was up +4.3%. The only true benchmark where 2800+ memory made a significant difference was in Redis, which is a scalable database memory-key store benchmark. Only users with specific needs would need to consider this."
For most users, going past DDR3/4-2400 barely makes sense. But then there are power users and overclockers, for whom that extra 3-4% can make a world of difference. Bragging rights aside, the higher frequency memory serves as a benchmarking tool to test the IMC limits of a platform, and set world records while doing so. If we consider this section of the market, investing in a high end memory kit starts to make sense for a manufacturer.
ADATA is not a new entrant in the market. Their XPG (Extreme Performance Gear) line of products has been here for quite a while and has spread out to other products as well (SSD). The DRAM kits are in their 3rd generation (v3) now and as with of their previous generation portfolio starts as low as DDR3-1600 and goes as high as DDR3-3100, covering a wide range of frequency and CAS latencies.
For the XPG v3, ADATA is using Hynix memory chips and a black 8-layer PCB with 2oz copper, both of which are nice to see. What is new in this iteration is the complete overhaul of aesthetics. While companies like Corsair are decking their top end kits with interchangeable light bars, ADATA has approached this in another way and made the fins replaceable.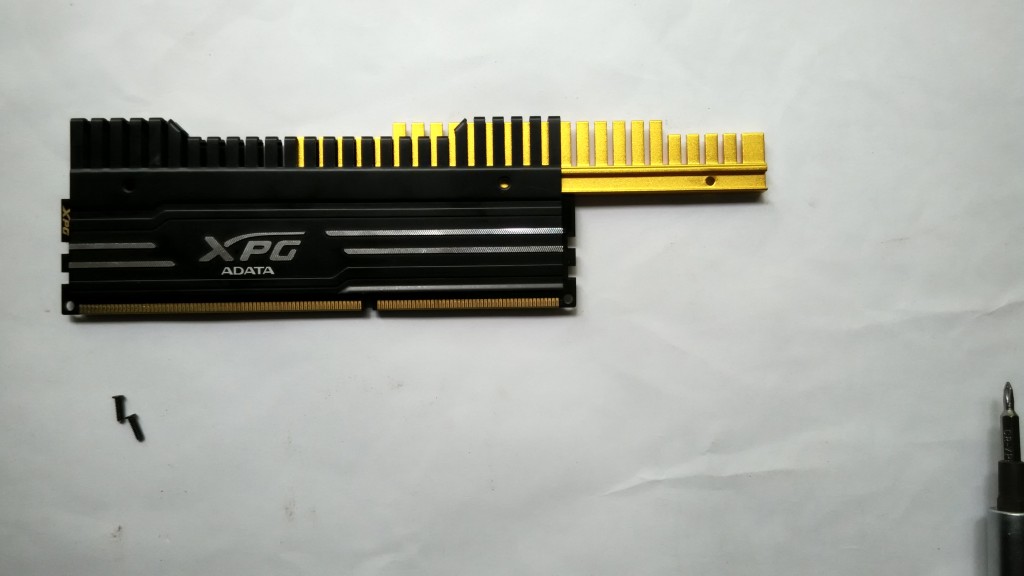 With the XPG v3 package an extra set of golden fins are provided and the base red fins come fitted. This lets the more adventurous user paint the fins according to his or her need – and the process of fitting the fins is simple, requiring only two screws to be removed before one can slide out the metal bar. The only nitpicking I can make here is that the heatspreaders are on the tall side and can prevent the installation of large air coolers in your system, or vice versa.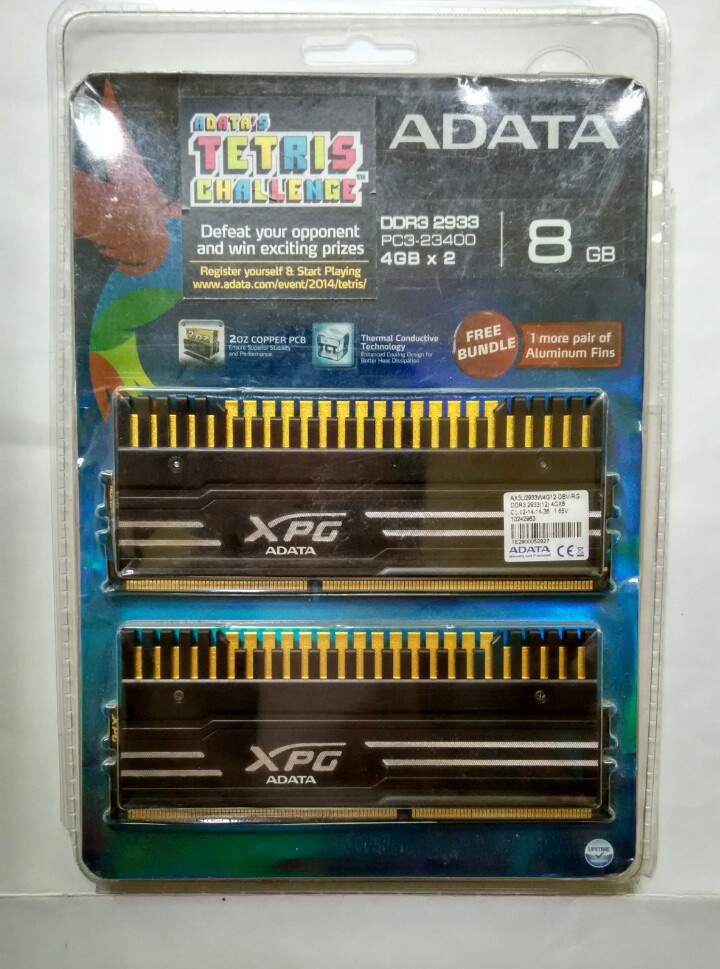 The package is minimal. XPG v3 kits come in a blister pack that is normal for most RAM modules these days, with product information and frequency written in front and more multilingual information on the back. The RAM kits can be seen in front and the extra fins are on the back. The documentation and warranty information is neatly tucked in the package as well.
 XPG v3 internals image courtesy: Nexthardware
XPG v3 uses high density memory chips (Part Number: H5TQ4G83MFR) from SK Hynix. Each memory module houses 8 chips with 512MB of memory in each chip for a total of 4GB high performance RAM.
Test System:
The following test system was used for this review:
Intel Core i7-4770K, Haswell, 4C/8T, 3.5GHz base/3.9GHz turbo
ASUS Maximus VII Hero, Z97, BIOS version 1104
ADATA XPG v3 8GB DDR3-2933 CL12 memory
Asus AMD Radeon R9 290X Matrix, Hawaii
Samsung 840EVO 256GB SSD for OS/benchmarks
Western Digital 3TB HDD for data
Cooler Master Silent Pro M2 1000W power supply
Corsair H100i CPU cooler
Corsair Carbide Air540 case
A big shout out to ADATA for providing the memory sample.
Benchmarks: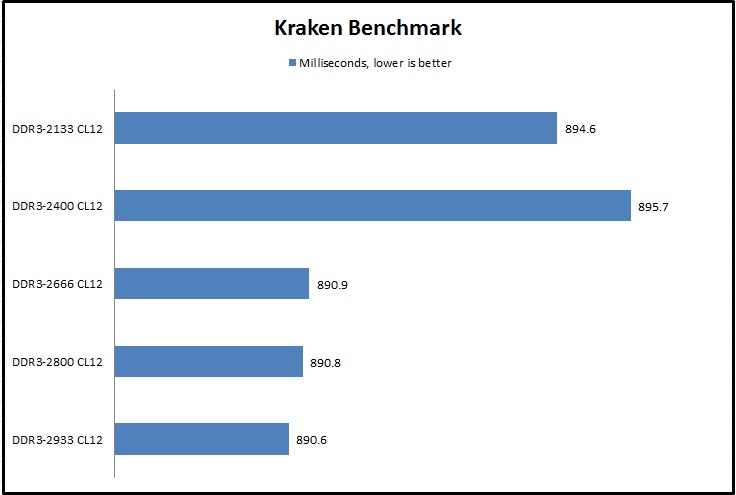 Overclocking & Conclusion:
The sample I received was an interesting breed. While I managed to lower the timings to make it run at 2800C11, it refused to go beyond the rated 2933MHz, even with the voltages bumped up to 1.7v. I wasn't sure whether this was the limitation of my processor or the memory chips themselves. Anyways, at its stock 2933MHz the memory kit performed admirably.
Overall, I have nothing to fault here. The RAM looks good, the interchangeable heatsinks are certainly welcome, and the performance is there as well. But my initial question remains – who should buy this fast memory? If you are a gamer, there's hardly any incentive for you here. Same goes for the users with daily driver PCs, anything beyond 2400MHz and the law of diminishing returns kicks in hard. This is a kit for the benching and overclocking folks. I am sure this kit has much more to offer and some more rigorous efforts may lay fruit to better, faster overclocking results. The normal kids should look elsewhere – this car's not for your garage.