Let's clear the elephant in the room: the rugged hard drive is a niche product. Not everyone needs them, or understandably appreciates them. I remember telling about the hard drive we have for review here to some of my friends and they were positively surprised to know that a product like that even exists in the market and there is a demand for it as well. But for people on the move, like photographers and documentarians who roam around the world for that perfect frame or that perfect moment, this segment definitely appeals a lot.
ADATA is not new to the memory and hard drive segment, though off late they have been diversifying their product portfolios quite a bit. The ADATA DashDrive Durable HD710 is relatively old now, having released almost 3 years back, but it still continues to represent the rugged external hard disk drives alongside the HD650. DashDrive is ADATA's external HDD SKU, and the Durable naming should immediately give away the nature of HD710: it is an IP-X7 certified, military-grade shockproof and waterproof product with USB3.0 interface. ADATA says that the DashDrive Durable HD710 passed the stringent Military MIL-STD-810G 516.6drop test as well as the IEC 529 IPX7 test. What that theoretically indicates is that the HD710 can withstand being under a meter-deep water for up to as long as 30 minutes, and should survive any drops from moderate height with ease.
The DashDrive Durable HD710, or in short, the HD710, comes in a variety of colors (Yellow/Blue/Black) and capacities (500GB/1TB/2TB). While we were not allowed to reveal the manufacturer of the hard drive that ADATA is using, the hard drive is a 5400rpm affair rather than a 7200 rpm one.
The package is pretty compact with the front containing a large see-through window showcasing the HD710 itself. It also has information about capacity, interface and water/shock resistance capabilities.
One look at the HD710 and you know that it is not your run of the mill hard disk drive. The enclosure is surprisingly compact, yet feels rugged with its construction. There are two sections clearly seen – one is the shockproof rubber exterior, while the other on the center is the actual hard drive casing itself.
There are stylized patterns – which again is a hit or miss thing, but at least looks appealing – on the shockproof section, while ADATA has gone for a carbon fiber vinyl coating on the central casing. We see the increasing use of this type of styling on their memory products as well, and this is a nice aesthetic touch.
The front section has the proprietary connector hidden beneath a rubber flap which seals shut (for the waterproof certification).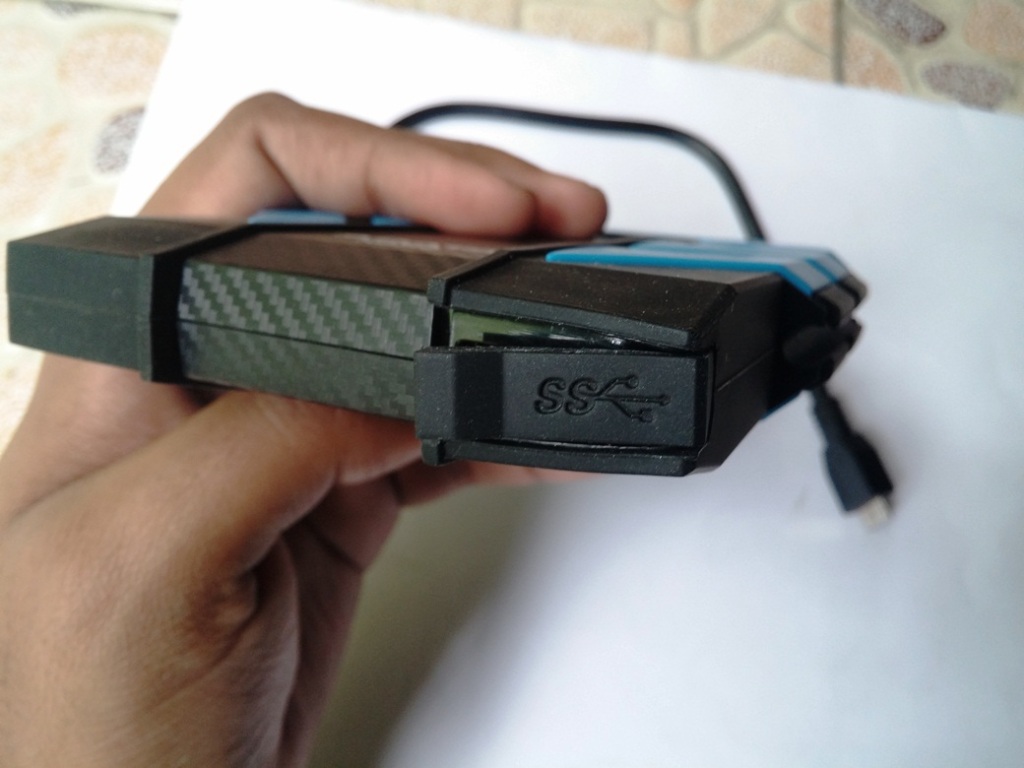 The USB3.0 data cable is neatly tugged in a wrap-around exterior slot. The one complaint here is that the cable is very short.
The bright blue LED indicator is just below the ADATA branding on the HDD casing itself and lights up/flickers whenever the HD710 is connected or during hard disk activity.
Test System, Benchmarks:
Our test system included:
Intel Core i7-5930K, 3.5GHz/3.7GHz Turbo, 6C/12T, 15MB Cache
GIGABYTE X99-UD5H WiFi, BIOS F9B
16 GB ADATA XPG Z1 DDR4-2400, Quad Channel, CL16-16-16
HIS AMD Radeon R9 270X Ice QX2 Graphic Card
Corsair Nova SSD, 60GB
CoolerMaster V1000 PSU, 80+ Gold certified
Windows 7 Ultimate, x64
First up is Anvil, a popular storage utility and benchmark tool. Here we see the HD710 register sequential read speeds of 118 MB/s and write speeds of 126 MB/s.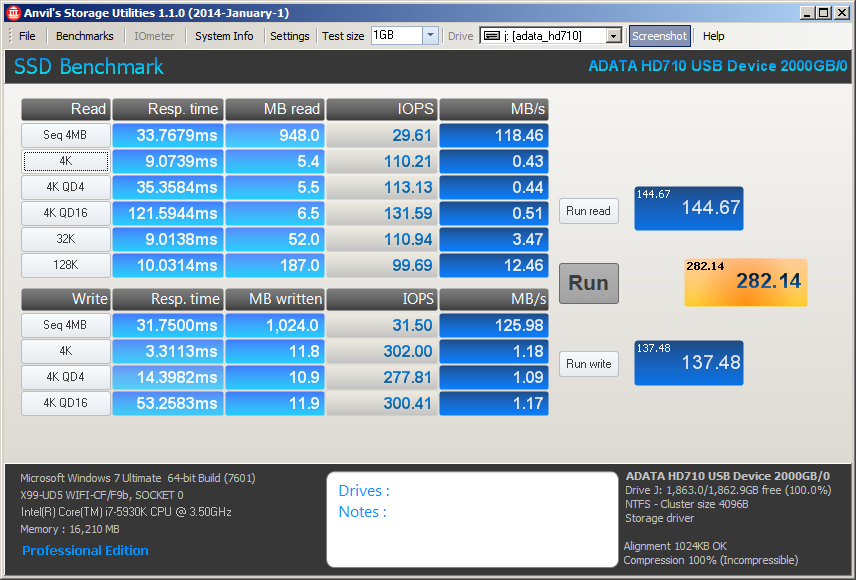 AIDA64 Disk Read Benchmarks continue the same story. Linear read performance reaches almost 125 MB/s here.
HD Tune Pro 5 is another popular Hard Disk Utility with its built in benchmark. The Maximum read speeds for HD710 again tops 120+ MB/s here.
Last but not the least, ATTO and CrystalDiskMark. I do not want to sound repetitive here, but the HD710 performs nearly identical here as well. Sequential Read and Write speeds reach almost 130 MB/s in CrystalDiskMark.
Conclusion:
When I used to be in college, I had bought an el cheapo enclosure for one of my desktop hard drives. The thing still chugs along nicely, but the construction is as barebones as one can get. But then – you get what you pay for. Comparing that to something like HD710 would be foolish, as they cater to two very different markets. Still, the sheer progress of technology is astounding, and to think that we have come so far is nothing short of a remarkable feat.
ADATA seems to have hit the nail with the HD710. It looks and feels premium, has a sturdy build, and the aesthetics are pleasing. I for one, totally dig the carbon fiber finish. Overall performance seems to be very consistent too, as maintaining 100+ Mbps read and write speeds are pretty impressive for a rugged, 5400 rpm HDD. The USB3.0 interface also makes for some pretty fast file transfers to and fro, which is always a bonus. The only caveat is the short USB cable, but I guess ADATA went for it to maintain a compact package since the cable neatly tucks into the ridge made for it.
Now if only ADATA would release an SSD version of this, but maybe I am getting too ahead of myself here. The DashDrive HD710 might not be for everyone, but for people who need a rugged hard drive, this is a serious contender for sure.